Series 4000 Communications Control System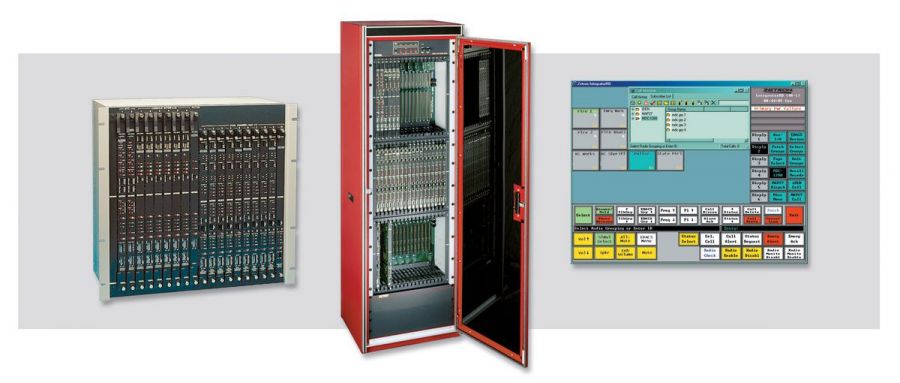 The Series 4000 is a communication control system designed for medium-sized communications centers. In addition to exceptional reliability, the Series 4000 offers easy programming and economical upgrades.
Unique Series 4000 capabilities include CRT based operator positions, trunked radio compatibility, and an integrated instant recall recorder that captures radio traffic on each channel.
Featuring three styles of operating positions and two common controller sizes, a Series 4000 system can be economically scaled to accommodate from 8 to 48 channels and from 1 to 16 operator positions.
Common Control Units
A Common Control Unit (CCU) is the central controller responsible for switching and routing multiple audio channels between operating positions and the external devices such as base stations, control stations, repeaters, telephones, monitor receivers, and intercoms.
The Series 4000 offers two different Common Control Units to accommodate different capacity requirements.
Product Features and Configuration
Model 4020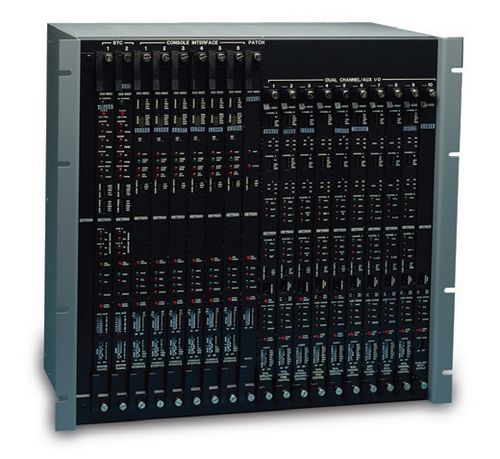 Up to 20 radio or telephone channels
Up to 6 operating positions
Up to 10 independent cross channel patches
No single point of failure architecture
Channel Check IRR option
External time source reference
Event logging port
Dual power supplies w/automatic switching
Economically upgradeable to Model 4048
Model 4048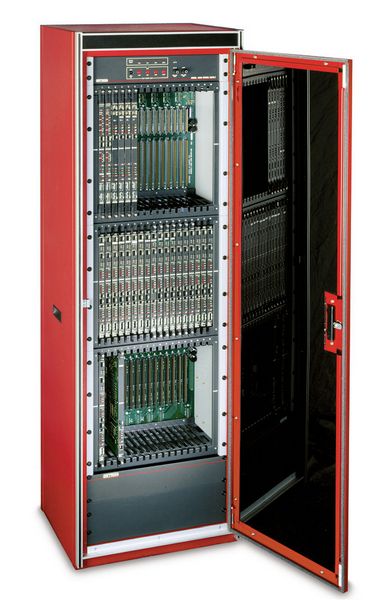 Up to 48 radio or telephone channels
Up to 16 operating positions
No single point of failure architecture
Up to 24 independent cross channel patches
Channel Check -IRR option
External time source interface
Event logging port
Remote diagnostic monitoring
Dual power supplies w/automatic switching
SPECIFICATIONS
---
Transmit Electrical Specifications
Console Interface:
3 audio pairs (Select, Unselect, MIC) and 2
Audio Output:
+10 dBm max. into 600 ohm line
data (RS-422 @ 9600 Baud)
Output Impedance:
Transmit: 600 ohm balanced.
Idle: 600 or 3500 ohms
Channel Audio:
2-wire simplex/half-duplex, or
4-wire half/full-duplex
Distortion:
<2% at full output. Hum, Cross-Talk all
50 dB at full output
Channel Control:
Local, E&M, Tone Remote, DC* Remote,
Telephone (end-to-end), and selected
trunking radio protocols
Microphone Input:
-65 dBm for full output
Uses serial port or external contact closures
Aux. Mic Input:
-20 dBm for full output
(e.g. PTT relay, M-lead) to select up to 15
Page/Spare Input:
-15 dBm, not compressed
DC Control:
programmable currents between 0 and 15.5
Frequency Response:
-3 dB to +1 dB from 250-3400 Hz
except guard tone notch
mA, positive or negative.
Drives line to up to 125 V sufficient for 8000
Compression:
Input level increase of 30 dB above knee of
compression causes <3 dB output increase
ohm loop resistance. Operates from 10.8 to 16
Volts DC
Receive Electrical Specifications
15 standard tones supported,
Input Impedance:
600 or 10K ohm (4-wire)
600, or 3500 ohm (2-wire)
programmable (in 100 Hz increments) to
650-2050Hz.
Line Balance:
66 dB at 1000 Hz
High Level Guard Tone
Rx Sensitivity:
-30 dBm max. at knee of compression;
adjustable
duration 100-790 msec. Function Tone
duration 40 msec. Guard Tone Freq.
Frequency Response:
-3dB to 1 dB from 250-3400 Hz
except guard tone notch
2175 Hz, alterable. Tone freq. accuracy
+ 0.2%; timing accuracy +1.0
Compression:
Input level increase of 30 dB above knee of
compression causes <3 dB output increase
Local Control:
PTT normally open relay contact rated 1.0 A
at 24 VAC/DC
Distortion:
< 2%
E&M Control:
Tx control via PTT relay, external 48V required
Call Light:
Sensitivity 20 dB below knee of
compression (vox operation)
Trunking Control:
EDACS®, MAP27, iDEN®, P25, SNSZ®,
LTR®, PassPort®, NEXEDGE™
Audio Outputs:
5 watts into 4 ohms
Busy Chan.Detect:
Local Cross-Busy detection and Guard Tone
Mute:
Programmable from 0 to -50 dB "All-mute"
time programmable
Time Synch:
IRIG-B (with Aux I/O Card)
RS-232 (1200, 2400, 9600, 19.2 Baud)
Integrator RD Workstation
Radio Management
Video Display:
Varies with selected monitor
M4217 Audio Panel
5.25 x 19 x 4.5 inches
M4219 Audio Interface
1.75 x 19 x 7 inches
Logger Port:
RS-232 (1200, 2400, 9600, 19.2 Baud)
Modem Port:
RS-232 (1200, 2400, 9600, 19.2 Baud)
Recorder Outputs:
1 per channel (Tx/Rx audio summation),
plus 1 output per console. 0 dBm level,
600 ohm single ended
Model 4048:
Chan. Card Cage 15.75 x 19 x 9.75 inches
Cons. Card Cage 17.5 x 19 x 9.75 inches
Power Supply 3.5 x 19 x 9.75 inches
Power Input (M4048):
85-132 VAC
170-264 VAC
47-63 Hz
12-13.8 VDC
280 Watts maximum
Model 4020:
22.75 x 19 x 10 inches
95-240 VAC 2 amps
50-60 Hz
150 Watts maximum
Dust/Liquid Ingress:
NEMA 1, IEC 60529 IP 30
Power Input (M4020):
Operating Temp:
0°C to +45°C
Other Electrical Specifications
Approvals:
FCC part 15, FCC part 68
Capacity (M4048):
2-48 Channels
1-16 Operating Positions
(15 w/ Patch Card)
Capacity (M4020):
2-20 Channels
1-6 Operating Positions