Model 6300 RoIP Gateway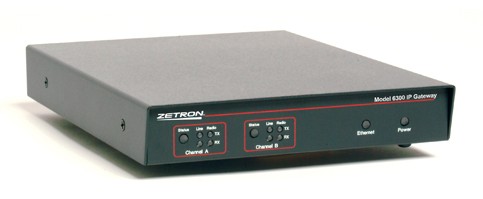 Zetron's RoIP (Radio-over-IP) Gateway is designed to transport analog wireline two-way radio control circuits over IP networks. Each RoIP Gateway connects to one (Model 6301) or two (Model 6302) radio circuits, and each circuit supports analog audio, binary control (PTT & COR) as well as RS-232 serial data. The analog audio is field selectable between a balanced 4-wire connection suitable for most fixed station radios, and unbalanced transmit and receive audio suitable for direct connection to most mobile radios. In many cases, a mobile radio's programming and/or control head serial data can be transported over IP as well (contact Zetron for radio serial data compatibility). A pair of RoIP Gateways are thus able to transport one or two analog radio circuits across an IP network.
Product Features and Configuration
Transports voice (3-wire unbalanced or 4-wire balanced), I/O (PTT & COR) and Data (RS-232) for up to two radio circuits.
Handles Tone Remote Control (TRC) and Local/E&M radio circuits.
Remote PTT operation controlled by VOX or COR.
Use of TCP and Unicast UDP allows operation over standard IP networks.
Compatible with many IP-based RTP voice recorders.
Field-selectable voice compression includes PCM (64 kbps) and ADPCM (16-32 kbps).
Fully configurable via web browser, including all audio levels.
Embedded operating system, and no moving parts. Designed for harsh, unattended radio site environments.
Optional 1U x 19" rack mount for two units.
Operates from 12 Volts DC.
Optional direct, built-in support for the Department of Homeland Security (DHS).
Radio-over-IP using Model 6300 RoIP Gateway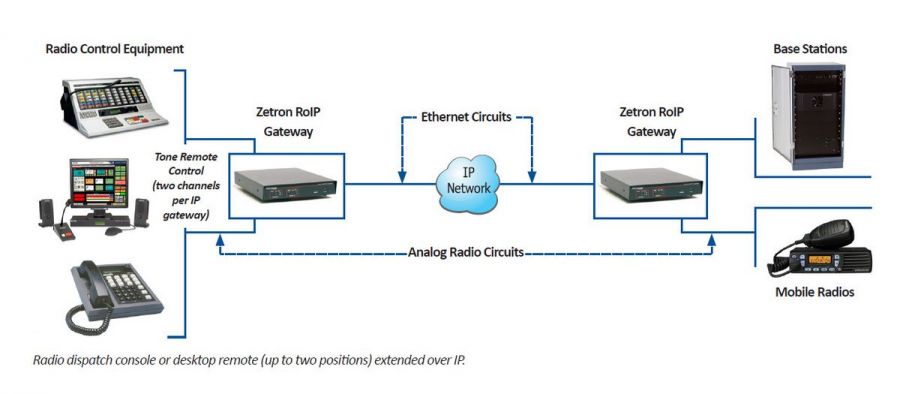 SPECIFICATIONS
NETWORK REQUIREMENTS
RADIO CIRCUIT AUDIO
Device Payload:
1 Kbps idle, 104 Kbps active
(136Kbps Ethernet) using G.711 per channel
Frequency Response:
300 Hz to 3400 Hz +1/-3 dB
Hum, Noise
& Cross-Talk:
45 dB below full rated output
Network Loading:
< 40% (< 30% mission critical). Bandwidth
Ratio of IP bearer should be 2 to 3 times
actual payload to ensure optimum
voice quality
Distortion:
3% or less
Line Balance:
60 dB @ 1004Hz
Line Impedance:
Nominal 600 ohms for Tx and Rx pairs with
alternate setting of 5000 ohms
Packet Loss:
< 0.1%
Packet Error:
< 0.01%
Line Pairs:
4-Wire (separate transmit and receive) or
2-Wire (combined transmit & receive),
half or full duplex
Packet Delay:
< 400 ms (< 40 ms mission critical)
Packet Jitter:
< 50 ms (< 20 ms mission critical)
Network Type:
Fully switched Ethernet, full-duplex, capable
of passing unicast UDP. Sharing the network
with other IP traffic may negatively impact
voice quality and therefore should not be
considered for mission-critical applications
Line Receive
Input Level:
-35 dBm to +10 dBm
Line VOX Sensitivity:
-35 dBm to 0 dBm
Local Receive Input:
50K ohm impedance ground referenced,
40 mVpp to 5 Vpp
GENERAL
Local Transmit
Output:
50 ohm impedance ground referenced,
40 mVpp to 3.6 Vpp
Dimensions:
1.5 x 7.75 x 10.25 inches, 1.75 x 19.0 x 10.25
inches optional rack panel (H x W x D)
RADIO CIRCUIT CONTROL
Weight:
1.9 lbs
PTT/M-Lead Signal:
50 mA maximum to ground,
24 volts open circuit max
Operation
Temperature Range:
0°C to +60°C
COR/E-Lead Signal:
Active < 0.8V, Inactive > 2.0V
10 pull-up to 5V
Power Input:
10.6 to 16 VDC, 0.5A max.
(initial power-on surge exceeds 2A)
RADIO CIRCUIT DATA
Network Connection:
10-Base-T Ethernet connection using RJ45.
HTTP compatible with Microsoft Internet
Explorer 6 or later
Format:
7-bit or 8-bit, serial, asynchronous data
Electrical:
RS-232 or TTL compatible
Data Rate,
Parity & Stop Bits:
300 to 38.4k bps, odd-even-no parity,
and 1 or 2 stop bits
Vocoder Support:
G.711 (64 kbps) and G.726 (32-24-16 kbps)
& GSM (13 kbps)