PD98X DMR Radio
PD98X Highlight
Brand New Features
Micro SD Card
Based on micro SD storage technology, PD98X helps customer to record and store critical voice call or data. PD98X supports maximum 32G micro SD card, to record up to 576 hours digital/analog voice.
Single Frequency Repeater Mode
Based on Interference cancellation technique, PD98X can use one slot to receive signal and another slot to transmit it in the same frequency at the same time in DMO mode to extend communication distance.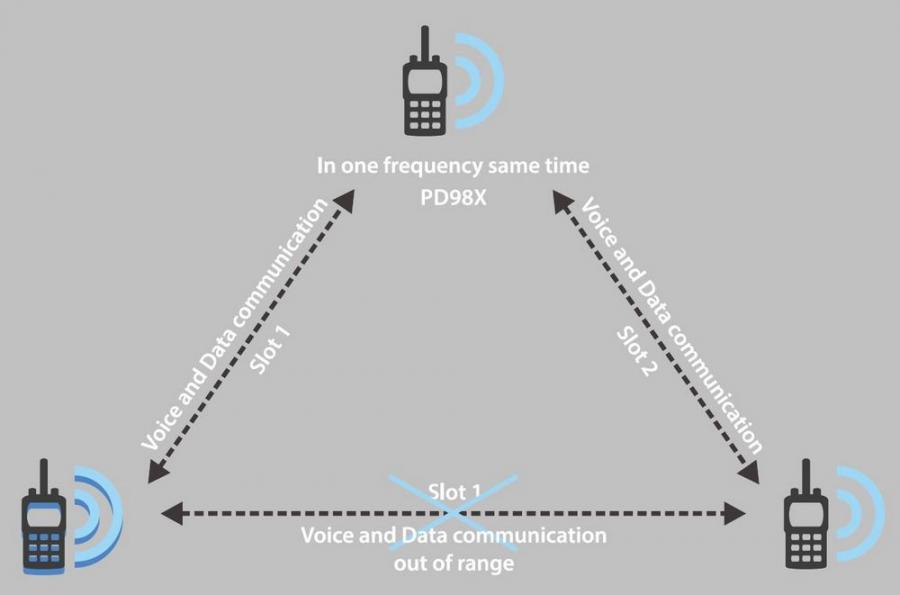 Bluetooth 4.0
PD98X has built in Bluetooth 4.0, which not only supports audio transmission, but also allows data transmission, such as programming via Bluetooth etc.
Full Duplex Call
PD98Xcan make full duplex call with PD98X, telephone or cell phone.
RTC Clock
RTC clock feature allows customers to check the accurate time of received message and call.
Smart Battery
Compared with PD78X, PD98X support smart battery, which makes it easier to monitor the battery status, such as battery life time and remaining charge time by smart battery charge. This also reduces the charging time dramatically.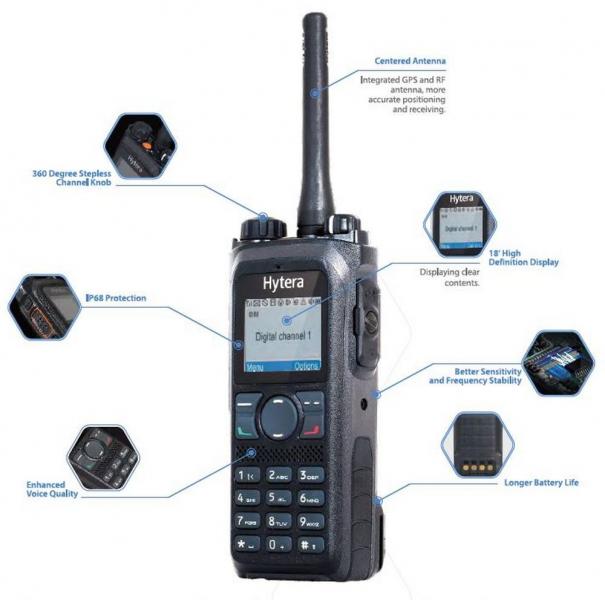 Hardware Advantages
Better Sensitivity and Frequency Stabiilty
Advanced technology improves receiving performance to enhance communication distance and reliability
Sensitivity 26%
Compared with PD78X, PD98X adopts brand new hardware design enhance +26% Sensitivity
IP68 Protection
IP68 Dust and Waterproof Standards ensures outstanding performance even in harsh environments
Longer Battery Life
PD98X adopts new battery saving technology to guarantee longer communication time
Battery life 33%
Compared with PD78X, PD98X adopts new battery saving technology extending +33% battery life.
360 Degree Stepless Channel Knob
With this kind of knob user can change channel and zone easily and comfortably
Enhanced Voice Quality
Maximum 2.5W output speaker and new noise cancelling technology ensures clear and loud voice communication
Noisy environment

Figure 1 Without noise cancellation

Figure 2 With noise cancellation


Windy environment

Figure 1 Without echo cancellation

Figure 2 With echo cancellation

Features
| | | |
| --- | --- | --- |
| Base Information | Safety | Systems |
| ♦ Full Keypad, Color Screen, 1024 Channels | ♦ Emergency Alarm | ♦ Analog Conventional |
| ♦ Analog and Digital Dual Mode | ♦ Dedicate Emergency Button | ♦ DMR Conventional |
| Bluetooth (4.0) Audio | ♦ Alert Call | ♦ IP Site Connect |
| Bluetooth (4.0) Data* | ♦ Man Down | MPT-1327 |
| Integrated GPS | ♦ Lone Worker | ♦ DMR Simulcast System |
| Integrated GLONASS | ♦ Basic Encryption | ♦ XPTTrunking |
| ♦ Pre-program med Text Messaging | ♦ Enhanced Encryption(40bit) | DMRTrunking |
| ♦ Freeform Text Messaging | Enhanced Encryption(128/256bit) | |
| Option Board | Multiple Key Encryption | Advance Features |
| ♦ Roaming | ♦ Priority Interrupt | ♦ Pseudo Trunk |
| ♦ Scan | ♦ Remote Monitor | ♦ Telemetry |
| ♦ Voice Notification | ♦ Radio Enable/Disable | ♦ Rent |
| | ♦ Radio Check | ♦ Phone Interconnect |
| Audio | ♦ IP68 Dust and Waterproof | ♦ Full Duplex Call (DMR Tier 3 System)* |
| ♦ Auto Gain Control | ♦ Vibration | ♦ Full Duplex Car (DMR Conventional System)* |
| ♦ Acoustic Feedback Suppressor | GPS SMS | Single Frequency Repeater Mode* |
| ♦ Loudness Quality Optimization | GPS Location check | Micro SD Card* |
| ♦ Multi Band Equalization" | | Smart Battery* |
| ♦ Noise Reduction Technology | | ♦ RTC Clock |
Specifications
General
Frequency Range
UHFx: 350-527MHz
UHF5: 806-941MHz
VHF1: 136-174Mhz
Channel Capacity
1024
Zone Capacity
64 (maximum of 256 channels per zone)
Channel Spacing
12.5kHz/20kHz/25kHz
Operating Voltage
7.4V (rated)
Battery
2000mAh (Union Anti-fake or Smart Battery)
2500mAh (Union Anti-take or Smart Battery)
3000mAh (Union Anti-fake or Smart Battery)
Battery Life
(5-5-90 Duty Cycle, High TX Rower)
Digital:
19.5 Hours @2000mAh
24 Hours @2500mAh
27 Hours @3000mAh

Analog:
14.5 Hours @2000mAh
18 Hours @2500mAh
21 Hours @3000mAh

Frequency Stability
±0.5 ppm
Antenna Impedance
50 Ω
Dimensions (HxWxD)
(with standard battery, without antenna)
131 x 54.5 x 36 mm (2000mAh)
131 x 54.5 x 41 mm (2500mAh)
131 x 54.5 x 41 mm (3000mAh)
Weight
(with antenna & standard battery)
350g (2000mAh), 361g (2500mAh), 366g (3000mAh)
LCD Display
160x128 pixels, 65536 colors 1.8 inch, 6rows
Receiver
Sensitivity
Analog
0.22μV (12dB SIN AD), 0.22μV (Typical) (12dB SIN AD)
0.4μV (20dB SIN AD)
Digital
0.22μV / BER5%
Selectivity
TIA-603
ETSI
60dB @ 12.5kHz / 70dB @ 20/25kHz (TIA-603)
60dB @ 12.5kHz / 70dB @ 20/25kHz (ETSI)
Spurious Response Rejection
TIA-603
ETSI
70dB @ 12.5/20/25kHz (TIA-603)
70dB @ 12.5/20/25kHz (ETSI)
Hum and Noise
40dB @ 12.5kHz; 43dB @ 20kHz;
45dB @ 25kHz
Rated Audio Power Output
0.5W
Rated Audio Distortion
≤3%
Audio Response
+1 ~ -3dB
Conducted Spurious Emission
< -57dBm
Transceiver
RF Power Output
UHFx: 1W/4W; VHF1: 1W/5W;
UHFS: 1W/3W (806-870MHz)
UHF5: 1W/2.5W (896-941MHz)
FM Modulation
11K0F3E @ 12.5kHz
14K0F3E @ 20kHz
16K0F3E @ 25kHz
4FSK Digital Modulation
125Hz Data Only: 7K60FXD
12.5kHz Data & Voice: 7K60FXW
Modulation Limiting
±2.5kHz @ 12.5kHz
±4.0kHz @ 20kHz
±5.0kHz @ 25kHz
FM Hum & Noise
40dB @ 12.5kHz
43dB @ 20kHz
45dB @ 25kHz
Adjacent Channel Power
60dB @ 12.5kHz; 70dB @ 20/25kHz
Audio Response
+1 ~ -3dB
Audio Distortion
≤3%
Digital Vocoder Type
AMBE++or SELPor NVOC
Digital Protocol
ETSI-TS102 361-1,-2,-3
Environmental Specifications
Operating Temperature
-30°C to +60°C
Storage Temperature
-40°C to +85°C
ESD
IEC 61000-4-2 (level 4)
±8kV (contact) ±15kV (air)
American Military Standard
MIL-STD-810 C/D/E/F/G
Dust & Water Intrusion
IP68 Standard
Humidity
Per MIL-STD-810 C/D/E/F/G Standard
Shock & Vibration
Per MIL-STD-810 C/D/E/F/G Standard
GPS
Accuracy specs are for long-term tracking (95th percentile values>5 satellites visible at a nominal -130dBm signal strength)
TTFF (Time To Fast Fix) Cold Start
<1 minute
TTFF (Time To Fast Fix) Hot Start
<10 seconds
Horizontal Accuracy
<5 meters
Optional Accessories