RVM - Remote Video Speaker Microphone
Hytera's Remote Video Speaker Microphone (RVM) is designed to capture, store and share video, audio and image evidence in the field. The device integrates a body worn camera with a remote speaker microphone. Pairing with the Hytera Multi-mode Advanced Radio, the RVM allows you to make and receive voice communications, initiate an emergency alarm and deliver real-time video to a control center over the LTE network, even in low light conditions.
The Hytera RVM docks in to a specially designed Multi-unit Charger to auto export audio, video, images and log files to the Digital Evidence Management (DEM) platform.This ensures captured content remains tamper-proof, transferred securely to control center.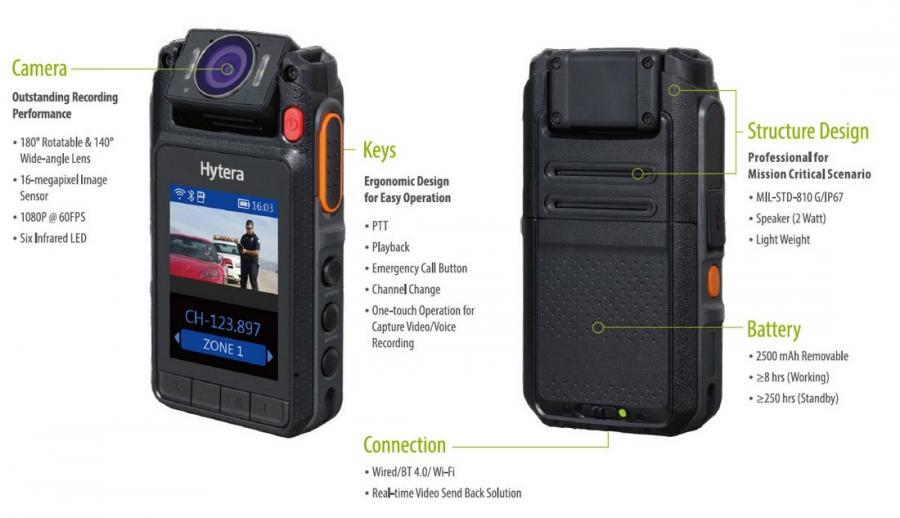 RVM Data Transfer and Collection Solution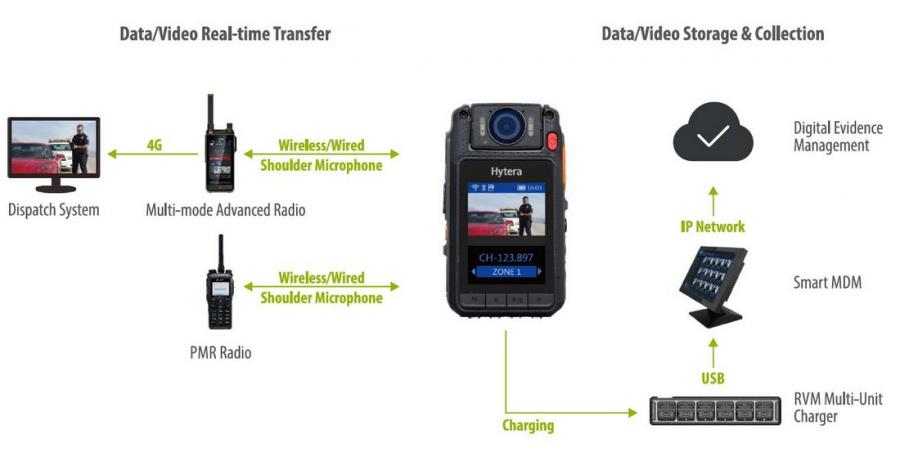 RVM Multi-unit Charger

Charge six RVMs and six batteries simultaneously
Provide power indication, battery charging status, and data transmission indication
Auto export audio, videos, photos and log files *
Reprogram and upgrade the RVM *
Note
* indicates that the function needs to be coupled with MDM via USB cable
Specifications: lnput:12V/7A Output: 2*6*5 V/1A Interface: USB
Smart Mobile Device Management
Running on a PC, Smar t MDM collects and stores digita l ev idence from the RVMs via Multi-unit Charger. With intuitive Graph ic User Interface (GUI), you can review, m anage, and share data simp ly and efficiently.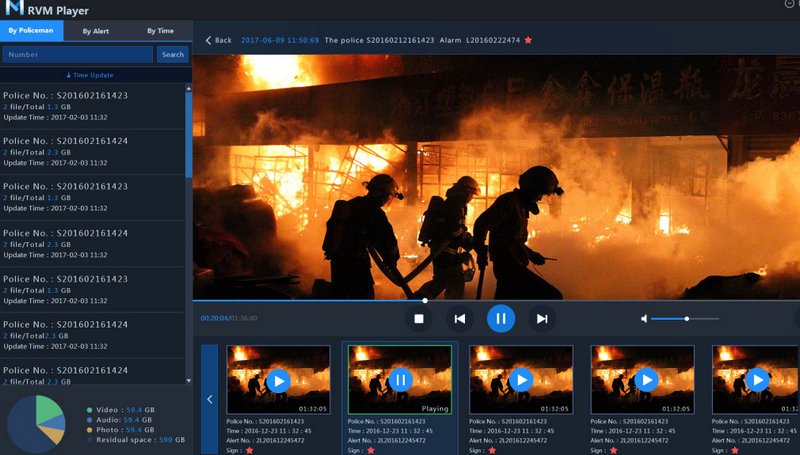 Highlights
RVM Management
Compre hensive ly manage the RVM devices
Programming and up gradi ng the software/firmware
Data Processing
Query and replay the local data
Import and upload the data to the DEM automatica lly
Clear the colle cted data automatically
Digital Evidence Management
Digital Evidence Management Platform collec ts and stores the digital evidence on a secure network. You can tag an evidence and find it easily through a key word search. For data security, you can assign customized
permissions to different users.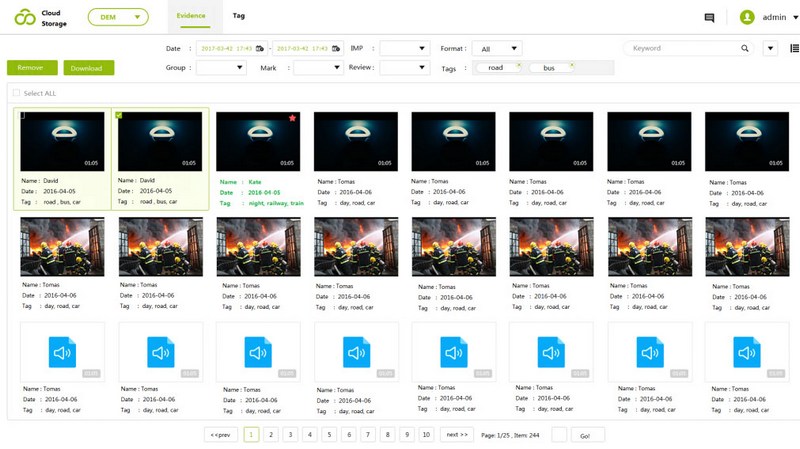 Highlights
Centralised Data Management
Cloud server for centralised storage with RVM automatic data upload
System log for evidence retrieval. Classify file evidences, and correlate them with case. Global Navigation Satellite System (GNSS) location information
Capable of gathering and or ganising a large amount of data
Rich interface to be compatible with other systems
Redundancy and Security
Redundancy backup, load balancing mechanism for reliability
User authorisation for security
Specifications
Size
& Weight
Dimensions (H x W x D)
106.5mm x 60mm x 24mm
Weight
<170g (including battery)
Camera
Image Sensor
16-megapixel
Lens
Fixed Focus, all glass, 180° rotatable, diagonal 140°, horizontal 106°, vertical 78°
Focus Range
0.1 m - infinity
Battery
Battery life (continuous video shooting)
≥8 hours
Battery Capacity
2500 mAh
Charging Time
≤4 hours
Display
Dimensions
2.4-inch
Resolution
240(RGB) * 320 Dot
Type
TFT-LCD 262K color display
Recording
Internal Memory
16 GB (standard configuration); 32 GB/64 GB/128 GB (optional)
Video Format
mp4
Video Encoding Technology
H.264
Video Resolutions
VGA, 720P, 1080P
Video Frames Per Second
30FPS and 60FPS
Audio Format
AAC (Advanced audio coding)
Image Format
JPG
Image Resolution
4608*1296 (16-megapixel), 3072*1728 (5-megapixel), 2304*1296 (3-megapixel)
Pre-recording/Post-recording
20s/30s
Audio
Speaker Power
2 Watt
Microphone
Silicon microphone x 1, -38 dB; electret microphone x 1, -42 dB
Connectivity
Wi-Fi
802.11 b/g/n Access point and station support
BT
BT4.0 Audio and BLE support
Connector
Micro USB port, 10-pin contact port
Auxiliary
IR Lamp
OSRAM x 6
Night Vision Range (without lighting)
≥3m
White LED
1Watt x l
Durability
Ingress Protection
MIL-STD-810G, IP67
Drop Resistance
1.5 m
ESD
Contact discharge: 6 kV; air discharge: 12 kV
Operating Temperature
-20°C to +60°C
Storage Temperature
-40°C to +85°C
Compatibility
System Compatibility
WIN XP/7/8/10
Radio Compatibility
Hytera Radios
Accessories
Standard
USB cable, charger, clip (rotatable, length-adjustable)
Optional
Shoulder epaulette, radio connection cable, multi-unit charger. Wireless Remote controller
*All specifications are subject to change without notice due to continuous development
Accessories