iMesh - Broadband IP Mesh Solution
iMesh Solution
iMesh solution, consisting of vehicle node and backpacked node, provides customers the ability to
setup a flexible topology wireless broadband network quickly, which enables voice, video and data
transmission services for emergency communication.
The iMesh nodes can be deployed in fixed way by mounting on infrastructure such as walls and poles, or in
mobile way by installing on-board moving vehicles and drones. The nodes can not only operate as a
standalone network but also co-work with existing cellular or wired network to extend the network
coverage in various scenarios.
With 4G cutting-edge technologies, iMesh solution is featured with high spectral efficiency, lower latency,
plug and play, flexibility and stability, intelligent data route as well as end-to-end Quality of Service (QoS)
and security mechanism. The solution is a edge tool for emergency communication in public safety, military,
energy, forestry as well as other related booming industry.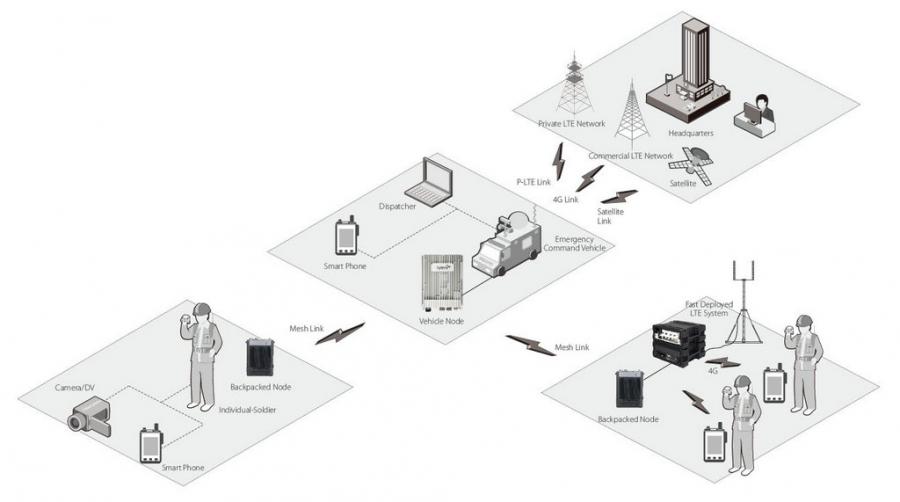 iMesh Backpacked Node
iMesh Backpacked Node is mainly used for individual-soldier in backpacked or portable way in emergency or tactical communication.
Features
High throughput: 60Mbps(10MHz)
Self-Organizing Network
Long Range: 2km(Non-LOS), 10km(LOS)
E2E QoS and Security
5kg including battery
Golden Pin Awarded ID Design
iMesh Vehicle Node
iMesh Vehicle Node is mainly mounted on vehicle in mobile way or on infrastructure in fixed way. It can be also used for individual-solider in portable way and powered by external battery.
Features
High throughput: 60Mbps(10MHz)
Self-Organizing Network
Long Range: 5km (Non-LOS), 40km(LOS)
E2E QoS and Security
7Kg without battery
Ruggedized Design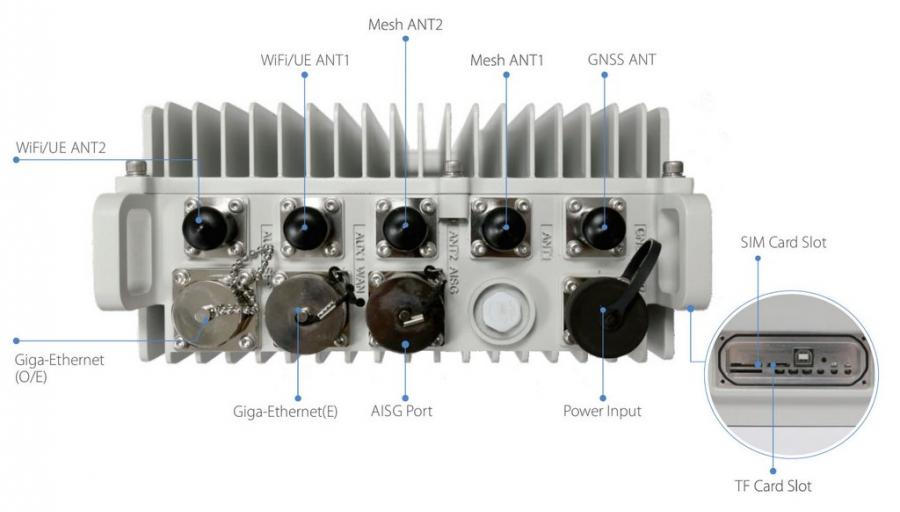 Highlights
Flexible
Self-Organizing Network
Chain, Star, Random Topologies
All IP, both Layer-2 or Layer-3 Connection
High Capacity
High Spectral Efficiency: 6bps/Hz
High Throughput: 60Mbps (10MHz)
Quality of Service
Quality of typical service(3GPP-Compliant)
Default / Dedicated traffic bearer
QoS-based scheduling algorithm
Secured
Encryption: Snow3G, AES, IPSec etc
Mesh Authentication: USIM, AKA
WiFi Authentication: EAP-SIM, EAP-Radius, WPA/WPA2
Reliable
Adaptive Modulation and Coding (AMC)
Hybrid-ARQ (HARQ)
Power control

Typical Scenario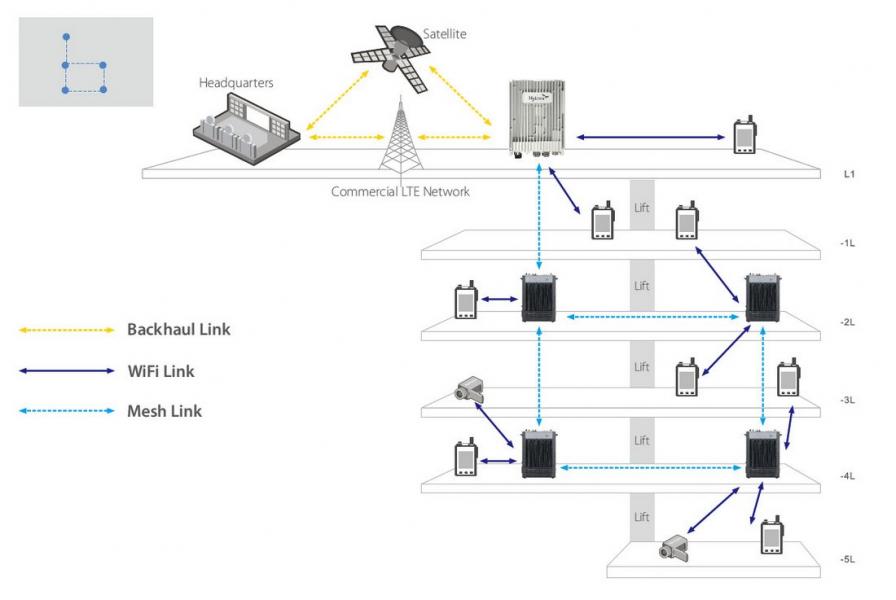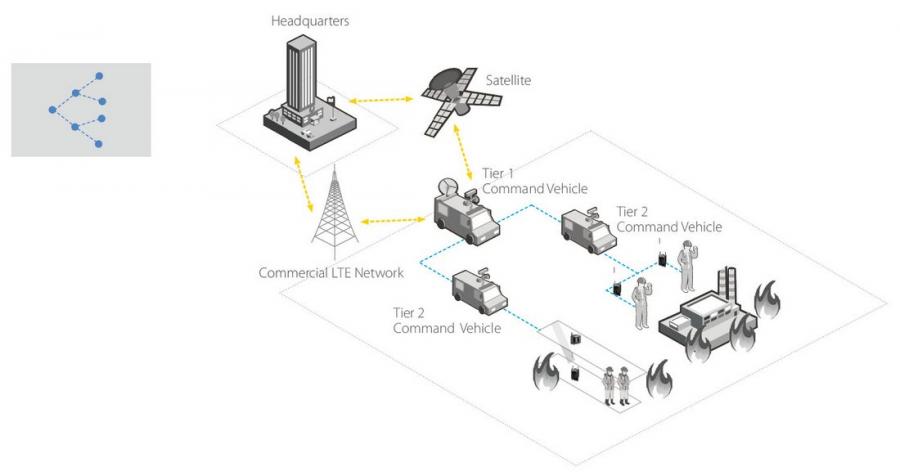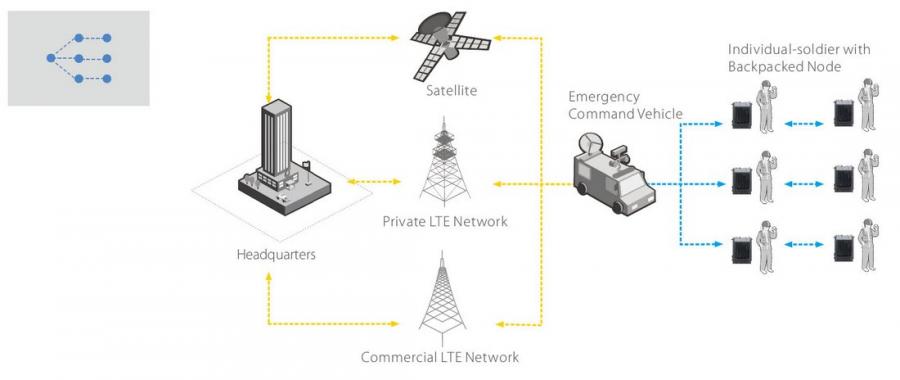 Specification
iMesh 3800V
iMesh 3800P
Bandwidth
≤ 10MHz
Bandwidth
≤ 10MHz
MIMO
2T2R
MIMO
2T2R(Typ.)
1T1R
Tx Power
2x5W
Tx Power
2x2W
1x5W
Sensitivity
≤-105dBm(10MHz)
Sensitivity
≤-105dBm(10MHz)
Throughput
60Mbps(10MHz)
Throughput
60Mbps(10MHz)
Transmission Delay
5~10ms
Transmission Delay
5~10ms
Number of Nodes
32
Number of Nodes
24
Range
40km(LOS), 5km(NLOS)
Range
10km(LOS), 2km(NLOS)
Encryption
AES, Snow 3G
Encryption
AES, Snow 3G
WLAN
802.11 a/b/g/n, 2.4GHz/5.8GHz
WLAN
802.11 b/g/n, 2.4GHz
Dimensions
L 330mm, W 240mm, H 114mm
Dimensions
L 266mm, W 206mm, H 87mm
Weight
7Kg
Weight
5Kg (Including battery)
DC input
12~24V
DC input
12V (178Wh)
Power Consumption
40W(Typ.), 70W (Max.)
Power Consumption
20W(Typ.), 40W (Max.)
Temperature
-40℃ to +65℃
Temperature
-40℃ to +65℃
Humidity
5%RH ~ 100%RH
Humidity
5%RH ~ 100%RH
Sealing
IP67
Sealing
IP67