GCS Rugged Modem Case
Self-Contained External L-Band Modem Case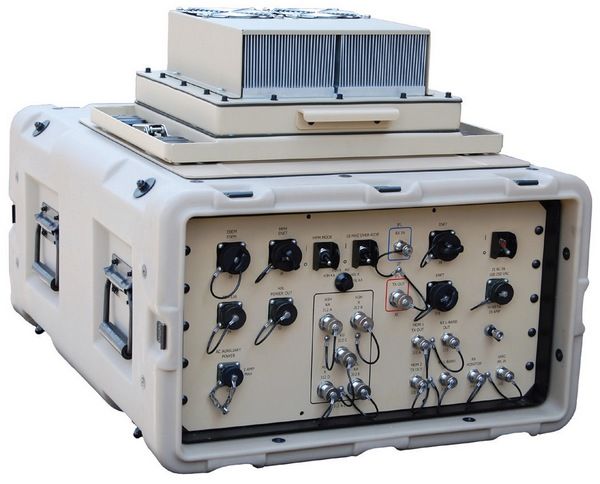 The L-3 GCS Rugged Modem Case provides a transportable enclosure for external L-Band modems
and associated equipment. The case is available as either an indoor or an outdoor configuration. The Indoor case is for use in environmentally controlled shelters and comes with an IFL to interface with the VSAT. Outdoor configurations feature an Environmental Control Unit (ECU) and custom sealed external interfaces allowing the case to be positioned outside next the VSAT. The outdoor case is tested to the same rigorous standards as our 810G certified VSATs.
L-3 has designed a custom L-Band Distribution interface that allows precise adjustment of L-Band levels to meet ARSTRAT requirements for WGS operation. This assembly is highly modular and can be configured to accommodate multiple modems along with a rubidium high stability reference and integrated spectrum analyzer.
System Features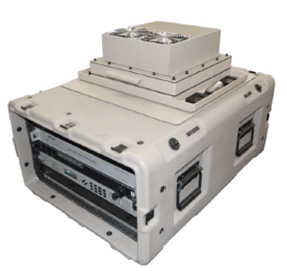 Indoor with IFL
Outdoor with ECU
Integrated spectrum analyzer
10/100/1000 switch
Multiple modem configurations
L-3 GCS L-Band distribution
Rubidium high stability 10Mhz reference
MODEM INTEGRATION OPTIONS
ViaSat EBEM, ViaSat Linkway, Comtech, MPM-1000 (other L-Band modems upon request)
POWER
Indoor
Outdoor
AC
110-240VAC; 50/60 Hz
110-240VAC; 50/60 Hz
Consumption
300VA (Max)
500VA (Max)
IFL
100ft
25ft
MECHANICAL
# of cases
1
2
System Weight
Indoor Modem Case: 80 lbs
ECU Case: 85 lbs
Outdoor Modem Case: 80 lbs
Case
Dimensions
Indoor Modem Case: 37.3 x 22.1 x 14.9 (inches)
ECU Case: 31.3 x 24.2 x 17.5 (inches)
Outdoor Modem Case: 37.3 x 22.1 x 14.9 (inches)
ENVIRONMENTAL
Temperature
0°C to +40°C
-32°C to +50°C
CERTIFICATIONS
ARSTRAT
MIL-STD-810G, ARSTRAT