Compact, Light, High Speed, Cheetah Flyaway VSAT System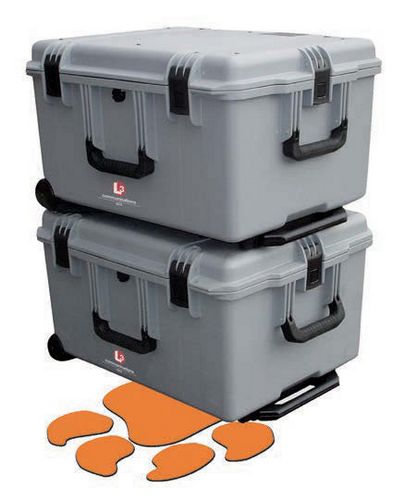 Designed for homeland defense and emergency response missions, the industry renowned Cheetah™ flyaway VSAT system provides remote Internet and virtual private network (VPN) connectivity from anywhere in the world. Contained in just two, low-weight cases, the Cheetah provides high-speed data communications for Internet, VPN connectivity, video transmission, surveillance, or reconnaissance.
Each case weighs less than 75 lbs. and includes a fully auto-acquire .9M elliptical antenna system, outdoor unit (ODU) with embedded iDirect iConnexTM modem, 40 W BUC/SSPA, controller/processor and Ethernet switch.
The ViewSAT® terminal control software provides monitor and control of the terminal through the use of an intuitive graphical user interface (GUI); One button auto-acquisition means systems are rapidly deployed, controlled and monitored with minimal training.
Features
Latest-generation embedded iDirect iConnexTM e800 Evolution modem and 40 W wideband BUC/SSPA.
Rugged design for outdoor use in harsh environmental conditions
Field connectivity over CAT-5 cable eliminates heavy IFL cables
One button auto-acquisition solution based on proven motorized Roto-Lok cable drive for reliable positioning and algorithms with the latest iDirect SNR tuning
Includes automatic polarization adjustment that rotates the reflector to align the major axis
Internal power conditioning in accordance with MIL-STD-1275B allowing the Cheetah™ to be powered from military vehicles
ViewSAT® Terminal Monitor and Control software simplifies deployment and operation
Modem bypass capability allows inter-operation with standard L-Band modems
Complies with rigorous MIL-STD-810F
Cheetah Battery Box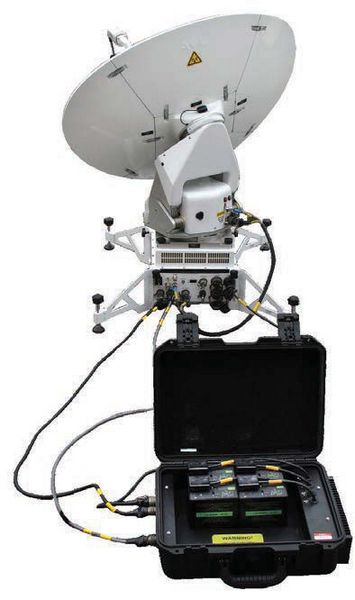 30-90 Minutes of battery backup depending on usage
LED Display
Blackout switch
Lightweight (25.5lb)
Dimensions 16.2" x 12.7" x 6.6"
Contains 4 UBI-2590 rechargeable batteries
Wide AC input range 85 V to 264 VAC
Weatherproof when closed
Operating Temperature 5 °C to 38 °C (limited by UBI-2590 capability)
Filtered AC throughput
Transition in AC Power to DC
System Specifications
ANTENNA / PEDESTAL
Reflector
90 x 66 cm Elliptical, segmented carbon fiber
Optics
Offset, prime focus
Az/El/Pol Drive System
Patented Roto-Lok 3-axis Positioner
Controller
DVB reference satellite or iDirect SNR tuning. One button deploy fully
automatic satellite acquisition, peaking, and cross pol adjustment
using GPS, compass and level sensor inputs, certified for
auto-commissioning on certain satellite systems; one button stow
Auto Positioning
Accuracy
<+/-0.1°
Elevation
15 to 75° of boresight
Azimuth
180°
Polarization
Motorized +/- 75° manual H/V selection
Antenna Midband Gain
Transmit: 39.0 dBi
Receive: 37.8 dBi
TX Radiation Compliance
FCC #25.209, ITU-R S.528.5
Cross-Pol Isolation
On-Axis: 35 dB TX 30 dB RX
Off-Axis: 28 dB TX 28 dB RX
Satellite System Compliance
PanAmSat, Intelsat, Eutelsat
Satellite Approval
PanAmSat USA-8189
FCC SES-STA-20080606-00713
BAND SUPPORT
LNB: three provided to ensure global coverage of the Ku-Band
RF PERFORMANCE
Band 1
10.95 to 11.70 GHz; NF=.8dB
Band 2
11.70 to 12.20 GHz; NF=.8dB
Band 3
12.25 to 12.75 GHz; NF=.8dB
Transmit (Tx)
13.75 to 14.5 GHz
Receive (Rx)
10.95 to 12.75 GHz
EIRP (dBW)
51.8 dBW (25-watt SSPA) (53.8, 40 W)
G/T (dB/K)
17.4 dB/K @ 20° elevation
MODEM INTEGRATION
iDirect e800
INTERFACES
# of ports
4 LAN or 3 LAN plus DSL option
POWER
AC
90 – 132 and 180 – 264 VAC auto-ranging; 47–440Hz
DC
28 VDC per MIL-STD-1275B
Consumption
1000 VA Max
MECHANICAL
Hard cases (standard): 2 airline checkable
Antenna System: 24.6 x 19.7 x 14.4 inches
RF System: 24.6 x 19.7 x 14.4 inches
Weight: Antenna and RF Systems: 74 lbs each
ENVIRONMENTAL

Temperature
Operational: -32°C to +50°C
Storage: -40°C to +60°C

Wind Loading
Operational: 25 mph
Survival: 30 mph gusting to 45 mph with anchoring weights