NewsLink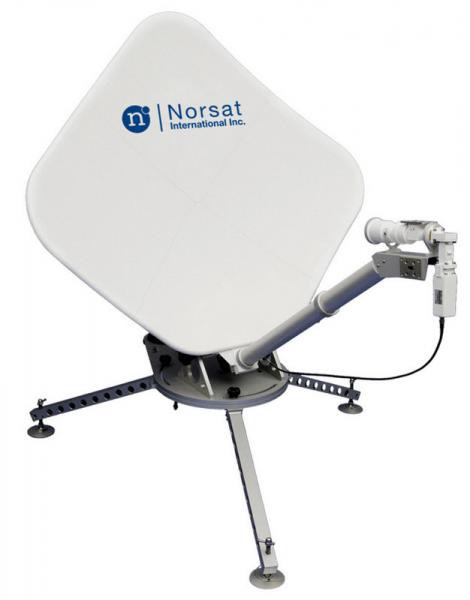 The Norsat NewsLink™ is an extremely rugged transportable satellite terminal, designed explicitly for news gathering in challenging environments. Conveniently packaged in industrial cases and supported by advanced pointing tools, a reporter can set up and begin transmitting in a matter of minutes, without technical expertise.
Tough
The Norsat NewsLink™ system is field proven, rugged and reliable. With units continuously operating for more than eight years in locations including Afghanistan, Iraq, and Haiti, users rely upon the extreme durability of the NewsLink for broadcast quality transmission when it matters. NewsLink terminals have been deployed throughout sandstorms, earthquake aftermaths, arctic conditions and extreme rainfall, while continuing key broadcasts.
Intelligent
Norsat's LinkControl™ software seamlessly integrates all the tools needed for Satellite News Gathering with an easy to use interface and advanced capabilities. A software process guides a user through the pointing process and controls the power of the amplifier. The easy to use SD and HD encoders are controlled through the unified user interface. For experienced users, LinkControl provides advanced diagnostic and control capabilities, including spectrum analyzer, DVB receiver and Norsat's profile management system.
Portable
Packaged in 3 highly rugged cases, a single person can easily move and deploy the system. With its tool-free setup and an intuitive deployment strategy, the NewsLink can be set up and ready to transmit in a matter of minutes, leaving the user free to concentrate on reporting.
Portable
Man Portable
Fits in Small Vehicles
Quick Assembly without Tools
Intelligent
Assisted Acquire
Intuitive Interface
Remote Operation
Tough
Built Rugged
Shock Protected
Environmental Controls
Antenna
Transmit Frequency
13.75 GHz -14.5 GHz
Receive Frequency
10.95GHz -12.75 Ghz
EIRP
>56 dBW(40W)
G/T
21 dB/K
Antenna
1m diamond, carbon fiber, segmented (4 pieces)
Antenna Tx Gain
42 dBi
Antenna Rx Gain
40.5 dBi
Antenna Platform
Aluminum Tripod
Polarization
Cross-Pol (Standard) / Co-Pol (Optional)
Elevation Adj
10° - 90°
Azimuth Adj
360°
Polarization Adj
±60°
Pointing Tools
Onboard Spectrum Analyzer, Received Signal Strength Indicator,
DVB Receiver, Compass, Inclinometer, GPS, Norsat proprietary
LinkControl with Satellite Almanac, Antenna Alignment Wizard
Transmit
Frequency Range
Output
13.75 GHz - 14.5 GHz
Input
950 MHz - 1700 MHz
L.O. Frequency
12800 MHz
Reference Signal Frequency
External 10 MHz (supplied by Baseband)
10 MHz Power Level
0dBm ±5dB
Reference Signal Frequency
external 10 MHz (supplied by Baseband)
10 MHz power level
-5 to +5 dB
Reference Input Impedance
50 Ω
Output Power
Rated Power (P1dB) @ Amplifier Flange (minimum)
40W (other powers available)
Gain
Small Signal, typical
70dB
Maximum SSG Variation Over Any Narrow Band
±1 dB per 54MHz
Spectral Regrowth at Rated Power
-26 dBc
Receive
LNB Noise Figure
0.8 dB
L.O. Stability Maximum (over temperature)
±15 kHz
Phase Noise Maximum (SSB)
-65 dBc/Hz at 1kHz
-75 dBc/Hz at 10kHz
-85 dBc/Hz at 100kHz
Input/Output VSWR Maximum
2.2 : 1
Conversation Gain
55 dB min, 70 dB max
Output P1dB Maximum
7 dBm
Power Requirements
+15 to +24 V supplied through centre conductor of IF cable
Current Drain Maximum
200 mA
Interfacility Link Cable
Length
10m (Standard)
30m (Optional)
Shock Protected Baseband
Top Rack Unit:
System Controller, Single Point Power Supply
Middle Rack Unit:
Pointing Tools (Spectrum Analyzer, DVB Receiver)
SSPA Control and Management, HD/SD Encoder, DVB-S/2 Modulator
Bottom Rack Unit:
Available for Customer Equipment
Diagnostics
Closed loop transmit power control Temperature and current monitoring
Transmit signal monitoring via RSSI, DVB Receiver, and Spectrum Analyzer
Video Encoder
Standard
MPEG-2 (NTSC or PAL)
Bitrate
1500 kbps - 10000 kbps
Inputs
Composite Video (RCA),
Composite Video (BNC)
SDI with embedded audio (BNC) (Optional)
Latency
250 ms (normal) / 80 ms (low)
Chroma Sampling
4:2:0 (standard) / 4:2:2 (optional)
Settings
PIDs, horizontal resolution, aspect ratio, GOP
Audio Standard
MPEG Layer 2 or Linear PCM (4 channels)
Audio Bitrates
128 kbps - 384 kbps
Audio Inputs
4 balanced (XLR), 4 unbalanced (RCA),
AES/EBU (XLR) (Optional)
Video Modulator
Standard
DVB-S / QPSK
FEC
1/2, 2/3, 3/4, 5/6, 7/8
RF Interfaces
Tx-Out, Tx-Monitor-In, Rx-In, Rx-Out (L-band)
Modulator-Out, Upconverter-In (70 MHz)
Built-in Power Supply
Prime Power
110/220 VAC 50/60Hz
Optional DC
12 or 24VDC Inverter (Optional)
Co nsumption
Physical 1RU 152mm deep rack enclosure
650 vA AC 482 x 44 x 152mm (WxHxD)
Physical
1RU 152mm deep rack enclosure
Environmental
Operating Temp
-30 to +50 °C (Antenna/RF)
0 to +50 °C (Baseband)
Rainfall
15mm/h Operational
30mm/h Survival
Wind Speed
60km/h Operational
100km/h Survival
Humidity
95% non-condensing
Packaging
3 Cases (incl. power supply)
711 x 406 x 660mm (WxHxD) each
22 Kg each