ROVER
Flexible. Portable. Reliable.
The ROVER™ is an ultra-lightweight fly-away satellite terminal with unsurpassed reliability, advanced assisted-acquire technology, and a flexible deployment platform. Available in both 1.0 and 1.2m antenna sizes, the ROVER's components can be tightly integrated for rapid deployment or separated into indoor and outdoor units for safe operation in dangerous terrain or situations. With IATA compliant packaging and a tool-free assembly process, the ROVER is easy to transport and operate, with military grade durability you can rely on wherever your mission takes you.
Features

| | |
| --- | --- |
| Advanced assisted acquire technology | LinkControl's intuitive user interface guides users through the satellite acquisition process |
| Modular Architecture | Components are field serviceable for easy maintenance |
| Easy tool free assembly | Rapidly assemble & deploy without tools in under 15 min |
| Flexible Indoor/Outdoor unit deployment | Safely deploy the ROVER in dangerous terrain, or weather |
| Multi-band capability | Ku, X, and Ka band kits available – field swappable in under 10 min |
| System integration | Software integration and control supports widest variety of components |
| Built in trouble shooting | Visible and audible alarms guide user through problem resolution |
| Military Grade | Platforms have been tested to meet military specifications |
| Ultra lightweight packaging | IATA compliant hard cases or backpack options available |

Integration Options
The ROVER system is available in a variety of configurations, giving you the flexibility to choose the best fit for your your existing equipment, technical expertise and deployment requirements.
Satellite Acquisition Assistant
The Satellite Acquisition Assistant (SAA) is a satellite pointing tool kit available with the ROVER as a standalone unit in a rugged enclosure. The SAA includes spectrum analyzer, integrated GPS, inclinometer, compass, narrow band power meter, DVB/S(2) receiver, and LinkControl Software.

Cost effective solution for experienced satellite technicians
Ideal for redundant terminal solutions
May be used to align other terminals

Integrated Base Unit
The SAA, power supply and a rugged satellite modem can be delivered in an outdoor unit, fully
integrated into the ROVER outdoor equipment.

All weather deployment - Electronics stored in outdoor rated enclosures (IP65)
Ultra-light weight for easy transportation
Integration ensures the most rapid set up and deployment

Rack Mount System
The ROVER can be supplied with an integrated rack mount solution in a variety of rack sizes.
Rack mounted systems include a Compact Indoor Unit, SAA, laptop, power supply & space for any number of modems or encoders.

Maximum flexibility- integrate nearly any component, including high power BUCs
Rugged- rack units are supplied in ruggedized cases for transport and storage

Specifications


X-Band (60W BUC*)
Ku-Band (40W BUC*)
Ka-Band (4W BUC*)
1.0m antenna
1.2m antenna
1.0m antenna
1.2m antenna
1.0m antenna
1.2m antenna
G/T
14.7 dB/K
17.0 dB/K
19.5 dB/K
20.2 dB/K
21.5 dB/K
20.8 dB/K
EIRP*
51.5 dBW
55.1 dBW
56.1 dBW
57.6 dBW
53.5 dBW
55.2 dBW
Tx Gain
>36.1 dBi
>38.3 dBi
>41.5 dBi
>43.0 dBi (mid band)
>48.0 dBi
>49.7 dBi (mid band)
Rx Gain
>36.0 dBi
>37.6 dBi
>40.0 dBi
>41.0 dBi (mid band)
>44.0 dBi
>46.0 dBi (mid band)
Polarization
Circular
RHCP/LHCP or LHCP/RHCP
Linear Cross-Pol
Circular / Linear
RHCP/LHCP or LHCP/RHCP
Cross pol isolation
N/A
>35.0 dB within 1 dB contour
N/A
Axial Ratio
<1.2 dB in Tx Band
N/A
<1.0 dB in Tx band
Elevation adj
5° to 85°, Manual with fine adjust
Azimuth adj
±300, Manual with fine adjust
Transmit frequency
7.9 - 8.4 GHz
13.75 GHz - 14.5 GHz
30 - 31 GHz (military)
Receive frequency
7.25 - 7.75 GHz
10.95 - 12.75 GHz
18.2 - 21.2 GHz
Input frequency
950 - 1450 MHz
950 - 1700 MHz
950 - 1950 MHz
Operating Temp
-30°C to +55°C, meets MIL-STD- 810G
Rainfall
15 mm/h Operational, 30 mm/h Survival, meets MIL-STD- 810G
Windspeed
60 km/h Operational, 100 km/h Survival
* Other power options available
LinkControl Software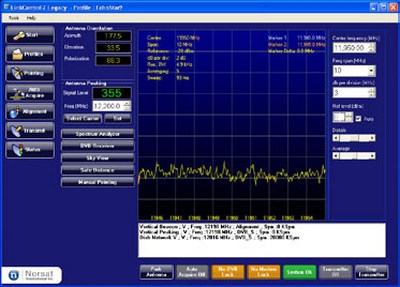 Included with every ROVER™ system, LinkControl™ software is the industry's most intuitive and powerful suite of satellite pointing tools. With an easy-to-use GUI, LinkControl guides the user through the satellite acquisition process and seamlessly integrates the various hardware components. Users have full control of all integrated components including SSPA, LNB, modem, or encoder modulators. Through user configured profiles and a customizable satellite almanac, LinkControl enables users to plan operations, rapidly deploy systems and conduct remote diagnostics. Features include:
Assisted acquire technology with an easy step-by-step interface
Component auto-detection for easy modem or bandwidth switching
Remote access from anywhere in the world via TCP/IP
Built-in troubleshooting and resolution system
Closed loop power control to account for environmental variation
User configured LinkProfiles to store deployment data including location, satellite, Modem/encoder data, hardware configuration, LNB and polarization detail

Portable and Reliable.
Currently deployed around the world for a variety of military and commercial applications, the ROVER™ is field proven and reliable for mission critical operations. The ROVER platform has been tested to meet military specifications and features a rugged design ideal for use in all terrains and climates. The ROVER's light weight carbon fibre antenna and IATA compliant packaging ensure the terminal is airline transportable, so you can rely on the ROVER to just work, wherever your mission takes you.
Flexible.
The ROVER's flexible platform is easily configured to exactly meet the requirements of your deployment. The various components can be integrated into a compact base unit for easy transportation and deployment, or separated into Indoor and Outdoor units to keep electronics and personnel safe while operating in dangerous terrain or inclement weather. A compact indoor unit (CIDU) completely integrates laptop controllers and pointing tools, and a Satellite Acquisition Assistant (SAA) provides everything needed to point, peak and acquire a satellite. Available with X, Ku and Ka band kits that can be field swapped in less than 10 minutes, and power options up to 200W, the ROVER provides the most flexible satellite terminal platform available today.
Antenna
X-Band
Ku-Band
Ka-Band
Antenna Platform
Elevation over Azimuth
Mounted on Tripod
Elevation over Azimuth
Mounted on Tripod
Elevation over Azimuth
Mounted on Tripod
Transmit
Reference Signal Frequency
external 10 MHz
-5 to +5 dBm
(supplied by Base Unit)
external 10 MHz
-5 to +5 dBm
(supplied by Base Unit)
external 10 MHz
-5 to +5 dBm
(supplied by Base Unit)
Rated Power (1dB C.P.)
60 W (other options available)
40 W (other options available)
4 W (other options available)
Power Control
0.1 dB res, 1 dB accuracy modem dependent
0.1 dB res, 1 dB accuracy modem dependent
0.1 dB res, 0.6 dB accuracy modem dependent
Max. SSG Variation
over any narrow band
±1 dB per 54 MHz
±1 dB per 54 MHz
0.3 dB in 36 MHz band
Spectral Regrowth at rated pwr.
-26 dBc
-26 dBc
-26 dBc
Receive
LNB Noise Figure (typical)
0.7 dB
0.8 dB
1.3 dB
LO Stability Maximum (over temp)
±10 KHz or ext. ref.
±5 KHz or ext. ref.
±40 kHz or ext. ref.
Phase noise (SSB maximum)
-75 dBc/Hz at 1 kHz
-85 dBc/Hz at 10 kHz
-95 dBc/Hz at 100 kHz
-75 dBc/Hz at 1 kHz
-80 dBc/Hz at 10 kHz
-95 dBc/Hz at 100 kHz
-75 dBc/Hz at 1 kHz
-80 dBc/Hz at 10 kHz
-100 dBc/Hz at 100 kHz
Output P1dB
10 dBm
7 dBm
7 dBm
Modem & HD Encoder/Modulator Options
Environmental
The ROVER is compatible with a variety of modems and encorders,
including those made by the following manufacturers:
Temperature
Operational
-30°C to +55°C
Survival
-40 to +70°C
Comtech
Rainfall
iDirect
Operational
15 mm/h
Hughes
Survival
30 mm/h
Radyne
Storage Temp
-40°C to +70°C
Norsat MPEG 2/4 HD/SD Encoders Available
Weatherproofing
MIL-STD-810G
Windspeed
Satellite Acquisition Assistant (SAA) Toolkit Features
Operational
60km/h
Spectrum analyzer. Advanced Sat Comm professional tool allowing for enhanced precision during pointing and diagnostics
Survival
100 km/h
Humidity
5-95% condensing
Integrated GPS, inclinometer, and compass. Provides all the bearing information needed to accurately find and point the terminal
Vibration
MIL-STD-810G
Loose Cargo Vibration
MIL-STD-810G
Narrow band power meter. Power level reading for quick check satellite indication
Transit Drop
MIL-STD-810G
Blowing Dust & Sand
MIL-STD-810G
DVB S/S2 receiver. Positive lock for exact satellite acquisition confirmation
Blowing wind & Rain
MIL-STD-810G
Random vibration
MIL-STD-810G
LinkControl Software
Shock
MIL-STD-810G
Drop & topple
MIL-STD-810G
Rackmount or Compact Indoor Unit (CIDU) Features
Free fall
MIL-STD-810G
Form Factor
2RU 19" rack chassis
Salt mist
MIL-STD-810G
Power Supply
up to 100W @ 24V (for IDU)
up to 400W @ 48V (for SSPA power supply)
Power Supply
Prime Power
110/220 V AC (50 / 60 Hz)
Consumption
Varies with BUC options
Power Requirements
600W 110/220V AC 50/60Hz
Power Supply
Can be supplied with 400W, 600W & 1000W power supply depending on BUC options
Size
41 x 56 x 24 cm
Weight
22 kg (est.)
System Controller
Panasonic CF-19 Toughbook
Packaging
Completely integrated SAA Module with all SAA tools
Windows XP, Windows 7, Mac OSX, Norsat LinkControl software
User selectable Modem integrated with LinkControl Software
Hard packs, soft pack and backpack options available. Most system configurations are available with IATA Compliant packaging (cases <32 kg each)
Packaging options available in as few as 2 cases.
Integrated Base Unit Features
Accessories Options
The Base Unit is delivered in an outdoor rated enclosure, completely integrated into the ROVER. The Base Unit is complete with all of the following:
Satellite Acquisition Assistant (components listed above)
Power supply
Rugged satellite modem
2 kVa Generator
Ruggedized Laptop Controller with Integrated Linkcontrol Software
30 meter IFL cable
Fibre optics package
Lightning protection kit
De-icing kit
Vehicle power kit (MIL-STD 1275B)