SigmaLink AUTO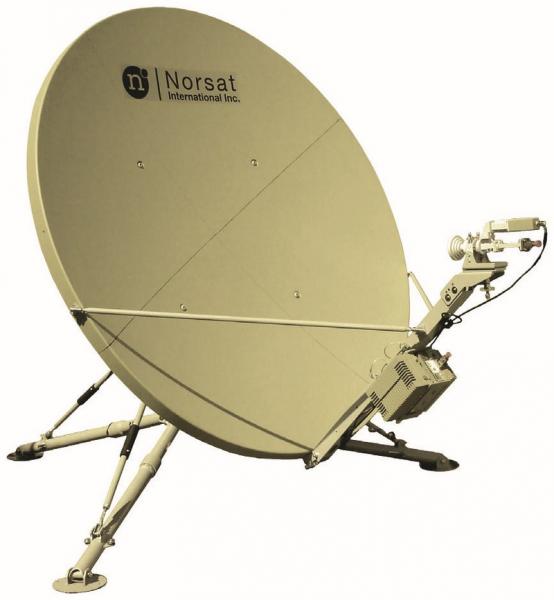 The new Norsat SigmaLink™ AUTO is the latest in a series of transportable satellite terminals. The SigmaLink™ AUTO is ideally suited to provide broadband connectivity for base camps or other prolonged missions where assignments are temporary but deployment is protracted. With simple setup and automatic acquisition, personnel with minimal training can have the Norsat SigmaLink™ up and transmitting in minutes.
Flexible. Intelligent. Rugged.
The Norsat SigmaLink™ AUTO was designed from the ground up to deliver broadband data connectivity in a transportable, rugged and easy-to-use package. The terminal can be easily configured to meet varying needs; it includes a 1.8m or 2.4m antenna, interchangeable Ku/X/C band capability, various power amplifiers options, positioner, controller, and motorization. Norsat is also the first in the industry to incorporate an easy-to-use graphical interface for antenna alignment, satellite acquisition, peaking and transmitter control, as well as access to the built-in spectrum analyzer, beacon detector, and DVB receiver.
The Norsat Advantage
Only the Norsat SigmaLink™ AUTO provides a quick assembly platform that can be set up in less than 15 minutes without tools. It comes complete with pointing tools (compass, inclinometer, and GPS) to aid in satellite alignment. The sophisticated LinkControl™ software together with automatic satellite acquisition, makes alignment and acquisition easy for even novice operators. To further simplify operation in the field, a full range of settings can be pre-configured in user selectable profiles before the Norsat SigmaLink™ is sent out on assignment.
Flexible
Ku/X/C band capable
1.8 M or 2.4 M antenna for greater throughput
Available with pointing box (SAA) and/or baseband configuration
Configurable to operate on any commercial satellite at any time
Intelligent
Quick and simple assembly
Assisted-acquire via easy-to-use SAA
Intuitive graphical software interface
Built-in spectrum analyzer, beacon detector, DVB receiver
Software control of transmitter
Rugged
Packaged in ruggedized industrial cases
Built tough and weatherized for harsh environments
Shock protected assemblies
Compliant with military environmental standards