AT Ground Surveillance System (GSS)
AT Ground Security Sensors
The AT Ground Surveillance System (GSS) is integrated network of sensors, cameras and mesh radio network providing early warning alerts and visualization of potential threats. The AT GSS when integrated with the AT SA Situation Awareness System provides field users relevant real time information similar to that available to coordinators in command bases stations. The combination of position, sensor alerts, video and status from multiple sensors combined on the one system screen provides significant efficiency to make rapid decisions in demanding operational scenarios.
AT GSS Sensor components
iScout®
vWatch®
Air-Drop Sensor
Radio Transceiver
IR Camera
IP PTZ Camera
The AT GSS provides both short term and long-term deployment solutions without reliance on fixed infrastructure, enabling remote area monitoring and security alerts for critical assets and deployed teams. The AT GSS sensors can be used for applications includingpersonnel, assets, facility perimeter and border security monitoring, and intelligence and counter-intelligence, expeditionary and counter-insurgency tasks. Application examples include critical infrastructure such as Nuclear Plants, Refineries, Jails, Airports, Military bases and Shipping Ports.
AT GSS Sensor component detail
iScout® - The iScout® is a small solar powered, water proof, point-to-point radio with advanced detection performance at a low price. iScout® takes less than 1 min to install and is the size of a deck of playing cards, making it simple to conceal. iScout® can be configured for seismic, acoustic, magnetic, tamper and thermal detection. Any or all of these modes can be combined in network of sensors integrated in the AT SA system.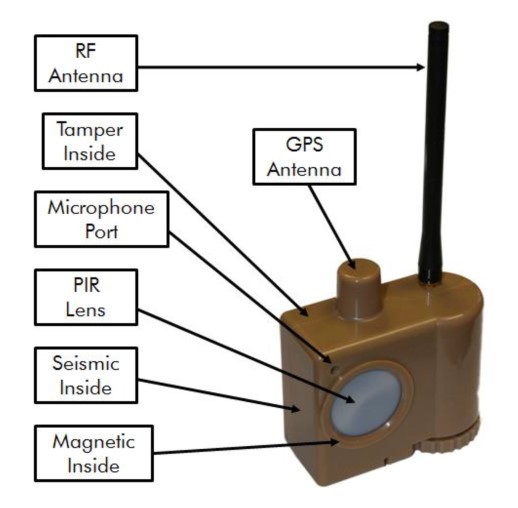 Key features
No operator set up other than sensor emplacement
Interfaces with handheld user display
Built-in GPS receiver and anti-tamper alarm
Technical details
Dimensions: 8.9 x 6.4 x 3.2cm
Weight: 0,2kg (200 grams)
Solar battery powered (uninterrupted performance 24/7 for 365 days a year)
Detection range:

PIR: up to 50m (person), up to 100m (vehicle)
Seismic: up to 50m (person), up to 150m (vehicle)
Magnetic: up to 7m (vehicle)

Rugged waterproof case (IP67)
-40C to +60C

vWatch® - vWatch® is a portable and remotely controlled image/video management systems that manages encrypted video distribution and video quality over the AT GSSnetwork. When combined with the vWatch field unit a user can adjust PTZ and image detailsettings and the system will dynamically adjust the data rate to match the availablebandwidth and stream requirements.
The vWatch has several power supply options and a USB connector to power external devices. The vWatch® device is rugged and built to work in harsh weather conditions. A display shows the status of the unit and the IP address to provide confirmation on installation that unit is streaming video to the server.
The Field Unit has the option of 4G LTE service,WiFi or wired links with smart data throughput management to control video streams over cellular links with monthly data limits.
The vWatch® Video Management Coordination Server and supports a large number of vWatch® Field Units. The Coordination Server stores the video for replay and analysis and distributes the video to many users for computer, tablet or AT SA Situaational Awareness Terminals.
The vWatch® Coordination Server software consists of Microsoft server software, map server software, database management software, video viewer translation software, Web server software, Connection Manager software, target activity sensor Situation Awareness Display (SAD) software, OmniPush XML integration software, and encryption/decryption software.
| | |
| --- | --- |
| | |
| vWatch Coordination Server | vWatch Field Unit |
Key features
RF interface
Two way secure IP communication (encrypted)
Over the air configuration
Provides Live Compressed Video to Multiple Distributed Users
Self-Contained Solution with Video Compression
Supports Pan, Tilt and Zoom functionality of the camera
Technical details
Video Input
RJ-45 Internet Protocol Connector (IP Camera Input)
Dynamic IP Addressing
ONVIF Protocol Interface
Power over Ethernet (PoE)
Optional Analog Camera via BNC connector
Power Input
10 to 20 VDC
Max 60 Watts Power Consumption
External Power Unit; Solar Charged Battery, AC to DC Converter
Power Output
Standard USB 2.0 Power
Video Output
RJ-45 IP Video Out
Status Display
Power Indicator
Video Output Bit Rate
Video Output Framing Rate
Video Resolution; 1280x1024, 1024x768, 640x480, 320x240, 160x120
Network Connection Status
RF Output
TCP/IP
Size
16.5 x 17.8 x 5.7 cm
Weight
1.25 kg
Environmental
IP-65, Water Resistant, -40 to +60 C°
Sensor Triggering
900MHz spread spectrum transceiver and software integrated with iScout® wireless unattended
ground sensors to trigger video when target activities are detected. The sensor data is multiplexed
with the video sent to the user to support map based situation awareness displays.
McQ Air Drop Sensor
For hard to reach areas or for rapid deployment application, the AT GSS can be supplied with Air Dropped ground sensors. The sensors are dropped from either a fixed wing or helicopter aircraft and are designed to survive a freefall. The system has a self-contained mechanism to self-right upon landing.
Sensors are solid state, can be camouflaged and include surveillance, communications and also weather stations providing temperature, humidity, barometric pressure, visibility, wind speed and direction.
Radio Transceiver - The AT GSS mesh radio network delivers encryptedhigh speed sensor-to-server communication for collection, transport and control of sensor data, as well as remote management and configuration of deployed sensors. The AT GSS radio transceiver uses 128 or 256bit Encryption to deliver up to 100km line of sight range with intelligent network monitoring and user selectable frequency hopping sequence.
With extremely high data rate and energy independence The AT GSS Radio provides a flexible, modular and mobile solution to traditional microwave networks. The system is optimized for image and video data exchange and is fully integrated with the AT SA Situational Awareness System and the Ground Sensors for powerful multi-level distributed networking.

Key features
Multi-High Speed Data Rates: Five RF Link Rates supporting throughputs from 80 kbps to 4 Mbps
Security: 128-bit and 256-bit AES counter mode encryption
Long Range: Up to 100km line of sight
User Selectable Hopping Sequence: manipulate channel settings to assure highest performance
Built-in Spectrum Analyzer: identifies potential interference and monitors network performance
Low Current Consumption: 270 mA @ 12V in transmit and 100 mA @ 12 V in receive
Technical specification
Transmitter:
Frequency Range: 902 to 928 MHz
Output Power: 10mW to 1W; user selectable
Data Link Range: 100 km
Modulation: GFSK and 8-ary FSK
Channel Sizes: 230.4, 345.6, 691.2, 1382.4, 3225.6 kHz
RF Data Rates: 115.2, 250, 500, 1000, 4000 kbps
Hopping Channels: up to 112; RF Data Rate Dependent
Hopping Patterns: up to 16
Hopping Rates: 400ms, 200ms, 100ms, 50ms, 25ms
Receiver:
Sensitivity: -106 dBm @ 115.2 Kbps; -82 dBm @ 4 Mbps
IF Selectivity: > 40 dB
System Gain: 136 dB
Data transmission:
Error Detection: CRC, FEC and ARQ
Link Throughput: up to 2 Mbps
Ethernet Rate: up to 2 Mbps
Serial Rate: up to 250 kbps
Data Encryption 128-bit and 256-bit AES CCM
Protocol Proprietary CSMA
Interfaces:
Data Connectors: three RJ-45 (one Ethernet, two Serial)
USB Connector: micro USB
RF Connector: TNC
Power requirements:
Operating Voltage: +6 to +30 VDC (± 10%)
Transmit Current: 270 mA @ 12 VDC
Receive/Idle Current: 100 mA @ 12 VDC
Max Power: 7W
General information:
Operating Temperature: -40°C to +60°C
Humidity: 0 to 95%, non-condensing
Dimensions: 7.52 x 4.31 x 2.52 in
Weight: 750 g (transceiver only)
A range of IR and IP PTZ Cameras are available with many 3rd part systems compatible with AT SA depending on mission requirements.
Sensor products operating as part of the AT Ground Surveillance System are supplied by McQ Inc with overall system management and control by the AT SA Situation Awareness system.