Data Terminal RA5 HF VHF UHF Border Guard Security Agencies Police
Data Terminal for HF, VHF, UHF Radios
FEATURES & BENEFITS:

Ultra-rugged PDA incl. HF / VHF / UHF Modem
Built-In Data Modem, ALE & ARQ
SMS, Chat, Forms & QuickCodes
RA5 to RA5 Email and file transfer included
Email for PC/Internet
GPS, Compass, Navigation & Position Tracking
Radio Control
Compatible with any HF, VHF, UHF Radio
3 Year Warranty

AES-256 VOICE, DATA & POSITION FOR ANY RADIO

The RA5 is a high performance digital secure voice terminal purpose-built
for situations where PC / PDA and Modem functions are required in a
rugged integrated format. The RA5 is suitable for first responders, security
agencies, governmental, paramilitary and even military users requiring
voice privacy and secure data communications - vehicular or hand-held.
The RA5 easily integrates with HF, VHF and UHF transceivers via the
audio interface.

SUPERIOR MODEM PERFORMANCE

Long-range communication is especially prone to channel fading. Both
digital voice and data operation benefits from RapidM's superior
technology and experience in HF modem design. The modem features
adaptive equalization and can deal with in-band distortion and
interference resulting in extended range and increased data throughput.
Data can work on poor links when voice communication is not possible.
INFORMATION SECURITY
Beyond-Line-Of-Site (BLOS) communication is vulnerable to eavesdropping. The RA5's built-in AES encryption means that all digital voice and data communications are secured by a trusted algorithm.
LOW-RATE VOCODER
The internal Vocoder digitizes the voice. The information is then encrypted and converted to an in-band signal by the data modem. The Vocoder dramatically improves voice quality in adverse channel conditions, extending the range of voice communications. The unit is also capable of detecting plain voice (analogue SSB or FM).
PRIVATE LINE VOICE
'Private Line' conversations are not heard by other units. The unit to call can be selected from the Contacts List.
LOCATION TRACKING
The RA5 built-in GPS receiver facilitates simple navigation functions, position tracking and supports emergency GPS alerts.
SECURE DATA MESSAGING
The RA5 can provide broadcast Chat and point-to-point SMS and Email data communications from headquarters to regional centres and mobile stations. File transfer from an external USB drive is also supported. The unit is menu driven with an intuitive and simple interface.
The Address Book – keypad button – is a convenient entry point for messaging to individuals or multiple recipients. Icons indicate priority level and delivery status of messages.
The Call for Backup – keypad button – gives users peace of mind that messages can go out quickly in a emergency situation. Further menus include rescue and evacuation requests to be sent.
Access to the unit is restricted by means of a Personal Identification Number (PIN). All locally stored messages are encrypted.
Automatic Link Establishment (ALE) can optionally be used to determine the best channel for establishing voice and data links. The transceiver is automatically switched to the correct channel (radio control required). Notwithstanding the use of ALE to control a transceiver, the RA5 can still link with an RA5 on in 'fixed channel mode' or with no radio control.
The result is rapid, reliable and secure data messaging using a variety of existing radios.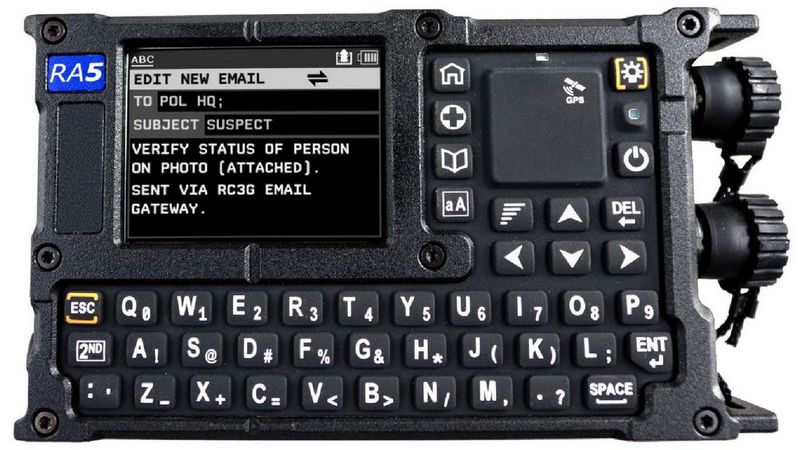 DT SYSTEM CONFIGURATION

Configuration and Key Management is performed using the DT SCS (System Configuration Software) and DT KMS (Key Management System) software. Configuration file and key sets are securely transferred to multiple devices using
a USB drive.

DT PC GATEWAY (OPTION)

The RA5 can provide a "modem mode" in which it connects with the DT GATEWAY Software on a PC via the Ethernet port providing end- to-end Email connectivity.
The GSM gateway enables SMSs to be sent to and from the Global GSM network. This uses a Third Party GSM modem located at the DT GATEWAY.

RA5 DATA MODEM

The default RA5 configuration uses a proprietary Advanced Link Set-up and packet data modem for optimised data transmission on radio networks in adverse conditions.

RA5 REQUIRED ACCESSORIES

USB Cable: For file transfer, camera access, printing, Network Configuration key-fill and field software upgrades.
Radio Cable: Use Generic Cable or contact AT Communication International AG for appropriate cable to support specific radio models.
Additional Accessories: Please contact AT Communication International AG

Hardware
Environmental
Weight
490 g including batteries
Safety
IEC/EN 60950
Size
148 x 82 x 28 x mm (w x d x h)
FCC
Title 47 CFR, Part 15 Subpart B Class A Digital Device
Colour
Black (RAL 9002)
EMC / EMI
EN 55022, EN 55024
Power
Battery: 2 x Standard AA-size cells, or
2 x NiMH AA-size, internal charger
External: 5 – 36 V DC (vehicle surge protected)
Environmental
Humidity, Shock, Vibration
Temperature
-20°C to +60°C (operating), -30°C to +75°C (storage)
Battery Life
> 12 hrs (Operational profile dependant)
Immersion
IP67
RA5 Software, Vocoder & Modem
Vocoder
MELPe: Mixed Excitation Linear Prediction enhanced (US & NATO end-users, subject to approval)
RTAWC: AT Comm proprietary high performance Vocoder
Vocoder Rates
600, 1200, 2400 bps
Messaging
Email, Chat, SMS, QuickCodes, File Transfer, Position push / pull
Modem
High performance serial tone BLOS modem (V/UHF compatible) featuring adaptive equalization.
The modem is able to deal with in-band interference and multipath/fading (up to 10 ms, 30 Hz).
OS and BIT
Operating System: Linux. Comprehensive BIT (Built-In-Test), Continuous error detection
Storage
2 GB secure FLASH
Encryption
Key Fill
256 factory loaded keys in encrypted storage. Key selection is incremented automatically
(estimated to last more than 10 years). New keys can be loaded via SCS PC Software for Windows™(included).
Algorithm
Advanced Encryption Standard (AES), 256-bit key length
Random Number
True random number generator based on random physical events
Digital Voice
Vocoder
600, 1200 & 2400bps Low-rate Vocoder.
Modem
High performance serial tone BLOS modem (V/UHF compatible) featuring adaptive equalization.
The modem is able to deal with in-band interference and multipath/fading (up to 10 ms, 30 Hz). MIL-STD 110B also available (MARS)
Performance
Vocoder Rate (bps)
Latency (s)
Understandability Limit SNR [dB]
PESQ (Voice Quality)
CCIR Poor
AWGN
2 400
1.6
6.5
0.5
3.2
1 200
2.2
4.0
-0.5
3.0
600
2.2
0.5
-3.0
2.4
RA5 Interfaces
Keyboard
QWERTY layout with backlighting. Dedicated backlight control. Built-in ambient light sensor
Display
2.4" Colour OLED, QVGA resolution (320 x 240), 15-bit colour depth. Status LED for 'message waiting' and charge indication
GPS
16-Channel receiver, -160 dBm sensitivity, LNA, embedded active patch antenna
USB Host Port
USB Host Port 5V (100mA) output
Ethernet Port
10/100 Base T (IEEE 802.3U compatible), embedded TCP/IP Stack, Auto cross-over detection
Audio Port
Input: 10k Ohm unbalanced 5 Vp-p max. Output: Unbalanced, –40 to +0 dBm adjustable into 600 ohm load. PTT Output, Audio return
Serial Port
Control and Data port: RS-232 levels. RxD, TxD
Power
5 - 36 V DC input for operation and battery charging, 0.3 – 2.2 Watt