Military Tactical Data Terminal RT5
Military Tactical Terminal for HF, VHF, UHF Tactical Radios
FEATURES & BENEFITS:

Ultra-rugged PDA incl. HF / VHF / UHF Modem
Compatible with any HF, VHF, UHF Radio
Ultra-rugged watertight enclosure and rugged connectors
Lightweight, small and convenient
Built-In AES Encryption for all over-the-air and data-at-rest information
Secure Messaging: Chat, QuickText, SMS/MMS, and Email
GPS, Compass, Navigation/Position Tracking, and polar map situational awareness display
Sunlight-display and automatic 'night-mode' (dim to black)
QWERTY keyboard with emergency and address book buttons
Embedded JITC-certified STANAG 5066 ARQ for NATO interoperability as well as:

STANAG 4538 (3G ALE), 4539, 5066
MIL-STD 188-141B (App.A), 810F, 461

THE RT5 TACTICAL TERMINAL FOR MOBILE MILITARY COMMUNICATIONS

With its small size, the ultra-rugged, lightweight RT5 Tactical Terminal provides instant,
secure messaging for any radio network with minimal training or set up time. Combined
with the DT Mil System, the RT5 provides the secure messaging applications
needed for digital command and control and extends those capabilities from the brigade
level to the front line.

HIGH-PERFORMANCE MODEM

Using its high performance modem, the DT RTS interfaces via an audio cable
to HF, VHF, or UHF transceivers to provide a gateway to secure intranets for email, and attachments, and via an external GSM modem for SMS/MMS, Chat, and QuickText
features.

SIMPLE TO USE AND QUICK TO DEPLOY

Offering an intuitive user interface, the RT5 is simple to use and allows for rapid
deployment of secure messaging applications, regardless of command levels or previous
training. Predefined forms help structure information and drastically reduce the amount
of data transmitted. Messages may be addressed to individuals or multiple recipients,
depending on the service.

Enabling efficient and accurate point-to-point and broadcast data communications,
the RT5 keeps command centers in contact with the mobile force; even when voice communications are not possible
SITUATIONAL AWARENESS
For situational awareness, the RT5 provides a built in GPS receiver and antenna so that position and time information can be sent securely
over the radio network as needed. Pictures and files can be uploaded to the RT5 and attached to emails, providing visual and critical information
from the battlefield.
SECURE DIGITAL VOICE
The robust voice solution is designed for BLOS secure digital voice communication with superior performance in adverse channels. Vocoder rate
is adapted dynamically to allow optimal quality in all channels. Broadcast and Private-Line (point-to-point) modes are supported, as well as late entry.
SECURE MESSAGING AND POSITION
CHAT and QuickCodes - provide flexibility and robustness, point-to-point or broadcast. Predefined Forms help structure information for
ease-of-use and drastic data compression.
All over-the-air communications, locally stored messages and positions are encrypted. Access to the unit is restricted by means of a
Personal Identification Number (PIN). A Zeroize function is provided from the keypad which erases all used data and keys.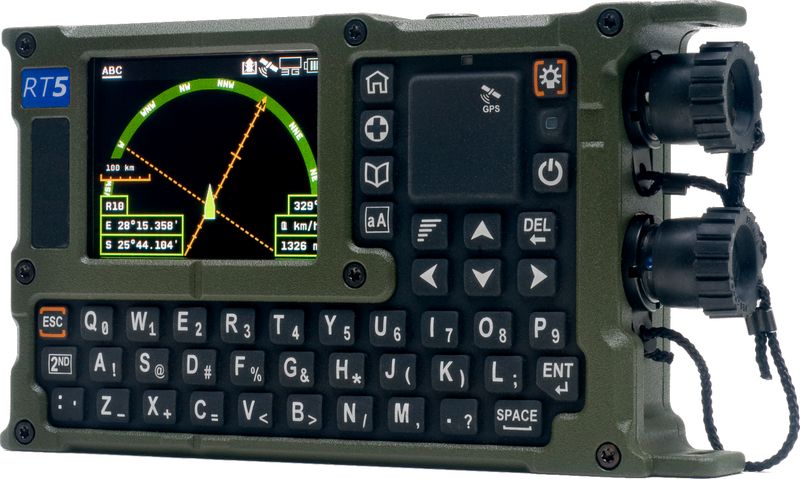 DT PC GATEWAY (OPTIONAL)

The RT5 can provide a "modem mode" in which it connects
with the DT GATEWAY Software on a PC via the Ethernet port providing end- to-end Email connectivity.

RT5 REQUIRED ACCESSORIES

USB Cable: For file transfer, camera access, printing, Network Configuration key-fill and field software upgrades.
Radio Cable: Use Generic Cable or contact AT Communication International AG for appropriate cable to support specific radio models.
Additional Accessories: Please contact AT Communication International AG
Hardware
Environmental
Size&Weight
148x82x28mm (WxDxH), 490g including batteries
Temperature
-40°C to +60°C (operating), -55°C to +85°C (storage)
Colour
Black (RAL 9002)
Immersion
MIL-STD-810F Method 512.4 Proc 1 (1 hour at 1m)
Power
Battery: 2 x Standard AA-size cells, or
2 x NiMH AA-size, internal charger
External: 5 – 36 V DC (vehicle surge protected)
Environmental
MIL-STD-810F Humidity, Shock, Vibration
EMC / EMI
MIL-STD-461
Battery Life
> 12 hrs (Operational profile dependant)
Safety
IEC/EN 60950
Software & Modem
Messaging
Chat, Text, QuickCodes, File Transfer, Template-based Forms, Position Transfer. Email and SMS via DT Gateway
Security
AES 256-bit (for ITAR non-restricted countries only, EUC required) with 1024 keys, Zeroize function.Tamper detection
Modem
High performance serial tone BLOS modem (V/UHF compatible) featuring adaptive equalization.The modem is able to deal with in-band interference and multipath/fading (up to 10 ms, 30 Hz). MIL-STD 110B also available (MARS)
S 5066 Email
Over-the-air interoperability with embedded STANAG 5066 ARQ & CFTP email client, Interoperates with DT Gateway for WIndows
S 4536 Packet
STANAG 4538 LDL, HDL Packet Mode ARQ Configured by RC50-T Robust & efficient support for all the Messaging Services
ALE 2G
Automatic Link Establishment FED-STD 1045 & 1049, MIL-STD-188-141B App A & B, Linking Protection, Occupancy Detection
ALE 3G
STANAG 4538 Fast Link Set-up (FLSU), Linking Protection, Occupancy Detection
OS & BIT
Operating System: Linux. Comprehensive BIT (Built-In-Test), Continuous error detection
Storage
4 GB secure FLASH
Vocoder
600, 1200 & 2400bps Low-rate Vocoder
Digital Voice Performance
Vocoder Rate (bps)
Latency (s)
Understandability Limit SNR [dB]
PESQ
(Voice Quality)
CCIR Poor
AWGN
2 400
1.6
6.5
0.5
3.2
1 200
2.2
4.0
-0.5
3.0
600
2.2
0.5
-3.0
2.4
Interfaces
Keyboard
QWERTY layout with backlighting. Dedicated backlight control. Built-in ambient light sensor. Zeroize key sequence
Display
2.4" Colour OLED, QVGA resolution (320 x 240), 18-bit colour depth. Status LED for 'message waiting' and charge indication
GPS
16-Channel receiver, -160 dBm sensitivity, LNA, Embedded active patch antenna
Red Accessory Port
USB Host
USB Host Port 5V (100mA) output
Ethernet Port
10/100 Base T (IEEE 802.3U compatible), embedded TCP/IP Stack, Auto cross-over detection
Headset
MIC input line, PTT input line, EAR or SPEAKER output line
Black Audio Port
Audio Port
Input: 10k Ohm unbalanced 5 Vp-p max. Output: Unbalanced, –40 to +0 dBm adjustable into 600 ohm load. PTT Output, Audio return
Serial Port
Control and Data port: RS-232 levels. RxD, TxD, CTS, RTS, DCD and CLK lines
Power
5 - 36 V DC input for operation and battery charging, 0.3 – 2.2 Watt