CODAN Envoy Smartlink
Envoy SmartLink enables you to take advantage of the advanced IP and data capabilities of Envoy series radio.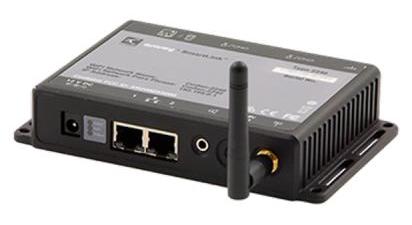 ADVANCED SYSTEM SUPPORT
Envoy SmartLink simplifies creation of advanced radio installations,
providing network connectivity, and allowing the installation of multiple
control points (handsets or consoles). This provides the ability to support
multiple personnel and locations from a single Envoy RF unit.
WIRED AND WIRELESS IP CONNECTIVITY
Envoy SmartLink provides an in-built 802.11 wireless access point,
and two wired Ethernet ports. This provides a reliable, convenient
and quick connection to Envoy for any IP connected device, such as a laptop using the Envoy's in-built data capability.
CASCADABLE FOR SYSTEM EXPANSION
Up to four Envoy SmartLinks can be connected to a single Envoy RF unit. This enables multiple geographically separated
control points, for maximal flexibility. An in-built audio amplifier allows direct connection of loudspeaker to SmartLink, for
handset applications.
RUGGED AND RELIABLE
Unlike commercial off-the-shelf (COTS) router products, Envoy SmartLink is fully ruggedised to MIL-STD-810G, and features
a machined aluminium housing.
Direct Connection - Single Control Point

Direct Connection - Dual Control Point

Networked Connection - Multiple Control Point

SPECIFICATIONS
GENERAL
Supported radios
Envoy X1, X2
Supported configurations
Up to 2 cascaded units (direct connection to Envoy RF Unit)
Up to 4 cascaded units (external DC power source required)
Audio
4 W into 4 Ω, typical, <5% THD (connected Mk 2 handset required)
Compliance
CE, FCC, RCM
Environmental
Temperature -30° to +70°C, Humidity 0-95% RH, non-condensing
MIL-STD-810G (Low pressure, Humidity, Fungus, Sand and Dust, Vibration, Shock)
Indicators and controls
3 tri-state LEDs (DHCP, WiFi, system status), combined reset / WiFi enabled switch
Configuration
DHCP server / client / static IP, set through embedded web browser
Size and weight
152 x 95 x 30 mm (6 x 3.7 x 1.2 in) 0.45 kg (1 lb)
Operating range
10.8 to 16 V DC, 240 mA (with no connections)

INTERFACES

Radio / link
2 x 10-way circular, proprietary
Wired Ethernet
2 x RJ-45, 802.3 i/u (10 / 100 Mbps)
Wireless
802.11 b/g/n

ACCESSORIES

Antenna
Direction connection type or external with extension cable
Interface cables
Envoy RF Unit to SmartLink Cable (1, 6, 10 m)
Envoy RF Unit to SmartLink Cable (30 m). Note: For single direct connect SmartLink only.
SmartLink to SmartLink Cable (1, 6, 10 m) SmartLink to Console Cable (3 m)
AC Mains Power Supply
110/240 V AC input to 12 V DC output