RC66 Combat Communication Suite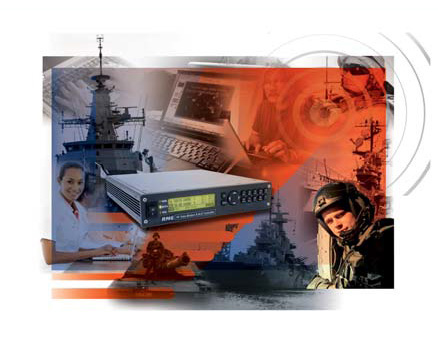 The AT Communication International RC66 Combat Communications Suite simplifies setting up a high frequency (HF) network by seamlessly integrating Internet and HF e-mail. Compatible with standard e-mail applications such as Microsoft Outlook™ the RC66 enables sending and receiving e-mails efficiently and reliably over HF radio links and the Internet and confirms the success/fail of HF e-mail transmission via confirmation e-mails.
RC66 contains a STANAG 5066 ARQ protocol stack that provides interoperable, networked, error-free and efficient communication over HF radio links and is interoperable with STANAG 5066 e-mail clients of other leading vendors.
Features
HF e-mail standards
STANAG 5066 Annex F
CFTP Client (Compressed mail)
HMTP Client
Internet e-mail
Microsoft Outlook™ Compatible
SMTP, RFC 2821
ARQ Data Protocol
STANAG 5066 protocol V1.2
Automatic Data Rate Change
Automatic Link Maintenance
Interoperable with S5066
Compliant Implementations
Platforms
Secure Over-the- Air (OTA) Transmissions
Crypto Support
ALE Linking Protection
RM6A Security Processor
Prioritization of E-mails
The RC66 increases throughput by means of RFC 1952 standardized compression as mandated by STANAG 5066 Annex F (CFTP), which supports prioritization of e-mails, sending higher priority e-mail first. Should the transmission of an e-mail be interrupted or preempted by a higher priority e-mail, the interrupted e-mail will be resumed at an appropriate time.
Maximization of Signal and Link Quality over ALE
As an option, the RC66 enables multi-frequency operation via the optional RM6A ALE modem.
RC66 continually maximizes throughput by monitoring the signal quality and adjusting the data rate in accordance with the link quality. If the radio channel is no longer viable for communication the ALE is used to select a different channel for continued communication (ALM channel change).
RC66 GUI Features
Assisted Network Configuration
E-mail delete/re-prioritize
E-mail throughput/utilization
Channel status (SNR, BER)
Radio status, S-meter, VSWR
Caption: The RC66 GUI assists the HF Network Administrator to define a hierarchical HF Network layout without complexities associated with ALE and STANAG 5066. The RC66 allows HF Network configuration to be updated when new nodes are added or removed.
Operational Modes
The RC66 structures status information to allow the user to pinpoint faults, failures and inefficiencies in the HF Network.
Features:
ARQ Mode
Broadcast Mode
Voice Mode
Radio Silence Mode
Voice or Data Selection
The RC66 gives the user complete control to use the radio for data or voice transmission as required by the user; it has the ability to sense the PTT signal allowing the RC66 to automatically stop data transmission when the user uses the radio for voice transmission.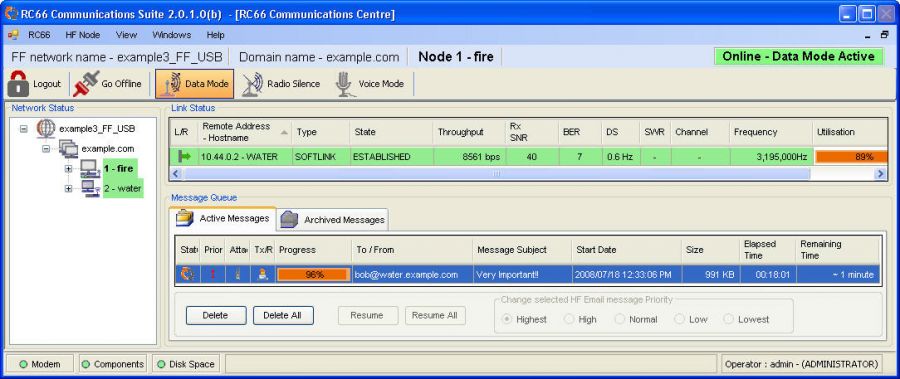 RC66 Combat Communications Suite GUI
CATEGORY
CAPABILITY
Data Link
Protocolos
STANAG 5066 (Annex A, B, C)
STANAG 5066
Stack
ALE (MIL-STD-188-110B Appendix D, E)
ALM (Automatic Link Maintenance)
DRC (Data Rate Change)
ARQ (Automatic Repeat on Request) and Non-ARQ mode
Radio Silence mode
Supports 2ISB
Collision Avoidance and Recovery
Security
End-end email encryption support (S/MIME, PGP)
External Crypto support
Network Planning
& Configuration
Network wide 5066/ALE Addressing
HF frequency planning & selection
Hardware configuration
HF Network reconfiguration
Only authorized configuration changes
HF Messaging
Clients
CFTP: Compressed File Transfer Protocol (STANAG 5066, Annex F )
PCFTP: Priority CFTP
BCFTP: Broadcast CFTP
HMTP: HF Mail Transfer Protocol (STANAG 5066, Annex F)
BHMTP: Broadcast HMTP
LAN Email Clients
POP3 (RFC 1939, excluding APOP)
SMTP (RFC 2821, excluding authentication)
HF Message
Management
Message resumption (CFTP)
Message grouping to destination
Priority-based message queuing
Message filtering
Store & forward
Message delivery status notification
Modem Interfaces
RM-SC Synchronous PCI Card
Data (DTE): Synchronous/Asynchronous, RS 232/422/423
Modem control (REM CTRL): Asynchronous, RS 232/422
HF Modems
RM6 HF Modem & ALE Controller
Supports MIL-STD-188-141A (ALE), ALE Linking Protection (LP) & Occupancy
Detection
Waveforms:
MIL-STD-188-110B
MIL-STD-188-110A
MIL-STD-188-110 ACF (2ISB)
STANAG 4539
STANAG 4285 (only for non-ARQ)
STANAG 4529 (only for non-ARQ)