RAy Microwave Link
RAy is a high-speed point-to-point microwave link, ideal for establishing robust links in the most challenging conditions.
This Full Outdoor Software Defined Radio with Linux OS, is designed for high performance links with maximum reliability, exceptional system gain and resistance to disturbances. All relevant state-of-the-art concepts have been carefully implemented without compromise.
RAy is well proven within the market since 2009 in thousands of installations in tens of countries from the poles to the equator.
It is used by Internet Service Providers as well as global Telco operators for both, backbone and last-mile microwave links.
RAy3, the 3rd generation of RAy, with possibility of asymmetric channels and 1 Gbps FDD is the top equipment for license free bands.
RAy3
1 Gbps, 24 GHz
3.5 – 112 MHz channels
Asymmetric channels
AES 256, Sync Eth, PTP
1x ETH, 1x SFP, 1x USB
Solar ready - 22W
Each unit tested -30 to +55°C
Full outdoor, easy installation
Interference & obstacles tolerant
Wifi management
RAy Tools (Android, iOS)
RAy2
360 Mbps, 10, 11, 17, 18, 24 GHz
1.75 – 56 MHz channels
1x ETH, 1x SFP, 1x USB
Solar ready - 22W
Each unit tested -30°C to +55°C
Full outdoor, easy installation
Maximum distance & reliability
Interference & obstacles tolerant
Wifi management
RAy Tools (Android, iOS)
RAy3 – asymmetric channels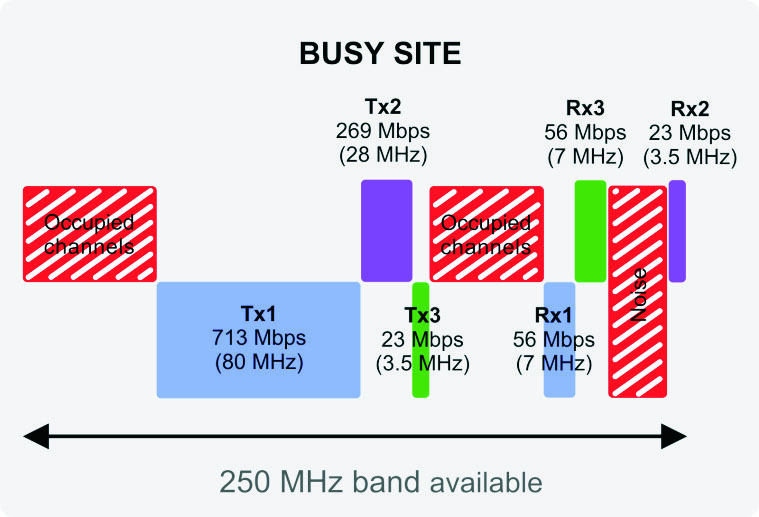 MODEL
RAy2
RAy3
Max. Speed
360 Mbps
256 QAM
56 MHz
1 Gbps
2048 QAM
112 MHz
Speed / 56MHz
360 Mbps
256 QAM
540 Mbps
4096 QAM
Bands
10, 11, 17, 18, 24 GHz
24 GHz
Asymmetric channels
No
Yes
Channel size
1.75 – 56 MHz
3.5 – 112 MHz
Modulations
QPSK
16 – 256 QAM
QPSK
16 – 4096 QAM
AES 256
No
Yes
Sync Eth, PTP
No
Yes
ESD
4 kV
8 kV
Surge immunity
1 kV
4 kV

RAy Tools Mobile App
Wifi connection between unit and mobile phone
Link calculation

fade margin for given distance

Antenna Alignment

RSS & SNR, displayed and acoustic notification

Link management
Reliability
Each unit tested in a climatic chamber and in real traffic
Robust input filter with no adjustable components
All our free band units meet licensed band standards
Built-in surge protections
Heavy-duty industrial components
Industrial rugged die-cast aluminium case
-30°C to +55°C
3 year warranty
Security & Integrity
Licensed bands available (RAy2)
FEC, interleaving, proprietary data compression
Proprietary protocol on Radio channel
Assigned peer unit permanently monitored
Management - https, ssh,
Unique ssh key for each unit
Role-based access control (2 levels)
AES256 encryption (RAy3)
Long range & Data speed
Exceptional robustness against noise and interference
Hitless ACM, ATPC
Exceptional sensitivity: up to -99 dBm
Narrow channels: 3.5 – 112 MHz (RAy3)
Wide ranging modulation options: QPSK – 4096 QAM (RAy3)
Asymmetric channels (RAy3)
2+0 solution for double speed available (10, 11, 18 GHz)
Easy to install and maintain
Full outdoor unit with aluminum casing
Direct mounting to parabolic antennas
Simple signal polarization change through unit rotation
Built-in spectrum analyzer for free channel search
RSS voltage output for antenna alignment
17, 24 GHz - the same HW for both, L/U units
HW button for factory and customers settings
RAy2 and RAy3 are mechanically compatible
Configuration & Diagnostic
Web interface or CLI via SSH
Non-intrusive management via USB using either ETH/USB adapter or WiFi/USB adapter with DHCP
SNMP including Traps and Informs
Automatic detection of unit polarization
Constellation diagram of the received signal
Temperature, Power voltage, RSS, MSE, BER, Data rate, Output power status and history avail. as text or charts