MG102i Wireless Router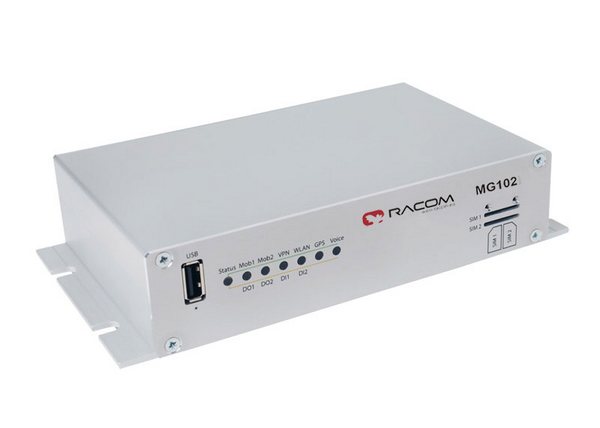 MG102i wireless router securely and wirelessly connects two private networks/sites (e.g. Remote LAN and company Intranet) via public mobile networks and the Internet. The benefits of such Virtual Private Networks (VPN) are flexibility, security, cost-effectiveness and convenience.
The MG102i is a GPRS/EDGE/UMTS/HSPA+/LTE router and enables fast and secure data transmission between two sites. For the establishment of Virtual Private Networks (VPN) two different technologies are supported: IPsec and OpenVPN. For simple applications the use of Dynamic DNS or fixed IP addressing can replace the need of a VPN.
Multiple devices can directly be attached to the MG102i thanks to the integrated 5 port Ethernet switch. The dual SIM/dual module feature guarantees best availability of network connections. MG102i Software is based on well proven components including an Embedded Linux operating system and standard communication protocols.
The MG102i is a new product that extends HW and SW functionality of previous MG102 and is fully SW compatible with M!DGE routers.
The addressed SCADA and telemetry serial protocols can by efficiently used over GSM networks. The MG102 Terminal server can communicate with a RACOM central device equipped with serial protocols, e.g. a RipEX.
A hybrid network, where individual RTUs are connected either via MG102 (GSM) or via RipEX (UHF radio) to the same centre, is possible as well.
Wireless Router
LTE,HSPA+,UMTS,EDGE,GPRS
5 port Ethernet switch / router
2x SIM / twin module available
Extended temperature range
Vibration and shock hardened
Extended input voltage range
GPS receiver with NTP server
SDK - software development kit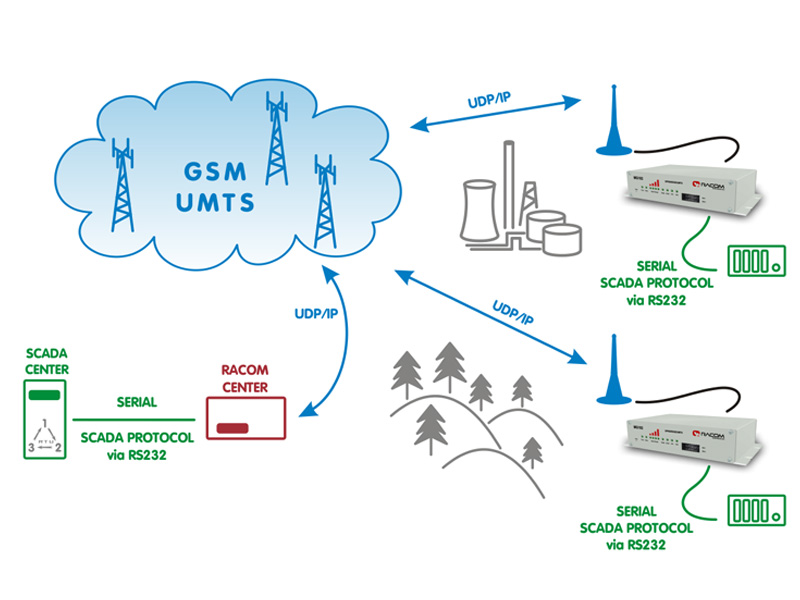 Applications
SCADA & Telemetry
Points of Sale, ATMs
Security and Surveillance
Land line backup
Transportation
Techincal parameters
Mobile Interface Parameters
UMTS Multimode HSDPA, HSUPA, UMTS, EDGE, GPRS and GSM
3G–UMTS, HSDPA, HSUPA, UMTS: 850/900/1900/2100 MHz
2G–EDGE, GPRS, GSM: 850/900/1800/1900 MHz
Data rates: max. 7.2 Mbps downlink / 5.76 Mbps uplink
LTE Multimode LTE, HSPA+, UMTS, EDGE, GPRS, GSM
4G–LTE: 800/900/1800/2100/2600 MHz
3G–UMTS/HSPA+: 900/2100 MHz
2G–GSM/GPRS/EDGE: 900/1800/1900 MHz
Data rates up to 100 Mbps downlink / 50 Mbps uplink
Services / Networking
DHCP server, DNS proxy server, DNS update agent
Telnet server, SSH server, Web server
NTP server with GPS time
COM server, Modbus gateway
Port Forwarding
Fallback Management
Connection supervision
Automatic connection recovery
OpenVPN, IPsec, PPTP
Firewall, Access Control Lists, NAPT
SDK - programmable scripts
Redundancy
Voice gateway
Interfaces
5 port Ethernet switch 10/100 Base-T, Auto MDX, 5xRJ45 connector
RS232 DCE interface, 3 pin
GSM Antenna 50 Ohm, SMA connector
GPS Passive / Active Antenna, SMA connector
USB Host
Digital I/O: 2xDI, 2xDO, 13 pin terminal block
WLAN / WiFi - IEEE 802.11 b,g,n
Access point or client, one or two antennas
Mechanical
Casing: Metal
Dimensions: 195 W x 104 D x 40 H mm (7.68 x 4.09 x 1.57 in)
Weight : 560 g (1.23 lbs)
Environmental
Temperature range: UMTS: -25 to +70°C (-13 to +158°F)
LTE: -25 to +60°C (-13 to +140°F)
Humidity: 0 to 95% non condensing
IP 40 with SIM and USB covers
Vibration and shock hardening
Power supply
Input voltage: 12 - 48 V DC (-15% / +20%)
Max. power consumption: 5 W / 10 W (2 module unit)
Diagnostics and Management
Web interface, CLI available
File configuration
OTA SW update
Advanced troubleshooting
SMS remote control, SMS and E-mail notification
SNMP v1, v2c, v3
Approvals
CE, FCC