M!DGE2 Cellular Router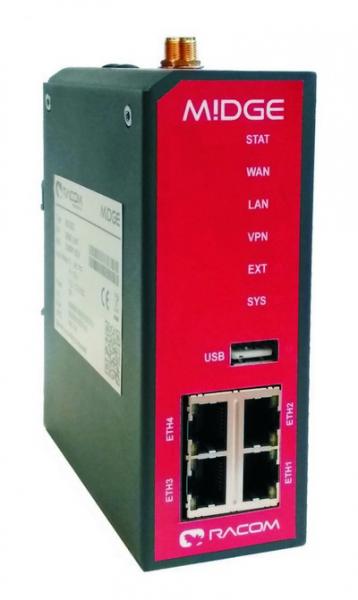 M!DGE cellular routers, specially designed for SCADA & Telemetry mission critical applications, are well suited to many different wireless applications like POS, ATM, Lottery and Security/Surveillance applications.
M!DGE is Linux OS based and has been designed with attention to detail, performance, quality and reliability. All relevant state-of-the-art concepts have been carefully implemented.
M!DGE is well proven within the market since 2012 in thousands of industrial installations in tens of countries worldwide providing 24/7 reliable service.
M!DGE2, the 2nd generation of M!DGE with 2 SIM cards and 4 Ethernet ports, introduced in 2018, is the top equipment for SCADA communication if a cellular network is required.
M!DGE together with RipEX radio modems offers an unrivalled solution for combining Cellular and UHF/VHF licensed radio in a single hybrid network.
Both provide the same customized serial SCADA protocols on COM interfaces.
4G / 3G / 2G
Global connectivity
Dual SIM
4× ETH, 1× COM, 1× USB
1× DO, 1× DI
- 40°C to +70°C
12 – 24 VDC
Expansion ready - mPCIe
IPsec, OpenVPN, AES256
Firewall, RADIUS
IP behaivour
Switch - switched or routed Ethernet ports
Terminal server - two Serial-Ethernet converters
Subnets - one additional IP alias on each Ethernet
VLAN - 802.1Q – 5 VLANs to each Ethernet
NAPT - masquerading, IP/Mask/Port translation supported
Tunnels - IPsec, OpenVPN, GRE, PPTP
QoS - prioritization from interfaces and/or applications
Static and dynamic routing - Multipath routes, OSPF, BGP
Security
Digitally signed FW
Management - https, ssh
Role-based access control
RADIUS - authentication using remote RADIUS server
AES256 encryption
IPsec - encrypted end-to-end tunnel
OpenVPN - encrypted single server to multiple clients tunnel
Firewall - Layer 2 - MAC, Layer 3 - IP, Layer 4 - TCP/UDP
Scalability
Hardware
mPCIe slot - for standard boards (GPS, 2nd cellular module...)
Proprietary slot - COM/IO expansion board RS232/RS485 plus 1x DI, 1x DO
Software
SDK - Software Development Kit
LXC - Linux Container
Reliability
Heavy-duty industrial components
Industrial hardened design
Metal case
- 40°C to +70°C
VRRP - Virtual Router Redundancy Protocol
Fallback management
Automatic connect recovery
3 year warranty
Diagnostics & Management
Web interface or CLI via SSH
Monitoring - save to file analysis of all Eth interfaces
Graphs - Eth/WAN network traffic
SNMP v3 including Traps and Informs
HW Alarm input, HW Alarm output
SMS /E-mail Event notification
External flash disc – aut. configuration, FW upgrade
Hybrid networks
Ready to be combined with RipEX radio modems within one hybrid network
The same serial SCADA protocol FW drivers like in RipEX: Modbus, IEC101, DNP3, PR2000, Comli, DF1, Profibus, Async Link, C24, Cactus, RP570, Slip, Siemens 3964(R)
TCP(UDP) protocols can be handled transparently or using Terminal server
Embedded Modbus RTU / Modbus TCP converter
Technical parameters
Cellular interface
Frequency bands E
4G: B20, B5, B8, B3, B1, B7 3G: B5, B8, B2, B1
2G: 850, 900, 1800, 1900 MHz
Frequency bands P
4G: B28, B5, B8, B3, B1, B7 3G: B5, B8, B2, B1
2G: 850, 900, 1800, 1900 MHz
Frequency bands A
4G: B17, B5, B4, B2, B7 3G: B5, B8, B4, B2, B1
2G: 850, 900, 1800, 1900 MHz
Data rates
up to 150 Mbps downlink / 50 Mbps uplink
SIM slot
2× Micro SIM
Electrical
Primary power
12 – 24 VDC, +/- 20%
Power consumption
Average 7W (including max. 2.5W on USB port)
Interfaces
Ethernet
4× Ethernet 10/100 Base-T, Auto MDX, 4× RJ45, bridged or routed
COM
1× RS232, 300 - 115 200 bps, screws, RxD, TxD, GND
USB
1× USB host USB2.0
Inputs / Outputs
1× DI, 1× DO
Antenna
2× SMA female - receive diversity
Expansion
COM / IO: RS232/RS485 pus 1× DI, 1× DO
Environmental
IP Code (Ingress Protection)
IP40
MTBF (Mean Time Between Failure)
> 220.000 hours (> 25 years)
Operating temperature
-40°C to +70°C
Operating humidity
5 to 95% non-condensing
Storage
- 40°C to +85°C (- 40°F to +185°F) / 5 to 95 % non-condensing
Mechanical
Casing
Metal
Dimensions
125 H × 45 W × 110 D mm (4.9 ×1.8 × 4.3 in)
Weight
450 g (1.0 lbs)
Mounting
DIN rail, flat-bracket
Security
Management
HTTP, HTTPS, SSH
Access accounts
2 levels (User, Admin)
Encryption
Yes (AES256) with IPsec, OpenVPN
IPsec
Yes
Firewall
Layer 2 – MAC, Layer 3 – IP, Layer 4 – TCP/UDP, SMS filter
RADIUS
Yes
SW
Fallback management
Yes
Connection supervision
Yes
Automatic connect recovery
Yes
SMS management
Yes
Software Development Kit
Full featured
Linux container
LXC
SMS / E-mail event notification
Yes / Yes
Routing
Static / Dynamic
BGP / OSPF
Yes / Yes
QoS
Yes
NAPT
Yes
User protocols on Ethernet
Yes
User protocols on COM
Modbus RTU, DNP3, IEC101, DF1, COMLI, C24, Cactus, ITT Flyght, RP570, Siemens 3964(R), UNI
Serial to IP convertors
Modbus RTU / Modbus TCP, Terminal server
VPN
OpenVPN, IPsec, PPTP, GRE
VRRP
Yes
NTP
Client / Server
SNMP
v1, v2c, v3
Type Approval
CE, FCC - pending