GSMK CryptoPhone IP 19
Trustworthy Voice Encryption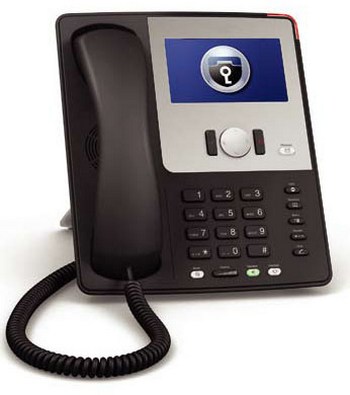 The CryptoPhone IP 19 comes with full source code available for independent review. Finally, you can perform an independent assessment to ensure that you can rely on strong encryption without any backdoors in the communications device that you entrust your security to. The GSMK CryptoPhone IP 19 enables you to put the
trust where it belongs – in a trustworthy, open and scientific verification process.
GSMK CryptoPhone technology is based on well-researched algorithms for both encryption and voice processing. It features the strongest encryption available combined with key lengths that provide peace of mind today and in the future.
TECHNICAL SPECIFICATIONS

Telephone IP Network Interface
Gigabit Ethernet IEEE 802.3 10/100/1000 BaseT with RJ45 plug
Compatible with Inmarsat BGAN satellite terminals
Optional IEEE 802.11b/g/n wireless LAN support
Voice Encryption
Secure voice over IP communication on any IP network
Strongest and most secure algorithms available today – AES256 and Twofish
4096 bit Diffie-Hellman key exchange with SHA256 hash function
Readout-hash based key authentication
256 bit effective key length
Encryption key is destroyed as soon as the call ends
Device Protection
Encrypted storage system for contacts protects confidential data against unauthorized access
Hardened Linux operating system with securityoptimized components and communication stacks protects device against outside attacks
GSMK CryptoPhones are the only secure phones on the market with full source code available for independent security assessments. They contain no »proprietary« or »secret« encryption, no backdoors, no key-escrow, no centralized or operator-owned key generation, and require no key registration.
Interoperability
Fully compatible with all GSMK CryptoPhone IP mobile, satellite and fixed-line encryption products
IP PBX integration with virtual extensions
Operational Features
LED call indication
Programmable secure phonebook
Redial function
Ringer and handset volume control
Mute function
DND (do not disturb) mode
Dimensions & Weight
230 x 200 x 30 mm / 9.1 x 7.9 x 1.2 in.,
690g / 1.5lbs without footstand (920g / 2.1lbs with footstand)
black or light gray color scheme
Display
4.3-inch sunlight-readable touch-sensitive TFT LCD screen with LED backlight @ 480 x 272, 16.7mn colors
Connectivity
RJ-4P4C headset connector
Optional 2x USB Type A connectors for special communications equipment
Power
IEEE 802.3ad, Class 1 Power over Ethernet or AC power 100 to 240 VAC, 50-60 Hz, 7 watts maximum operating power
EMI/EMC & Safety Approvals
FCC Part 15 Subpart B Class B, CE
IEC60950-1:2001
Standard Accessories
100-240V AC power adapter
Full cable set
Optional Accessories
100-240V AC uninterruptible power supply
Solar panel power pack
Headset with background noise suppression