RT1- In-Line Voice & Position Encryptor
SECURE VOICE & POSITION FOR ANY RADIO
The RT1 provides communication clarity to frontline warfighters whilst providing commanders with vital blue-force position information. The RT1 is a high performance in-line secure digital voice modem with built-in GPS. The RT1 easily integrates with all VHF, UHF and HF radio transceivers via the audio or accessory interface. The unit is suitable for use with hand-held and man-pack radio equipment.
INFORMATION SECURITY
All radio communications are vulnerable to eavesdropping. The RT1's built-in AES encryption means that all communications are secured by a trusted algorithm. Switching between Secure Digital Voice (SDV) and analog voice (analogue SSB or FM) transmission is done by pressing the PLAIN / SECURE button (lock symbol).
POSITION TRACKING
The RT1 can be configured to send out periodic position reports or to send position with voice transmissions. These can be received and displayed by RT5 units and the RT COMMANDPOINT PC software.
LOW RATE VOCODER & SUPERIOR MODEM PERFORMANCE
Long-range communication is prone to interference and noise. Both digital voice and data operation benefits from superior technology and experience in HF modem design. The latest generation Vocoder-modem-combination dramatically improves voice quality in adverse channel conditions, extending the range of voice communications. Furthermore, the unit can be set-up to run in low-latency (V/UHF) or robust BLOS (HF) mode. The result is significantly extended range and increased data throughput.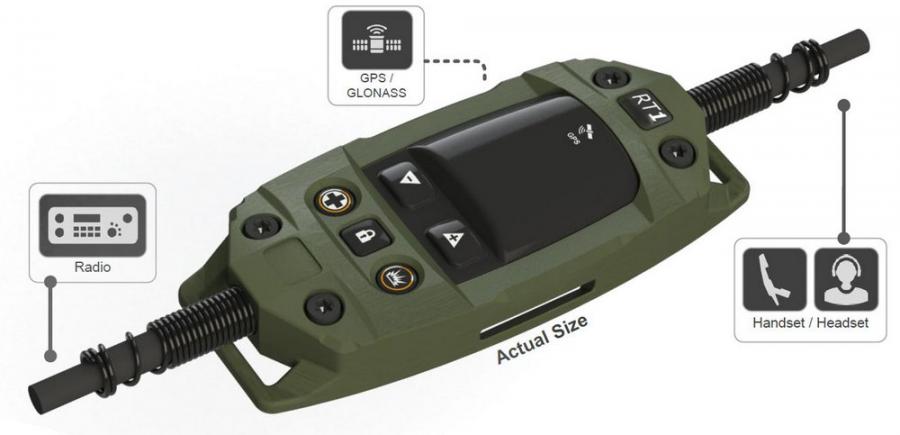 FEATURES & BENEFITS:
AES-256 Encryption: Voice & Position Transmissions
600 – 2400 bps Digital Voice Rates
TWELP* Vocoder
High Voice Clarity
Automatic Vocoder Rate Adjustment
Automatic Clear Voice Reception (FM/SSB)
Best-in-class Voice Modem Performance
V/UHF & HF Transceiver Compatible (SSB & FM)
Cross-Vendor Radio Interoperability
Extended Range, including BLoS Links
GPS & GLONASS Support Built-in
Automatic Periodic Position Transfer
Over-the-Air compatible with RT5
RT1 Handset / Headset / Speaker-Mic Variants
4.5 – 18 V DC Input with Surge Protection
2 Year Warranty
Zeroize Function
Blue Force Tracking via RT COMMANDPOINT
ENCRYPTION & DIGITAL VOICE
Key Fill
256 different user selectable cryptographic keys. Optional automatic key rotation on selectable intervals (to last up to 21.3 years). New key sets can be generated via KMS-256 and loaded via CLS software which runs on a MS Windows tablet.
Key Fill and configuration happens via a Bluetooth interface
Security
Advanced Encryption Standard (AES), 256-bit key length. Key selection via keypad.
Modem
High performance serial toneHF and V/UHF modem (Beyond Line of Sight [BLoS] compatible) featuring adaptive equalization.
FM squelch detect for power saving
Vocoder
TWELP: Tri-Wave Excited Linear Prediction high performance vocoder.
600, 1200 & 2400bps Low-rate Vocoder
TWELP
Digital Voice
Performance
Vocoder Rate
[bps]
End-to-End Latency
[s]
PESQ
Channel Use
Speech Quality
Understand-Ability Limit
SNR [dB]
Intelligibility
Speaker
Recognition
CCIR Poor
AWGN
2 400
1.6
3.1
Ground Wave
Very Good
Good
6.5
0.5
1 200
2.2
3.0
Sky Wave
Good
Acceptable
4.0
-0.5
600
2.2
2.4
Sky Wave
Acceptable
Fair
0.5
-3.0
HARDWARE
ENVIRONMENTAL
Weight
200 g with mounting strap (excludes
handset & cables)
Safety
IEC/EN 60950
Size
117 x 52 x 20 mm
EMC/EMI
MIL-STD-461
Colour
Olive Drab / Military Green
Shock
MIL-STD-810F: 40G, 15 - 23 ms
Mounting
1" webbing strap. MOLLE / PADS compatible
Vibration
Composite wheeled vehicle 10Hz – 2000Hz, @2.5g
Power Input
4.5 - 18 V DC
Temperature
-40°C to +65°C (operating), -40°C to +85°C (storage)
Bluetooth
Key Fill & Configuration interface (via CLS)
Humidity
MIL-STD-810F: 0 to 90%, non-condensing
GPS / GLONASS
12 channel, -165 dBHz, active patch antenna
Ingress
IP67, 1m for 30 min
AA: Any
Any Radio, Any H/Set

SC: Headset (NR)

SH: H-250/U Handset (NR)

SM: Speaker-Mic (NR)
** Note: If required, AT Comms can quote for the fitment of customer-specified connectors
Interfaces
Product Variant
Description
Handset /
Headset
AA
Mic / Phones
pre-fitted
Phones: Unbalanced output, 1000 Ω / 8 Ω handset and headset compatible (configurable).
MIC: Unbalanced Input, mic bias (configurable), PTT input
Bluetooth
AA
SC, SH, SM
Bluetooth Interface: For Configuration and FILL connection to Config Load Software (CLS)
Secure Audio
AA
SC, SH, SM
Baseband Audio In: Un-bal. 600 Ω, –35 to +20 dBm no adjustment. Baseband Audio Out: Un-bal., 40 Ω, –20mV to +2V RMS (configurable). Keyline: Open Collector (<36 V, 200 mA).
Radio Power
AA
SC, SH, SM
4.5 – 18 VDC, 2000 mW max
Keypad / UI
AA
SC, SH, SM
Individual keys: SECURE/PLAIN, Volume +, Volume -, MEDIVAC, ATTACK ALERT
Via key combinations: Zeroize, Key selection, Bluetooth enable.
Clear voice warning, Audio alerts and indication side-tones