Codan Chat HF Data Software
Codan Chat software provides fast, secure and error free peer-to-peer text messaging, file transfer and email over HF when used in conjunction with a Codan radio (text only) or Codan radio and modem.
SIMPLE OPERATION
The Codan Chat Console provides a familiar easy to use Instant Messenger (IM) style interface for typing messages. A quick message can be sent and the HF link closed or the link can remain open for a full chat session.
TEXT MESSAGING
Short text messages can be sent using the Codan Chat Console from two radios each connected to Codan Chat using a PC and keyboard. All messages are logged for later review if required. Messages can also be sent from a radio using Codan Chat to a radio that does not have Codan Chat attached and vice versa.
EMAIL
The in-built Codan Console Mailer provides quick access to emails sent and received using Codan Chat and a commercial SMTP/POP3 client. The in-built Email composer enables you to quickly create an email, attach a file and send it or queue for sending later.
SECURE DATA
All data sent using Codan Chat can be transmitted in clear mode or encrypted with the inbuilt compression/encryption algorithm. When used in conjunction with a radios Privacy mode, text messages can
be sent securely from Codan Chat to a radio.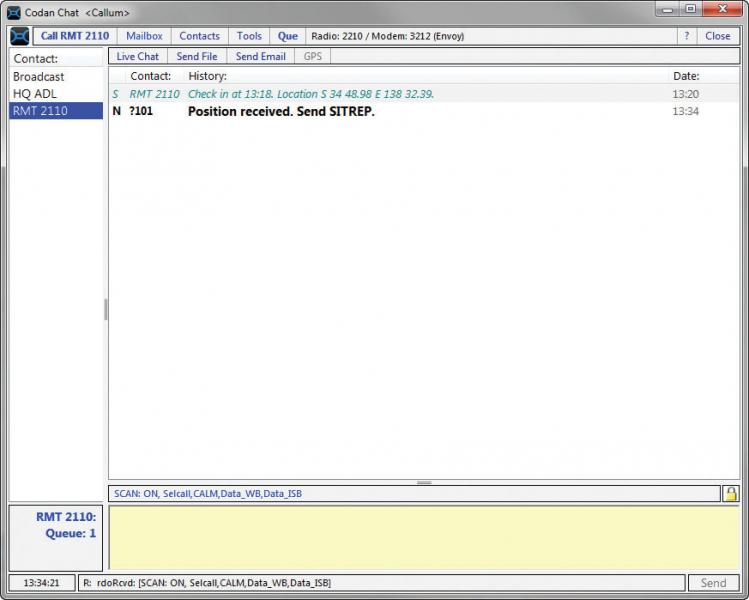 FEATURES
Easy to use interface
Supports ALE and Selcall
In-built email client
Local SMTP/POP3 server for Email clients
Picture resizer to minimise transmission times
Multiple language support

English
Dari
French
Pashtu
Russian

Scheduled calling
Large buttons for touch screen operation
GPS connection
Broadcast messaging
SPECIFICATIONS
SUPPORTED PRODUCTS
Modems (Data Transfer & Text Chat)
Envoy 2.4 kbps Internal Modem
3212 HF Data Modem
3012 Data Modem
Transceivers (Text Chat)
Envoy X2
Envoy X1 (Text Messages only)
Sentry-H
2110 Series Transceivers
NGT Series Transceivers
Data Interface
*Ethernet (Envoy and 3212 only)
*USB 2.0
2x RS232 Serial
Minimum PC System Requirements
PC running 1 GHz processor 1 GB RAM
Operating System (32 bit or 64 bit)
Windows 10 Professional
Windows 7 Professional SP1
Windows XP Professional SP2
Screen Resolution 1024x768