Power Supply CODAN 3020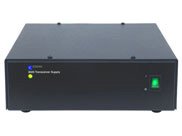 The CODAN 3020 Power Supply is designed to interface with CODAN HF SSB transceivers for voice, data or fax communications. It operates over a wide range of mains supply voltages, and is fully auto-ranging between 100 and 240 V nominal.

Key features

Rugged design

The 3020 Power Supply is small and lightweight, and has been designed to withstand the toughest conditions. It offers the following protection:
Input protection—the 3020 is protected against mains voltages that may vary outside normal tolerances.
Output protection—if the output voltage is too high or too low, the 3020 will automatically shutdown. Also, the 3020 is electronically over-load and short circuit protected.
Thermal protection—the 3020 offers protection against extreme ambient temperatures and poor ventilation.
Un-interrupted supply

The 3020 is capable of charging and maintaining an externally connected lead-acid battery. When used with a code 702 kit, this facility provides a continuous supply to the transceiver in the event of a mains failure.
Other features
Front panel display

A Bi-Colour LED and green mains switch, mounted on the front panel, provides a clear indication of the CODAN 3020's condition.

Service and Support

CODAN customers are supported with our worldwide network of Accredited Service Centres. Regular auditing and training by CODAN technical staff ensure the best after sales service. A three year warranty is available to every registered user.
Technical specifications
Input voltage

Operates over:
100–240 V AC ±10% (50/60 Hz)*

Input VA
250 VA at 16 A DC output current
Output voltage
13.8 V DC
Output current
16 A DC continuous duty to 60°C ambient
20 A DC peak speech
Cooling
Fan forced air—thermally controlled
Size and weight
210 mm W x 230 mm D x 80 mm H; 1.9 kg
Regulation
Less than 0.1 V DC over no-load through to full load
conditions for full input voltage range
Mains connection
Via IEC type socket at rear of unit