MR400 Radio Modem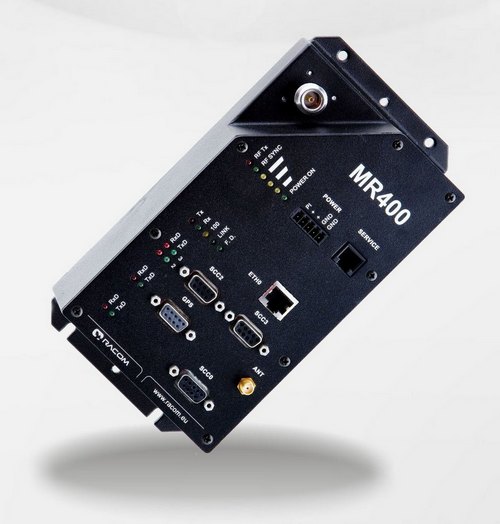 MR400 is awell proven radio modem, on the market for over a decade and undisputably well established. Tens of thousands units serve reliably around the world, fromthe poles to the equator.
MR400 uses a sophisticated anti-collision protocol on the Radio channel. Its unbeatable network performance is boosted by the unique implementaion of proprietary SCADA protocols fromall significant vendors on the SCADA market.
Thanks to MR400 extraordinary intelligence, speed and switching time, they are suitable for all types of networks where emphasis is placed on speed and reliability, such as SCADA & Telemetry for utility distributions (water, electricity, oil&gas), SmartGrid power networks, Transaction networks like lottery, ATM or POS, mobile networks including mission critical fleet management and many other applications.
Radio Modem
70, 160, 300, 400 MHz
22 kbps/25 kHz
5 or 25 W
1x ETH, 4x COM, I/O
Automatic back-up routes
Mobile networks
Network management SW
Applications
Water
Oil & Gas
Electricity
Smart grid
POS & ATM
Lottery
Weather
Transportation
Others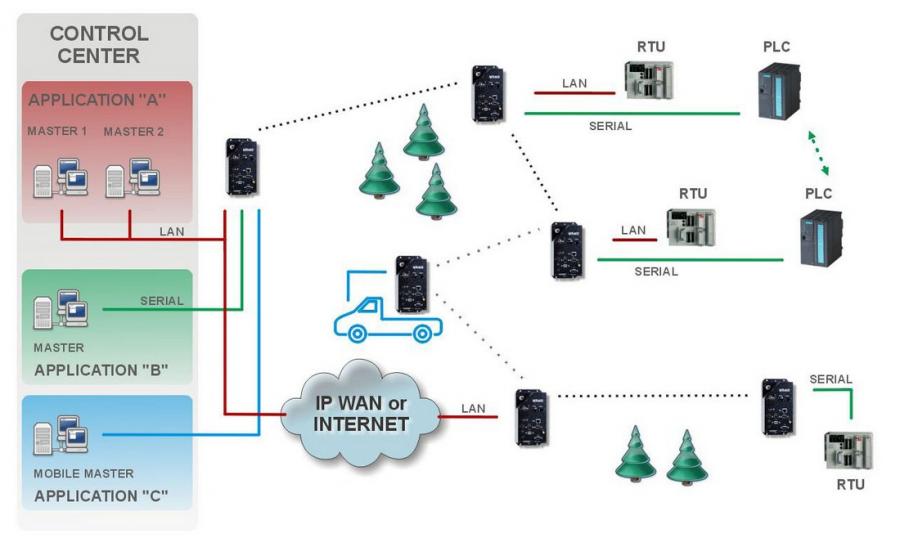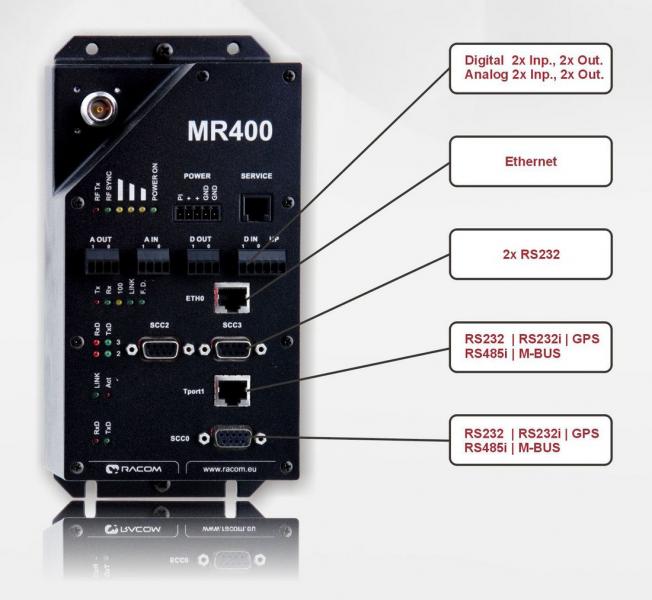 Data speed & Network throughput
132 kbps / 200 kHz
22 kbps / 25 kHz
11 kbps / 12,5 kHz
Polling, Report-by-exception, Mesh Throughput limits for 22 kbps/25 kHz:

600 Bytes/sec. in collision environment of all units within one radio coverage area
10 packets/sec. (for packets shorter than 60 Bytes)
15 kbps user data rate for point-to-point link
User protocols
More than 70 protocols - Modbus, IEC101, DNP3, Comli, DF1, Profibus, Modbus TCP, IEC104….
Cache mode - speeds up polling protocols
SCADA serial protocol addresses are mapped to MR400 addresses
TCP (UDP) protocols (e.g. IEC104) are handled transparently
Each packet is acknowledged on Radio channel
Sophisticated anti-collision protocol on Radio channel => report by exception from remotes, simultaneous multi master polling
Ultimate OS
No Linux
No Windows
Extremely fast booting (3 sec.)
Modular
5 slots for modules:

Ethernet, GPS, M-BUS
2x RS232, 1x RS232, 1x RS232i, 1x RS422/485i,
I/O - 2×DI, 2×DO, 2×AI, 2×AO,
Coverage
70, 160, 300, 400 MHz bands, no direct line of sight required
Carrier output power 0,1-5 W or 0,1-25 W
Exceptional data sensitivity: -105 dBm / 22 kbps / 25 kHz
Max. distance more than 50 km
High resistance to multi path propagation and interference (CPFSK modulation)
Every can work simultaneously as a repeater
Hybrid networks: - any IP network (Internet,3G/GPRS etc.) can interconnect MR400 units
Unlimited number of radio hops
Mobile network
Connection-less Mobile mode in Radio protocol
Every stationary unit can serve simultaneously as a Base station for mobiles Cell architecture: automatic instant hand-over, each individual packet from mobile is delivered via the best Base station at the moment
Central MR400 maintains a list of "mobile-base" connections, updated with every packet, to enable communication from the centre to mobiles
Fast to configure and diagnose
Setr - special Windows or Linux application for configuration
The fastest and most robust remote access with minimum data over the network
Monitoring of User interfaces and Radio channel, either locally or remotely
On line as well as historical statistics for all interfaces and Radio channel
RANEC - Network Management
Collects statistics from all units and save them in database Extra load generated by RANEC is automatically regulated based on user traffic
One server + unlimited number of graphical clients Possible to display all statistics in graphs
Displays the network topology on a background map Network planning - it calculates the coverage using digital model of the terrain
Security
Licensed radio bands
FEC, interleaving, proprietary data compression
CRC32 data integrity control on Radio channel Proprietary protocol on Radio channel with packet acknowledgement
Blowfish 160 encryption
Netlock - application which enables/disables remote access to the unit for three level of users
Reliability
Every single unit tested in a climatic chamber as well as in real traffic
Military or industrial grade components are used
Industrial die cast aluminum case
-30°C to 70°C (-22°F to +158°F)
Energy savings
Sleep mode - 2.5 mA, controlled via a digital input
Power down - unit boots within 3 sec. after power up
Other Highlights
DIN rail, flat or 19" rack mounting
CE, FCC approvals
Vibration - EN 61 373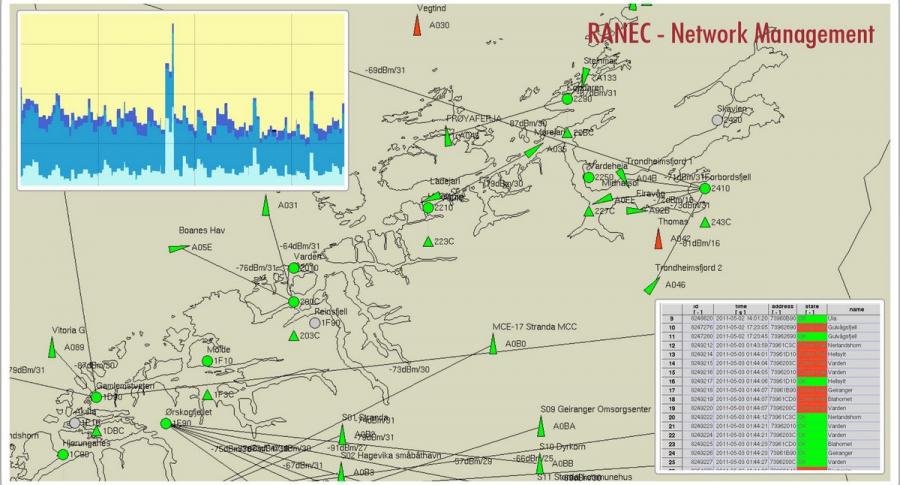 Technical parameters
Radio parameters
Types 1)
Half-duplex
Full-duplex
Frequency
MR070
MR070*
69 - 85 MHz
MR160
MR160
135 - 175 MHz
MR300
MR300*
290 - 350 MHz
MR400
MR400*
350 - 470 MHz
Tuning range
3.2 MHz
Channel spacing 3)
12,5 / 25 / 200 kH
Frequency stability
+/- 1.0 ppm
Modulation
4CPFSK / 12,5 and 25 kHz; 2CPFSK / 200 kHz
Data rate
10.84 kbps / 12.5 kHz
21.68 kbps / 25 kHz
132.0 kbps / 200 kHz
Carrier output power 1) 3)
0.1 W - 5 W; 0.1 W - 25 W
Sensitivity for BER 10e-6
-110 dBm / 10.84 kbps / 12.5 kHz
-105 dBm / 21.68 kbps / 25 kHz
-100 dBm / 132.0 kbps / 200 kHz
Electrical
Primary power
13.8 V (10.8 - 15.6 V)
Rx 2)
380 mA (Eth +40 mA, I/O +50 mA, GPS +15 mA)
Tx 2)
1.6 A / 1 W; 2.0 A / 5 W; 5.5 A / 25 W
Sleep mode
2.5 mA
Interfaces
5 slots
Ethernet
2x RS232, 1x RS232, 1x RS232i, 1x RS422/485i,
GPS, M-BUS, I/O - 2×DI, 2×DO, 2×AI, 2×AO,
Enviromental
Temperature
-30°C to 70°C (-22°F to +158°F)
Humidity
5% to 95% non-condensing
Mechanical
Casing
Rugged die-cast aluminium
Dimensions
208 W x 108 D x 63 H mm (8.19 x 4.25 x 2.48 in)
Weight
1.2 kg (2.65 lbs)
SW
User protocols on COM
More than 70 protocols - Modbus, IEC101, DNP3,Comli, DF1, Profibus
User protocols on Ethernet
Modbus TCP, IEC104…
Multi master applications
Yes
Report by exception
Yes
Collision Avoidance Capability
Yes
Repeaters
Store-and-forward; Every unit; Unlimited number
Diagnostic and Management
Radio link testing
RSS, DQ, Homogenity
Statistic
Rx/Tx packets on User interfaces and for User data and Radio protocol (Repeats, etc.) on Radio channel
Network management
RANEC software
Approvals
Radio parameters
CE, FCC part 90, RSS119
Use in automotive environments
ECE Regulation 010.00
Vibrations
EN 61 373
1) Please contact us to check availability of specific types and frequencies. Types marked * can be manufactured individually when ordered in significant volumes.
2) Values depend on frequency and modem type.
3) HW option