RE400 Transparent Radio Modem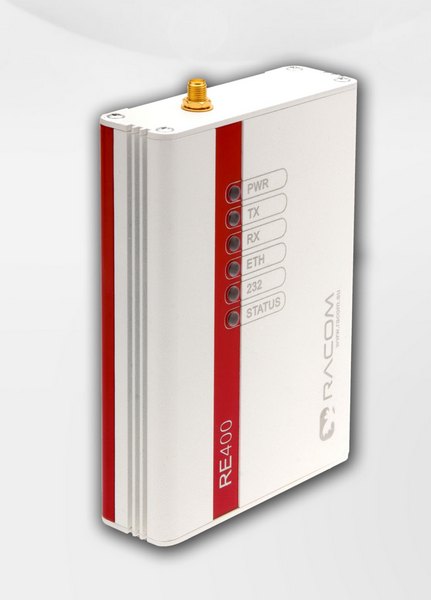 RE400 is the "easiest" radio modem in RACOM product range. It gets very close to being a true Plug-and-play device, as close as ever possible in private radio networks. The minimum settings necessary are all accessible from one simple web browser screen.
RE400 works as a standard IP network bridge, i.e. it is fully transparent. Every unit can serve as the central master or as a remote terminal and it can also simultaneously operate as a repeater.
The modern digital solution of the radio part (Software Defined Radio) of the RE400 radio modem allows for a wide frequency range a SW configurable channel spacing.

400 MHz
6.25, 12.5, 25 kHz
11 kbps / 25 kHz
2W
1x ETH, 1x RS232
PoE or 10 – 30 V DC
Transparent bridge
Plug and play
Applications
Polling type networks
Water
Oil & Gas
Electricity
Smart grid POS &ATM
Lottery
Weather
Fully transparent
Standard IP network bridge functionality is implemented in the RE400 radio modem, i.e. the ETH interfaces of all the radiomodems in a network are interconnected according to bridge principles.
When a COM interface is used, every frame received over a COM is simply broadcast to COM interfaces of all units in the network.
Easy to configure and maintain
Web interface
All configuration parameters within one page
Basic IP knowledge is sufficient
CLI via SSH
Security
Licensed radio bands
FEC, interleaving, proprietary data compression
CRC32 data integrity control on Radio channel
Password-protected access, https web interface
Coverage
400 MHz band
Line ofsight is not required
Carrier output power adjustable 0,5 or 2W
Exceptional data sensitivity
High resistance to multipath propagation and interference
Any unit can work simultaneously as a repeater
Reliability
Every single unit tested in a climatic chamber as well as in real traffic
Military or industrial components
Industrial rugged die-cast aluminum case
Others
Local and remote diagnostics
DIN rail mounting
L-bracket, flat-bracket, direct mounting
CE approval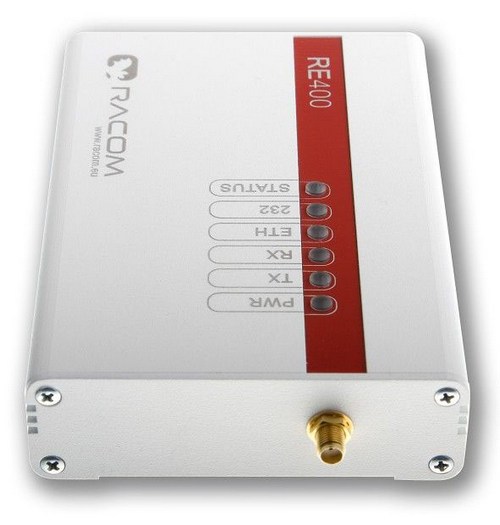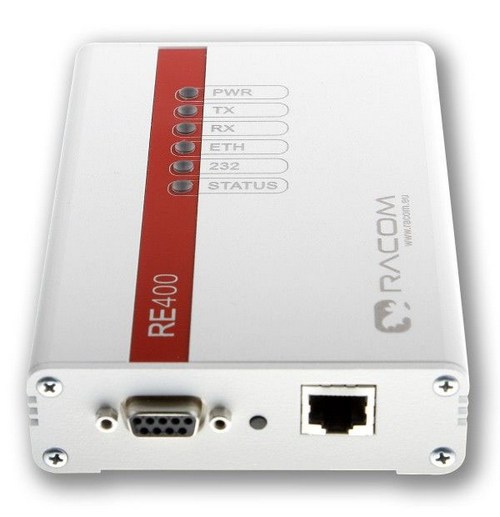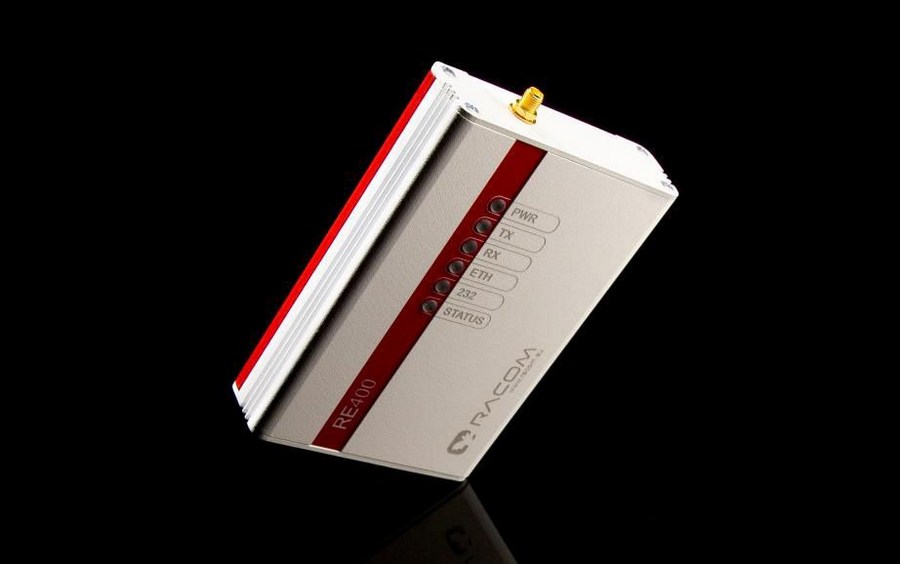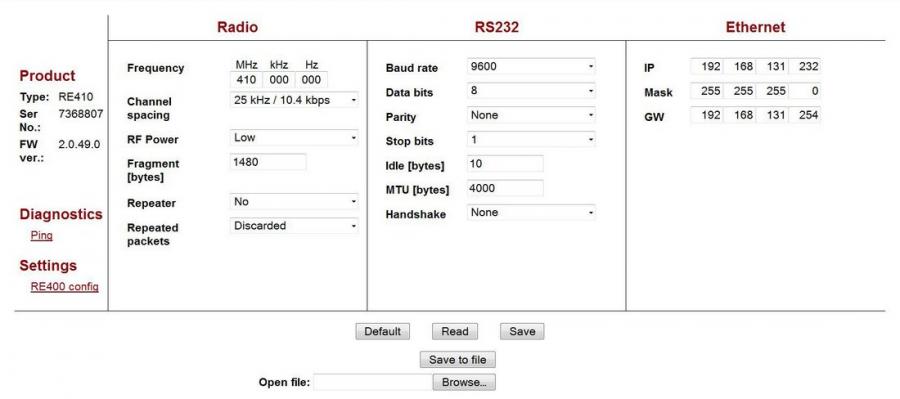 Technical parameters
Radio parameters
Frequency bands
373.25–484 MHz
Models: 373-402; 400-420; 417-447; 435-466; 462-484 MHz
Channel spacing
6.25 / 12.5 / 25 kHz
Frequency stability
+/- 1.0 ppm
Modulation
2CPFSK
RF Data rate
10.4 kbps / 25.0 kHz
5.2 kbps / 12.5 kHz
2.6 kbps / 6.25 kHz
FEC (Forward Error Correction)
No
Transmitter
Carrier Output power
0.5 or 2 W
Duty cycle
50%
Rx to Tx Time
< 1.5 ms
Receiver
Sensitivity
better than -107 dBm
Electrical
Primary power
10.8 - 30 V DC or PoE (38 - 57 V DC)
Rx
430 mA; 145 mA/48 V
Tx
0.5 W: 700 mA/13.8V; 230 mA/48V
2.0 W: 950 mA/13.8V; 310 mA/48V
Sleep mode
No
Interfaces
Ethernet
10/100 Base-T Auto MDI/MDIX RJ45
COM
RS232
DB9F 300-115200 bps
Antenna
50 Ohms SMA female
LED panel
Power, Tx, Rx, ETH, 232, Status
Enviromental
Operating temperature
-25°C to +55°C
Humidity
5 to 95% non-condensing
Storage temperature
-35°C to +85°C
Mechanical
Casing
Hard aluminium
Dimensions
31 H x 96 W x 137 D mm
Weight
0.3kg Mounting DIN rail, flat-bracket
SW
Operating modes
Bridge
Data integrity control
CRC32
Encryption
No
Diagnostic and Management
Radio link testing
Ping + RSS
Approvals
Radio
CE
ETSI EN 300 113-1 V 1.6.2 (2009-11)
EMC (electromagnetic compatibility)
ETSI EN 301 489-1 V 1.6.1
Electrical Safety
EN 60950-1 ed. 2:2006