RipEX Radio Modems
RipEX2
1.1 Mbps / 200 kHz / 256QAM
4× ETH, 1× SFP, 1× COM, 1× USB,
RipEX compatible
All RipEX features plus:

6.25 - 200 kHz channel size
ACM, Adaptive FEC
RADIUS
HW tamper proof
Expansion ready - mPCIe
Full-duplex ready
RipEX is a radio modem platform renowned for overall data throughput in any real-time environment. RipEX radio modems are native IP devices, Software Defined with Linux OS that have been designed with attention to detail, performance and quality. All relevant state-of-the-art concepts have been carefully implemented.
RipEX, 1st generation, is a best-in-class compact radio modem proven within the market since 2011 and used in thousands of installations.
RipEX2, 2nd generation, was introduced in 2018. This more powerful standard radio modem provides significant improvements, especially in terms of data speed, security and number of interfaces.
RipEX-HS, a fully redundant 19' hot-standby master station with two radios and two power supplies and available for both, RipEX and RipEX2, is the final member of the RipEX family.
All RipEX devices provide a 24/7 reliable service for mission-critical applications like SCADA & Telemetry for Electric and Water Utilities, Oil & Gas distribution and many other applications.
RipEX
166 kbps / 50 kHz / 16DEQAM
1× ETH, 2× COM, 1× USB
Solar ready
0.1 – 10 watts
- 40 to +70 °C
WiFi management
Customized protocols
Backup routes
Fast remote access
IPsec
General overview
RipEX
RipEX2
Max. Gross data rate
166 kbps
1.1 Mbps
Gross data rate / 25 kHz
83 kbps
167 kbps
Interfaces
1x ETH,
2x COM, 1x USB
4x ETH, 1x SFP,
1x COM, 1x USB
IPsec
Yes
Yes
RADIUS
No
Yes
Modulations
CPFSK - 16DEQAM
CPFSK - 256QAM
Channel size
6.25 - 50 kHz
6.25 - 200 kHz
Stream mode
Yes
No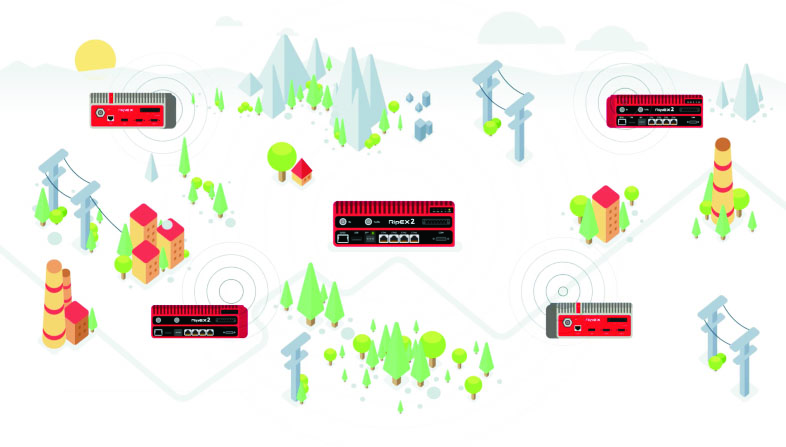 Native IP Device
Native IPBridge mode – uses a Transparent protocol on the Radio channel, i.e. packets received on any interface are broadcast to the respective interfaces on all units in the network. Packets received on COM are broadcast to all COM's at all remote sites, allowing you to connect more RTU's to each remote unit.
Router mode – RipEX works as a standard IP Router with all interfaces (Radio and 1-5 Ethernets) and 1-2 COM ports without any compromise. Each of the five Ethernet ports on RipEX2 can be configured either as a switch or a router. There is an option of two protocols on the Radio channel: Flexible – unlimited anti-collision meshing without base stations or Base driven where all packet transmissions are managed by the local base station.
Switch – switched or routed Ethernet ports (RipEX2)
Terminal server - Serial-Ethernet converters, 5 independent sessions
TCP proxy - converts TCP to UDP, eliminates transfer of TCP overhead
ARP proxy - any IP address simulating (for RTU's without routing capabilities within the same subnet)
Subnets - unlimited number of virtual Ethernet interfaces (IP aliases)
VLAN - unlimited number of VLANs assigned to Subnets
NAPT - many IP addresses behind RipEX can be mapped to one RipEX IP
GRE - non encrypted end-to-end tunnel
QoS - prioritization of packets from different interfaces and/or applications on Radio channel
Data speed & Throughput
Possible Network throughput is achieved by

Min. Rx/Tx switching and synchronization times
Optimum Radio protocol for the application
Optimization

payload data and headers compression
packet flow optimization on Radio channel

Different data speeds for individual links

Auto-speed - receiver is automatically adjusted to the data
rate of the incoming frame
ACM and Adaptive FEC (RipEX2)
Stream mode - transmitting starts immediately on the Radio channel, without waiting for the end of the received frame on COM => zero latency
Channel size
Gross data rate
Possible Network throughput
RipEX
RipEX2
RipEX
RipEX2
6.25 kHz
21 kbps
42 kbps
> 25 kbps
> 50 kbps
12.5 kHz
42 kbps
83 kbps
> 50 kbps
> 100 kbps
25 kHz
83 kbps
167 kbps
> 100 kbps
> 200 kbps
50 kHz
167 kbps
333 kbps
> 200 kbps
> 400 kbps
100 kHz
-
555 kbps
> 700 kbps
150 kHz
-
925 kbps
> 1.1 Mbps
200 kHz
-
1.1 Mbps
> 1.4 Mbps
Security & Integrity
Licensed radio bands
FEC, interleaving, proprietary data compression
CRC32 data integrity control on Radio channel
Proprietary protocol on Radio channel
Backup routes
Digitally signed FW (RipEX2)
Management - https, ssh,
Role-based access control
AES256 encryption
IPsec - encrypted end-to-end tunnel
Firewall - Layer 2 – MAC, Layer 3 – IP, Layer 4 – TCP/UDP
Radio protocols
Transparent / Bridge

Repeater(s) supported
No collision avoidance capability

Flexible / Router

Unlimited Tree topology
Multi-polling and report-by-exception concurrently
Nomadic mode - automatic routing

Base driven / Router

Star topology, repeaters supported
Optimized for TCP/IP (IEC104)
Fair distribution of channel capacity among all remotes
Long range
One radio hop over 50 km
Line of sight not required
Carrier output power 0.1 - 10W
Exceptional data sensitivity
Any unit can work simultaneously as a repeater
Unlimited number of repeaters on the way
Any IP network can interconnect RipEX units
Reliability
Units tested in a climatic chamber and in real traffic
Heavy-duty industrial components
Industrial rugged die-cast aluminium case
IP40 or IP51
-40 to +70 °C
3 year warranty
Easy to configure and maintain
Web interface or CLI via SSH
All configuration parameters within one page
Wizards - fast and simple setup
Non-intrusive management via USB using either ETH/USB adapter or WiFi/USB adapter with DHCP
Fast remote access - only the effective data are transferred over the air, html page downloaded from the local unit
External flash disc - automatic configuration, SW keys and FW upgrade
Diagnostics & Network Management
Statistic logs for interfaces and communication links
Historical and on-line values displayed in graphs
20 periods (e.g. days) of history
Watched values (RSS, Ucc, Temp, PWR, etc.) also from neighbouring units
SNMP v3 including Traps and Informs
HW Alarm input, HW Alarm output
Monitoring – on-line analysis of communication over any of the interfaces
Scalability
SW feature keys

Advance features only when and where needed
Router, Speed, COM2, 10W, Backup routes, Master
Free Master-key trial - for 30 days in every RipEX

HW models

The same HW for Base, Repeater or Remote stations
Internal GPS module - NTP synchronization (RipEX)
mPCIe slot for expansion boards (RipEX2) GPS, 4G, 2x RS232, DI/DO…
SCADA protocols
Modbus, IEC101, DNP3, PR2000, Comli, DF1, Profibus, Async Link, C24, Cactus, RP570, Slip, Siemens 3964(R), IEC104, DNP3/TCP, Modbus TCP and others
SCADA serial protocol addresses are mapped to RipEX addresses
TCP(UDP) protocols can be handled transparently or using Terminal server or TCP proxy
Embedded Modbus RTU / Modbus TCP converter
Each packet is transferred as an acknowledged unicast
Backup routes
Tested alternative paths between two RipEX units
Automatic switch-over to backup gateway, if primary route fails due to packet loss or weak RSS
Backup gateway can be behind Radio or Eth interfaces
Unlimited number of Alternative paths
Alternative path priority assignment
Energy savings
Solar ready
Sleep mode - wake up triggered by Sleep digital input or by internal RTC (RipEX2)
Save mode - wake up by a received packet from Radio channel or by Sleep digital input
RipEX-HS
Fully redundant hot-standby master station
Fully monitored
Automatic switchover capability on detection of failure
Auto toggle mode periodically switches units regardless of failure
Two booted-up standard RipEX units inside
Switch-over time < 2 s
Two independent power supplies
One or two antenna connectors
Hot swappabble
19″ rack 3U
Technical parameters
Radio parameters
RipEX
RipEX2
Frequency bands
135–154; 154–174; 215-240; 300–320; 320–340; 340–360; 368–400; 400–432; 432–470; 470-512; 928–960 MHz
400-470
Channel spacing
6.25 / 12.5 / 25 / 50 kHz
6.25 / 12.5 / 25 / 50 / 100 / 150 / 200 kHz
Frequency stability
+/- 1.0 ppm
Modulation
QAM (Linear): 16DEQAM, D8PSK, π/4DQPSK, DPSK
FSK (Exponential): 4CPFSK, 2CPFSK
QAM (Linear): 256QAM, 64QAM, 16DEQAM, D8PSK, π/4DQPSK,
DPSK
FSK (Exponential): 4CPFSK, 2CPFSK
FEC (Forward Error Correction)
On/Off, 3/4
On/Off, 2/3, 3/4, 5/6
Gross data rate
up to 167 kbps
up to 1.1 Mbps
RF Output power
0.1 to 10 W programmable
Duty cycle
Continuous
Rx to Tx Time
< 1.5 ms
Sensitivity
- 99 dBm / 16DEQAM / 25 kHz
-115 dBm / 2CPFSK / 25 kHz
- 93 dBm / 256QAM / 25 kHz
-115 dBm / 2CPFSK / 25 kHz
Electrical
Primary power
10 to 30 VDC, negative GND
Rx
5 W/13.8 V; 4.8 W/24 V; (Radio part < 2 W)
8 W
Tx (dependent on RF power and modulation)
13 – 40 W
13 – 55 W
Sleep mode
0.1 W
0.01 W
Save mode
2 W
5 W
Interfaces
Ethernet
1x 10/100 Base-T Auto MDI/MDIX / RJ45
4x 10/100 Base-T Auto MDI/MDIX / RJ45
SFP
No
1×10/100/1000 Base-T/1000Base-SX/1000Base-LX
COM 1
RS232 / DB9F
300 – 115 200 bps
RS232/RS485 / DB9F
300 bps – 1 Mbps
COM 2
RS232/RS485 SW configurable / DB9F
300 – 115 200 bps
mPCIe expansion board
2x RS232
USB
USB 1.1 / Host A
USB 3.0 / Host A
Antenna
1x TNC female / 50 ohms (Rx/Tx) or
2x TNC (Rx+Tx) - different HW model
2x TNC female / 50 ohms
SW configurable: 1x Rx/Tx or 1x Rx + 1x Tx
Inputs/Outputs
1x HW alarm input, 1x HW alarm output, 1x Sleep input
2x HW alarm input, 1x HW alarm output, 1x Sleep input
Indication LEDs
LED panel
Power, ETH, COM1, COM2, Rx, Tx, Status
SYS, AUX, RX, TX, COM
ETH
No
4x RJ45 - 2x LED, 1x SFP - 1x LED
Environmental
IP Code (Ingress Protection)
IP40, IP51
MTBF (Mean Time Between Failure)
> 900.000 hours (> 100 years)
Operating temperature
- 40 to +70 °C (- 40 to +158 °F)
Operating humidity
5 to 95% non-condensing
Mechanical
Casing
Rugged die-cast aluminium
Dimensions
50 H x 150 W x 118 D mm (1.97 x 5.9 x 4.65 in)
60 H x 185 W x 125 D x mm (2.34 x 7.2 x 4.9 in)
Weight
1.1 kg (2.4 lbs)
1.55 kg (3.4 lbs)
Mounting
DIN rail, L-bracket, Flat-bracket, 19″ Rack shelf
SW
Operating modes
Bridge / Router
Bridge / Router (+Switch)
User protocols on COM
Modbus, IEC101, DNP3, PR2000, Comli, DF1, Profibus, Async Link, C24, Cactus, RP570, Slip, Siemens 3964(R)…
User protocols on Ethernet
Modbus TCP, IEC104, DNP3 TCP, Comli TCP…
Serial to IP convertors
Modbus RTU / Modbus TCP, DNP3 / DNP3 TCP, Terminal server
Radio protocols
Transparent, Flexible, Base driven
Multi master applications
Yes
Report by exception
Yes
Collision Avoidance Capability
Yes
Remote to Remote communication
Yes
Repeaters
Store-and-forward; Every unit; Unlimited number
Optimization
Payload data and Ethernet / IP / TCP / UDP header compression, Packet flow on Radio channel optimization
NTP (Network Time Protocol)
Client, Server (synchronized from internal GPS)
Security
Management
HTTP, HTTPS (own certificate), SSH
Access accounts
2 levels (Guest, Admin)
4 levels (Guest, Tech, SecTech, Admin) x 3 users
Encryption
AES256
IPsec
Yes
RADIUS
No
Yes
Firewall
Layer 2 - MAC, Layer 3 - IP, Layer 4 - TCP/UDP
HW tamper proof
No
Yes
Diagnostics and Management
Radio link testing
Yes (ping with RSS, Data Quality, Homogenity)
Watched values
Device – Ucc, Temp, PWR, VSWR, HW Alarm Input
Radio channel – RSScom, DQcom, TXLost [%]
User interfaces – ETH [Rx/Tx], COM1 [Rx/Tx], COM2 [Rx/Tx]
Statistics
For Rx/Tx Packets on User interfaces (ETH, COM1, COM2)
User data and Radio protocol (Repeates, Lost, ACK etc.) on Radio channel
Graphs
For Watched values and Statistics
History (Statistics, Neighbours, Graphs)
20 periods (configurable, e.g. days)
SNMP
SNMPv1, SNMPv2c, SNMPv3, SNMP Traps for Watched values
Approvals
CE (RED), FCC, ATEX, RoHS
Pending
Video presentation RipEX radio modems