ICOM IC-F16/S - VHF Analog Radio
VHF and UHF Transceivers

IC-F16
(VHF transceiver, rotary type)
IC-F16S
(VHF transceiver, toggle type)
IC-F26
(UHF transceiver, rotary type)
IC-F26S
(UHF transceiver, toggle type)

Built to last, built to work!
Tough and reliable construction
Simple operation
Wide range frequency coverage
Lithium-ion battery standard
Built-in CTCSS and DTCS
Multiple 2-Tone, Multiple 5-Tone
Optional voice scrambler, man down and DTMF decoder units
The IC-F16/S series shows Icom's new direction in LMR radio design. Simple operation for everyone but a powerful and reliable tool for your daily business. Its very durable construction is resistant to shock and vibration. The dual rail guide design securely locks the battery pack to the radio. Wide range frequency coverage, Li-Ion battery pack, loud and clear audio, built-in signalings and option unit connector combined with Icom grade electrical performance, the IC-F16/S series will easily exceed your expectations.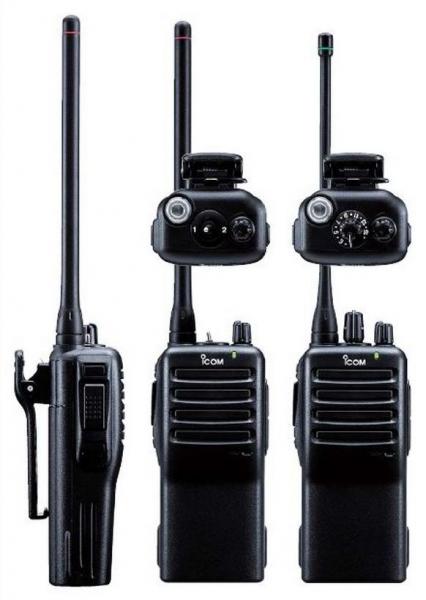 Tough and reliable construction
The IC-F16/S series is built around an aluminum die-cast chassis and covered with tough polycarbonate casing. This radio is built to last. Its dual slide rail securely locks the battery to the radio. The battery terminal is covered with a noncorrosive rubber packing. The belt clip is clamped between the radio and the battery, making it nearly impossible to knock loose.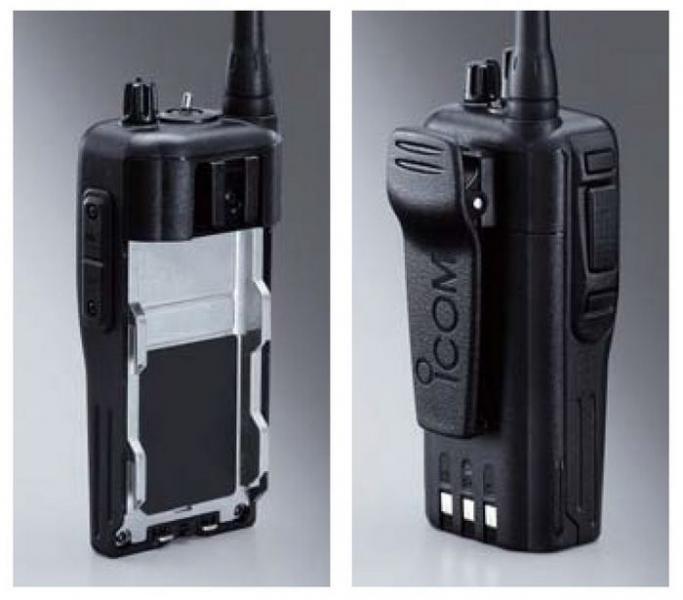 Simple operation
Having only 3 buttons, volume and channel knobs, the IC-F16/S series does not require special training to use. Positive button action for sure operation even when wearing gloves, allows you to get down to the business of communicating without fuss.
Wide frequency coverage
The IC-F16/S series covers a wide frequency range with one version (136–174, 400–470MHz). Wide and narrow channel spacing (25, 12.5kHz) is programmable per channel.
Long use even in extreme cold
Supplied 2300mAh (typ.) Li-Ion battery pack, BP-232H has superior electrochemical characteristics even in extremely cold areas (0˚C to –30˚C). It provides stable output for longer while having less voltage reduction at low temperatures.
Optional board
The IC-F16/S series has an expansion socket for adding an optional board. Voice scrambler, man down and DTMF decoder features are available, depending on the installed board.
Most popular signalings built-in
Use the built-in 2-Tone, 5-Tone, CTCSS and DTCS capabilities as standard to set up your own talk groups and quiet standby when others are talking.
Multiple 2-Tone, Multiple 5-Tone
Up to ten 2-Tone/eight 5-Tone codes can be decoded on a channel. When a matched tone is received, the following items are programmable for each code.
Beep sound
Answer back
Stun
LED blink
Scan

Other Features
MDC PTT ID and MDC emergency call functions are available (Transmit only)
LED low battery alert
TOT function and lock out penalty timer
2 step power saver
Normal and priority scan
500mW loud and clear audio
Optional VOX headset
PC programming capability
Embedded ESN (Electronic serial number)

Specifications

GENERAL
Frequency range
IC-F16/IC-F16S
IC-F26/IC-F26S

136–174MHz
400–470MHz
Number of channels
16 (IC-F16, IC-F26)
4 (Max., IC-F16S, IC-F26S)
Channel spacing
12.5kHz/25kHz
PLL channel step
2.5kHz, 3.125kHz (VHF)
5kHz, 6.25kHz (UHF)
Power supply requirement
7.2V DC
Current drain (at 7.2V DC; approx.)
Transmit VHF (5W)
UHF (4W)
Receive stand-by
rated output

1.5A
1.6A
70mA
300mA
Antenna impedance
50Ω
Usable temperature range
–30˚C to +60˚C
Dimensions (with BP-232H)
(projections are not included)
53 (W) ×120 (H) ×42.4 (D) mm
Weight
296g (approx. with BP-232H)
TRANSMITTER
Output power
5W (VHF), 4W (UHF)
Max. frequency deviation
±5kHz (Wide)
±2.5kHz (Narrow)
Frequency error
±2.5ppm
Spurious emissions
80dB typ.
Adjacent channel power
VHF
UHF

80/70dB typ. (Wide/narrow)
75/68dB typ. (Wide/narrow)
FM Hum and Noise
46dB typ. (Wide)
40dB typ. (Narrow)
Audio harmonic distortion
3% typ. (AF 1kHz, 40% deviation)
Modulation limiting
60–100% of max. deviation
External microphone connector
3-conductor 2.5 (d) mm /2.2kΩ
RECEIVER
Sensitivity
0.25μV typ. (at 12dB SINAD)
Squelch sensitivity
0.25μV typ. (at threshold)
Adjacent channel selectivity
75dB typ. (Wide)
65dB typ. (Narrow)
Spurious response
70dB
Intermodulation
74dB typ.
Hum and noise ratio
50dB typ. (Wide)
45dB typ. (Narrow)
Audio output power
500mW typ.
(at 5% distortion with an 8Ω load)
External speaker connector
2-conductor 3.5 (d) mm/8Ω
Applicable U.S. Military Specifications
Icom makes rugged products that have been tested to and passed the following MIL-STD requirements and strict environmental standards.
Standard
MIL 810F
Method
Procedure
Low Pressure
500.4
I, II
High Temperature
501.4
I, II
Low Temperature
502.4
I, II
Temperature Shock
503.4
I
Solar Radiation
505.4
I
Rain Blowing/Drip
506.4
I, III
Humidity
507.4
-
Salt Fog
509.4
-
Dust Blowing
510.4
I
Vibration
514.4
I
Shock
516.4
I, IV
Also meets equivalent MIL-STD-810-C, -D and -E.
Options