SENTRY-H SDR HF RADIO
Codan Sentry-H delivers a rugged and affordable radio solution for military organisations that demand uncompromised, secure long range voice and data communications. With 150 W RF power, it has been specifically designed to deliver the smallest and lightest form-factor for no-fuss integration into vehicle and base station configurations. In close consultation with military customers, Sentry-H has been optimised for ease-of-use and features an ergonomic smart handset with a colour, high-resolution multi-language interface and a host of other features.
• Rugged smart handset with colour display and integrated GPS
• Multi-language user interface
• Optimised for mobile and base
• 150 W PEP
• Second Generation Digital Voice
• STANAG/MIL-STD-188-110B data waveforms (up to 19k2 bps)
• AES-256 digital COMSEC
• Frequency Hopping
• MIL-STD-188-141B ALE
• Waterproof MIL-STD-810G construction
• IP/USB Connectivity
• Interoperable with Codan Patrol 2110M Manpack
• H-250 Accessories support
• Worldwide Codan service and support

PROVEN SOFTWARE DEFINED ARCHITECTURE
Codan Sentry-H uses the latest-generation high-performance Digital Signal Processor (DSP), Field-Programmable Gate Array (FPGA) and system on chip (SoC) technology. Built upon a proven SDR platform with thousands of hours of operation in the field, Sentry-H delivers market-leading performance and future upgradability through software updates. It enables organisations to install new capabilities, support evolving standards and ensure sustainability.

RUGGED AND EASY-TO-USE SMART HANDSET
In consultation with customers worldwide, The Sentry-H smart handset was designed to meet the unique operational and environmental challenges faced by military radio users.

The handset features a large colour display, and complete radio control and configuration via the easy to use keypad. With a loudspeaker mode, built-in GPS receiver/antenna, and USB programming port, the Sentry-H handset packs functionality and versatility into a rugged and ergonomic form factor.

HIGH POWER FOR BASE AND MOBILE CONFIGURATIONS
The Sentry-H is the military industry's first base and mobile radio system that delivers 150 W of RF power without the added cost, weight and complexity of an external amplifier. The Sentry-H has an in-built power amplifier that provides full-duty cycle performance across the complete HF band for all supported modes. Designed for maximum efficiency and a wide range of DC input voltages, the Sentry-H is the HF radio of choice for vehicle and other battery based systems.

The rugged RF unit is made out of a high-grade metal cast chassis and meets or exceeds MIL-STD-810G so you can be confident it will get the job done no matter where you operate.
INTUITIVE INTERFACE AND LOCALISED LANGUAGES
The Sentry-H handset user interface has been designed with ruggedness, and ease of configuration and operation as primary objectives. The intuitive icon-based menu system and easy to read layout, coupled with an ability to switch between multiple native languages (including data entry modes) ensures that you can focus more on your mission and less on complex radio operations and training.
A comprehensive range of ALE call types are supported including selective, message, phone, NET and GROUP calls so the radio can be adapted to specific communications scenarios. Calls can be made ad-hoc or via fully pre-programmed entries in the Contacts list.
Operator access to radio configuration parameters can be easily locked down or made available, depending on your unique circumstances.
SECURE DIGITAL VOICE FOR CLEARER COMMUNICATIONS
Codan's second generation Digital Voice technology provides a quantum leap in High Frequency (HF) voice communications. A full digital mode coupled with highly optimised vocoder technology provides voice quality similar to that experienced with cellular phones. With AES-256 encryption, Sentry-H delivers a fully secure, superior quality voice capability.
CHAT AND EMAIL DATA
The Sentry-H is hardware ready for data mode and is delivered with the Codan 2400 bit/s robust data modem as standard. This modem is supported with the Codan Chat application which provides peer-to-peer text chat, email, and file transfer with an easy to use GUI that also supports multiple languages.
With a simple software option, the Sentry-H may be upgraded to full MIL-STD/STANAG data capability with data rates up to 19k2 bps with Independent Sideband (ISB) using the Codan RC50-C HF email application.
COMSEC
A range of COMSEC options are available with the Sentry-H, from CES-128 grade voice encryption through to full AES-256 encryption of digital voice and STANAG/MIL-STD data. The AES-256 encryption supports 256 by 256 bit keys with additional layers of protection possible by incorporating unique radio identifiers.
All voice encryption options for Sentry can be activated by a single hotkey, and are fully integrated with core radio functions like Selcall and ALE calling to ensure simplicity of operation. It is also possible to configure Sentry to automatically enable encryption on specified networks.
Codan Key Management is used to generate the key files, and Codan Key Fill software or a USB memory stick may be used to load the radio.
FREQUENCY HOPPING
The Sentry-H can be enabled with Frequency Hopping capability that can prevent third party monitoring of communications that may jeopardise an operation.
The user can select between up to 31 user programmable hop plans, each comprising a hop name, rate, bandwidth and encryption key.
Additional information security can be achieved with the use of one time session PIN's, and also combining Frequency Hopping with CES-128 voice encryption.
MIL-STD-188-141B ALE
Codan Sentry-H delivers MIL-STD-188-141B ALE and FED-STD-1045 ALE capability as standard, ensuring interoperability with other radios using these protocols. It comes with Codan's advanced link management technology (CALM™), which improves the performance of standard ALE by time stamping the channel quality (LQA) information. The ALE call system is fully integrated with system capabilities providing a seamless transition between channel linking and subsequent operations such as data transfers.
IP / ETHERNET / USB CONNECTIVITY
Sentry-H IP based design facilitates remote access and the Handset USB port provides a convenient point for connecting the Codan TPS-3250 transceiver programming application. Alternatively, a conventional USB memory stick can be connected for radio profiling, security key fill and firmware upgrades in the field.
GPS SUPPORT
Codan Sentry-H has embedded GPS receivers in the RF Unit and Handset with GPS, GLONASS and BEIDOU navigation systems supported. The Sentry-H RF Unit has a connection point for an external remote GPS antenna if needed.
Your distance and bearing from a remote HF station or waypoint can be displayed graphically via the handset user interface.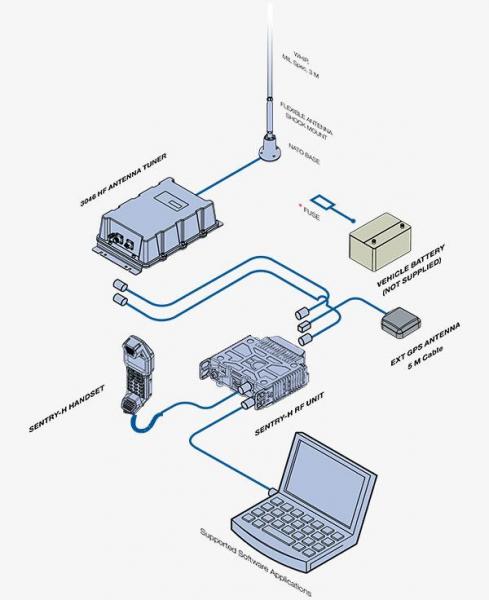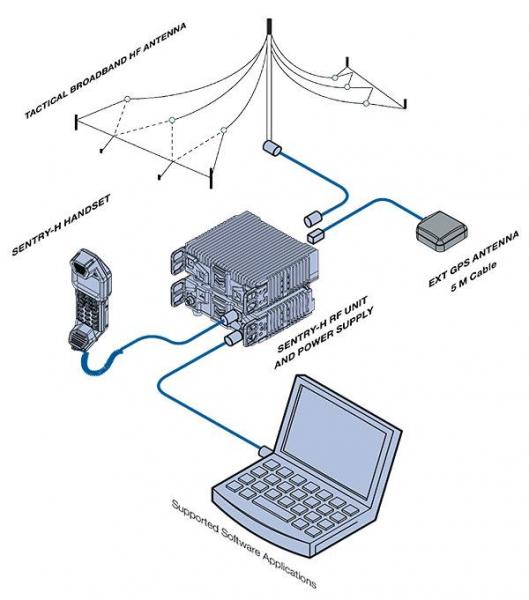 STANDARD CAPABILITIES

• 1.6 to 30 MHz frequency range
• 150 W RF power output
• 1000 channels
• 500 contacts
• Embedded GPS
• 2.4 kHz and wideband filters
• MIL-STD 188-141B ALE
• Robust ARQ data modem
• Codan Selcall
SOFTWARE APPLICATIONS
• TPS-3250 Radio Programming Software
• RC50-C HF Email (for STANAG/ MIL modem)
• Codan Chat HF (for robust ARQ modem)
• Key Management Software
• Key Fill Software
• GPS tracking solution

TRANSCEIVER BASED OPTIONS

•STANAG/MIL data & second generation
Digital voice (2400 bps vocoder) bundle
•AES-256 Encrypted STANAG/ MIL data
& second generation Digital Voice (2400/1200/600
bps vocoder) bundle
•CES-128 voice encryption
•Frequency hopping
•Languages (Dari, Farsi, Pashto, Arabic,
French, Spanish, Russian, Chinese)
•Free tune transmit
•Independent Sideband (ISB)
•Software Developers Kit (SDK)

ACCESSORIES

•Tactical base antenna and mast solutions
•Vehicle / base antenna tuners
•Vehicle Shock Mounts
•General mounting accessories
•H-250 audio accessories
•H-250 remote speaker
•3320 rugged power supply
•Morse key
•Crosspatch
•Telephone interconnect
•500 W / 1kW booster amplifiers
•External GPS antennas
SPECIFICATIONS
GENERAL
ENVIRONMENTAL
Frequency Range
TX:1.6 to 30 MHz;
RX: 250 kHz to 30 MHz
MIL-STD-810G
Shock, vibration, Humidity,
Blowing Dust, Leakage Immersion,
Fungus, Altitude
Channels
1000
Immersion
IP67
Programmable Contacts
500
Operating Temperature Range
-30 to +60 C
Programmable Networks
20
Relative Humidity
95%
Scan Rate
Up to 8 Channels per second
DATA WAVEFORMS
RF Input / Output Impedance
50 Ω (N-Type)
Proprietary CHIRP/QPSK
Up to 6000 bps with compression
Input Voltage
10 V to 35 V DC
STANAG 4539 / MIL-STD-188-110A/B
75 to 9600 bps, up to 19,200 bps (ISB)
Supply Current
Rx: 650 mA (backlight min, audio muted);
Tx: Two-tone 14 A typical,
average speech 5 A (analogue), 12 A (DV)
ECCM: FREQUENCY HOPPING
Channel Filters
500 Hz, 2.4 kHz, 2.75 kHz, 3 kHz
(software defined)
Hop Rates
6 /12 /25 hops per second
(user selectable)
Frequency Stability
±0.3 ppm
Hop Plans
31 user selectable (direct entry and
programmable via Codan KMS/KFS &
memory stick); 4-digit session PIN
Protection
Over-voltage/under-voltage/
over-temperature/
reverse polarity
Hop Sequence
Pre-defi ned and custom configurable
GPS
RFU - external antenna,
Handset - embedded receiver/antenna
(GPS, GLONASS and Beidou)
Hop Bandwidth
User configurable
Language Support
Multiple language user interface
and documentation
Synchronisation
GPS based
TRANSMITTER
DIGITAL VOICE
Power Output
150 W PEP — user programmable Hi, Med, Lo
Vocoders
STANAG 4591 / MELPe (2400/1200 bps)
TWELP (2400/1200/600 bps)
Duty Cycle
100% voice and data
Features
Autobaud, automatic vocoder switching, full digital mode
Spurious and Harmonic Suppression
>65 dB below PEP
ENCRYPTION
Intermodulation
>31 dB below PEP
MIL/STANAG Data and Digital Voice
AES-256 (256 keys, direct entry and
programmable via Codan KMS/KFS &
memory stick)
Carrier Suppression
>65 dB below PEP
Voice encryption
CES-128 (97 x 16-digit keys, direct entry and programmable via Codan KMS/KFS
& memory stick, 4-digit session PIN)
Sideband Suppression
>65 dB below PEP
LINKING
RECEIVER
ALE
FED-STD-1045
MIL-STD-188-141B
Sensitivity
SSB: -125 dBm (0.12 uV)
Selcall
CCIR 493-4 proprietary and open standard
Selectivity
>65 dB at -1 kHz at -1 kHz +4 kHz SCF (USB)
INTERFACES
Image Rejections
>90 dB
ATU Control, General Purpose
Interface, Handset Interface,
DC supply
Fully sealed bayonet style MIL connectors
Blocking
>95 dB
H-250
6-pin MIL supporting audio in/out, PTT, mic
input, audio output, and fused 12 V DC out
Audio Output
4.0 W into 4Ω (external H-250 interface)
0.5 W into 8Ω (handset)
GPS Antenna
SMB Socket
Noise Reduction
DSP proprietary
Antenna
N-type
Mute
Syllabic voice detection — user controlled
Ignition Sense
Single wire input, part of DC battery cable
MECHANICAL
COMPLIANCE
Dimensions (WxHxD)
RFU: 220 mm x 66.5 mm x 190 mm
Handset: 67 mm x 210 mm x 72.5 mm
Compliance
CE, FCC Part 90, AS/NZS 4770, AS/NZS 4355
Weight
RFU: 2.82 kg;
Handset: 280 g (no cable)
CODAN SENTRY-H: Affordable And Intuitive Tactical Communications