CODAN NGT HF Split-site remote control system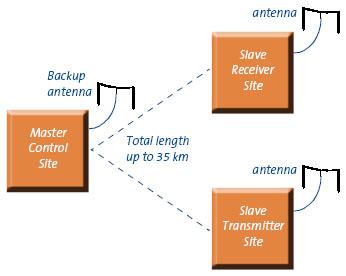 HF Système de Télécommande Codan NGT Multi Site (70 kb)

The CODAN NGT HF Split-site Remote Control System provides various options to ensure clear and reliable communication, for users whose control location is affected by electrical interference and limited by building constraints. These options enable you to split control, transmit and receive functions of an CODAN HF radio system into one of three basic configurations:
NGT remote split-site HF transmitter and receiver system
NGT remote HF transceiver system
NGT master transmitter, remote receiver system
Key features
Simple to use

The HF Split site System configurations comprise a local master site and one or more remote slave sites. The master site uses a transceiver and splitsite interface equipment to control the slave site or sites. Depending upon the configuration, a remote slave sites consist of an CODAN 8571 Split-site Remote Interface and either a receiver, transmitter or transceiver.

With suitable antennas and power supplies, the system provides all control operations seamlessly via the user friendly NGT handset or the optional desk console. These operations include scanning, receiving and transmitting calls, and changing transceiver settings and personal addresses.

Single leased line

A single 2-wire leased line can be used to connect a slave remote site to the master control site. The CODAN 8571 Split-site Remote Interface multiplexes both the audio and control signals for the remote sites using the single connection. This technique enables the remote site to be located up to 35 km away from the master control site.

VHF/UHF radio and microwave links

The system can also operate with a 4-wire interface, which allows analogue VHF/UHF radio or microwave links to be used for the connection between the master site and the remote site.

Rugged design

All CODAN products are designed to withstand the toughest conditions and come with full product support. A three year warranty is available with all CODAN manufactured products.
Advanced features
System flexibility

The NGT Split-site Remote Control System can be used with CODAN NGT ASR and SR HF transceivers for voice, fax and data applications.

With suitable CODAN auxiliary equipment, this system also supports GPS tracking systems, data communication and radio-telephone interconnect.

The system is enhanced by the transceiver's features such as Easitalk, Phone call, smart address book, emergency selcall, built-in test equipment, and remote diagnostics.

Wherever permitted, the CODAN Automated Link Management (CALM) or Automatic Link Establishment (ALE) facility is supported.

Line equalisation

The CODAN NGT Split-site System compensates for line characteristics. This process is virtually automatic allowing a simple setup.

Information

For information on various system capabilities, requirements and ordering, please refer to CODAN System Solutions sheets.
How it works
System configuration

A transceiver unit at the master site controls the system. Using the Split-site interface equipment, one or more slave transceiver units at remote sites are connected to the master control site via a 2-wire leased line or 4-wire interface.

Slave receivers are usually transceiver units that have their transmit capability disabled, although a backup transceiver facility is available by reconfiguring other units to perform a receive and/or transmit function.

Analogue link

The HF Split-site System relays both audio and control data by multiplexing the control information with a short burst of FSK data onto the audio. The system also contains equalisation circuitry to compensate for the frequency characteristics of the line. Using this technique, the total length of 2-wire cable between the master control site and a slave site can be up to 35 km using 0.64mm diameter copper wire (10 lb line)- standard grade line for Telstra Australia.
Technical specifications
For CODAN 8571 Split-site Remote Interface
Line loss

Each line in a system can be up to 35 km of 0.64 mm PIUT (copper conductor)

The system will operate on standard grade lines Lines and radio links must be full duplex

Frequency
response

400 Hz – 2.5 kHz ±3 dB

Noise

Signal/Noise better than 45 dB
(excludes line/ radio link noise)

Signalling

1070/1270 Hz FSK (part Bell 103) 500 baud

Revertive by command echo and verification 300 Hz
control used with signalling and for PTT

Power

11 to 16 V DC (12 V nominal) 200 mA, or
22 to 32 V DC (24 V nominal) 100 mA

AUSTEL
Permit Number
A91/19/0129

Operating temperature

–30 to +50°C

Size and weight

250 mm W x 320 mm D x 78 mm H; 2.5 kg