CODAN NGT HF Remote Control system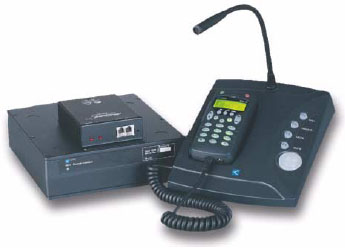 Système de Commande à Distance NGT (85 kb)

CODAN NGT HF Remote Control system
The CODAN NGT Remote Control System CODAN NRCS is the smart way to achieve clear and reliable communication when your transceiver site is located in an area affected by electrical interference. Clearer communication is achieved by relocating the CODAN NGT HF SSB transceiver and antenna system to an area with little or no electrical interference. Using an NRCS, the transceiver can be operated from a convenient location such as an office or workplace.

The NRCS consists of a line modem and NGT Remote Interface NRI 3030 at each site. A single 2-wire leased line is all that is required to connect the control and transceiver site.

Key features

Simple to use

The NRCS enables the CODAN NGT HF transceiver to be operated as if it were located locally. All CODAN HF transceiver operations are available via the user-friendly NGT desk console, which consists of a junction box, NGT handset and speaker. These operations include scanning, selective calling, receiving calls, and changing transceiver settings and personal addresses.

Single leased line

By using the latest in digital voice technology, the CODAN NRCS can operate with only a single 2-wire leased line.

Rugged design

All CODAN products are designed to withstand the toughest conditions and come with full product support. A three year warranty is available with all CODAN manufactured products. A one year warranty is available for the switch mode power supply and modem supplied.

Advanced features

System flexibility

The NRCS can be used with CODAN NGT ASR and SR HF transceivers for simple voice only applications.

With suitable CODAN auxiliary equipment, this system also supports GPS tracking systems, data communication and radio-telephone interconnect.

The system is enhanced by the transceiver's features such as Easitalk, Phone call, smart address book, emergency selcall, built-in test equipment, and remote diagnostics. Wherever permitted, the Automated Link Management (CALM) or Automatic Link Establishment (ALE) facility is supported.

Line equalisation

The NRCS includes a line modem, which uses proven data modem technology. Like CODAN products, the industrial quality modem is built to survive in harsh environments and provides excellent reliability. Line equalisation is automatic, allowing a simple set up.
Information
For information on various system capabilities, requirements and ordering, please refer to CODAN System Solutions sheets.
How it works

System configuration

The NGT desk console, NRI 3030 and line modem can be installed in a variety of convenient locations. This location (control site) is connected by a 2-wire leased line to a remote location (transceiver site), which consists of an NRI, line modem and NGT RF unit.

Digital link

The NRIs relay both audio and control information between the sites by converting the audio into a digital format and combining it with the control data. To maintain this link, the NRIs use a full duplex RS232 connection with a speed of 9600 bps or more. In the solution provided by CODAN, this is achieved by using industrial quality modems configured for use on leased lines.

System operating range

Using the line modems supplied by CODAN, the total length of 2-wire cable between the control site and the transceiver site can be up to 19 km using 0.64 mm diameter copper wire (10 lb line)—standard grade line for Telstra Australia. Geographical distances greater than 19 km may be possible if the line connection between the control and transceiver site is via one or more telephone exchanges. However, the total length of standard grade wire connecting both sites to any given exchanges should not exceed 19 km.

Power

At the control site the NRI and line modem are powered by a switch mode power supply and at the transceiver site they are powered by a CODAN 3020 power supply.

Technical specifications
For NGT Remote Interface

For Industrial Line Modem
Power consumption
Less than 350 mA at 12 V DC

Online, 300 mA

Temperature range

0 to 60°C

–10 to 60°C
Humidity operating range

0 to 95%

0 to 95%
Power
Powered by switchmode power
supply (at control site) and CODAN
3020 power supply (at transceiver site)
Powered by CODAN
NGT Remote Interface
Size and weight
210 mm W x 240 mm D x 65 mm H; 1.8 kg
90 mm W x 130 mm D x 35 mm H; 0.85 kg
(weight includes packaging and accessories)
Line interface

N/A

Leased line

V.32, V.32bis, V.34: 2400–2800 bps
modem standard

Rx sensitivity: -43 dBm
Tx level: -11 dBm
Modem interface
NRI to line modem interface:
RS232 with hardware handshaking
Minimal 9600 bps
full duplex