RW3 - Three-Radio Remote Set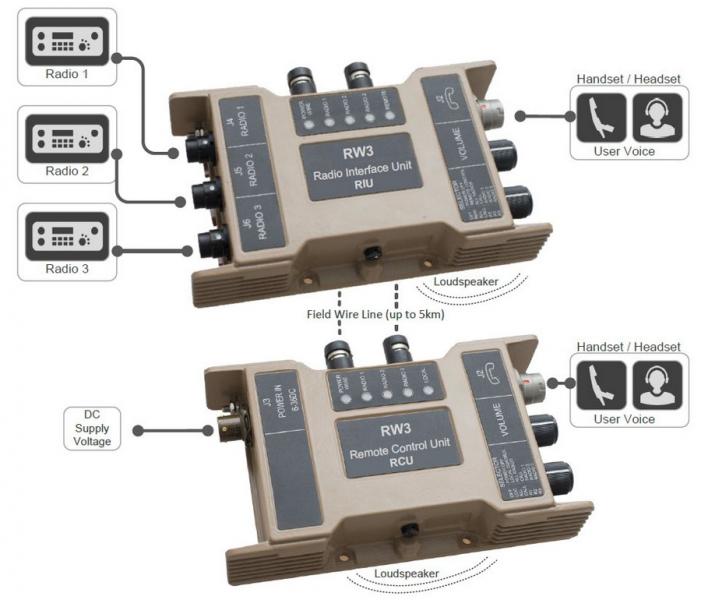 Functions and Applications:
Radio remote operation up to 5km away
Supports up to 3 radios
Monitor voice on all 3 radios simultaneously
Features & Benefits:
Robust design
Field wire compatible
Ease of installation and use
Continuous field wire integrity checking
Built-in Loudspeaker
Radio Remote Operation And Control
The RW3 Three-Radio Remote Set allows an operator to use radios from a remote location up to 5 km away using D-10 or P-274 field wire. The remote operator can select one of the three connected radios to use and speak over the selected radio.
The RW3 can be used to set up radio communications for open-pit or underground mining applications, rapid high-site installations and general radio remote use scenarios.
The RW3 system consists of two parts:
Radio Interface Unit (RIU): Connects to the radios
Remote Control Unit (RCU): Used by the remote operator
*The RIU and the RCU must be connected to each other using D-10 or P-274 field wire (not included).
The RW3 also provides an operator CALL function between the Radio Interface Unit and Remote Control Unit
Radio Interface Unit Capabilities
The Radio Interface Unit (RIU) connects to the Radios. It indicates the status of the power supply, radio connection(s) and the integrity of the Field Wire line. The RIU is powered directly from any of the connected radios.
Remote Unit Capabilities
The Remote Control Unit (RCU) provides the interface from which to operate the radio(s). It has a handset connection with volume control which allows normal voice operation. It also has a selector switch to select the radio and mode of operation. The RCU connects to the RIU via a length of Field Wire. The RCU is powered from an external DC power source.
Remote To Local Communication
The RW3 units provide a CALL mechanism between the RIU and RCU units. This allows the RIU to be manned and receive voice calls from the RCU operator. Alternatively, the RIU operator can receive calls from various radios and route them to the RCU unit operator
Built-In Loudspeaker
Both RW3 units are fitted with internal waterproof loadspeakers to alert operators of incoming calls or to monitor radio activity
Radio Remote Set Package
The RW3 package includes:
1x Remote Control Unit - RCU
1x Radio Interface Unit - RIU
1x DC Power Cable (unterminated)
1x H-250 type handset
1x User Manual
2x Earth straps
Field wire not included (D-10 or P-274 up to 5km)
Accessories
RIU to Radio Cables (required): Contact AT Communication for the appropriate cables for your radio models.
Accessories: Please contact AT Communication for handsets / headsets and Accessory Information.
RIU Hardware
RIU Environmental
Size & Weight
165 X 96 X 37 mm (W X D X H)
800 g
Temperature
Operating: -20°C to +60°C
Storage: -40°C to +70°C
Colour
Light Grey
Immersion
IP67: 30 min at 1m
EMI
EN 55022, EN 55024, MIL-STD-461E
Environmental
MIL-STD-810G: Humidity, Shock, Vibration, Dust
RIU Interfaces
Description
2x Wire Line Posts
FIELD WIRE: 2-Wire interface. D-10, P-274 or similar line. 5km maximum length.
Handset (U-183)
Handset or Headset (D)MIC: 150 Ohm Coil, PHONES: 300 - 1,000 Ohm, PTT_IN (I), PTT_OUT (O), GND, HSET_SUPPL (15V)
Radio
(P17N)
Audio (R1, R2, R3) : (D) AUD_TX 220mV 150Ω, (B) AUD_RX 220mV 150Ω , (H) AUD_COM, (C) PTT (open collector), (A) GND (G) Power (R1, R2, R3): Input to RIU, 6 – 36 VDC MIL-STD-1275 Vehicle Power & polarity protection.
Volume
11 Position Volume Control
Selector
Mode selector switch: OFF, REM (Remote Control), ALL (All Radios), CALL (Call RCU), R1 (Radio 1), R2 (Radio 2), R3 (Radio)
Status LEDs
Power indication, WIRE LINE connectivity indication, RADIO 1, RADIO 2, RADIO 3 connectivity indication, RCU call indication.
Speaker
2x 4 Watt 8 Ohm internal
RCU Hardware
RCU Environmental
Size & Weight
165 X 96 X 41mm (W X D X H)
800 g
Temperature
Operating: -20°C to +60°C
Storage: -40°C to +70°C
Colour
Light Industrial Grey RAL9002
Immersion
IP67: 30 min at 1m
EMI
EN 55022, EN 55024, MIL-STD-461E
Environmental
MIL-STD-810G: Humidity, Shock, Vibration, Dust
RIU Interfaces
Description
2x Wire Line Posts
FIELD WIRE: 2-Wire interface. D-10, P-274 or similar line. 5km maximum length.
Handset (U-183)
Handset or Headset (D)MIC: 150 Ohm Coil, PHONES: 300 - 1,000 Ohm, PTT_IN (I), PTT_OUT (O), GND, HSET_SUPPL (15V)
Ethernet (62IN8-4F)
(1) RX+, (2) RX-, (3) TX+, (4) TX-
Volume
11 Position Volume Control
Selector
Mode selector switch: OFF, REM (Remote Control), ALL (All Radios), CALL (Call RCU), R1 (Radio 1), R2 (Radio 2), R3 (Radio)
Status LEDs
Power indication, WIRE LINE connectivity indication, RADIO 1, RADIO 2, RADIO 3 connectivity indication, RCU call indication.
Power
6 – 36 V DC, MIL-STD-1275E Vehicle Power & polarity protection.
Speaker
2x 4 Watt 8 Ohm internal