AT MGSS Mobile Ground Surveillance System
AT MGSS Features
AT MGSS Applications

Intercepting, Detecting and Following targets
Classify and Differentiate targets on digital map
Clutter Map
Spot Window
Doppler Audio Channel
Manual Target Filter Setting
Automatic Alarm by Zone
Two level BITE
Built in GPS and Compass
Continuous recording of all measurements
Networkable sensors
Local or remote control
Rapid training to proficiency
Low probability of intercept
Extremely reliable

Industrial facilities
Strategic Depots
Airports
Refineries
Military Compounds
Power Stations
Ports & Harbours
Mine Sites
Secure storage facilitiesfacilities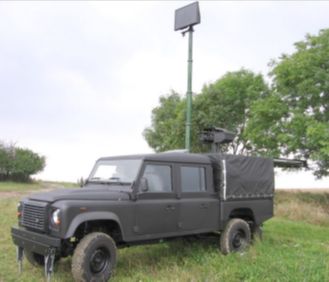 The AT MGSS Mobile Ground Surveillance System offers a unique cost-efficient defence solution providing an increased capability of early threat recognition and improved perimeter control. It is designed for long range security patrols, for controlling large areas and defending mobile targets, and for situations where security demands an on-going adaptation of reconnaissance patterns – the operators of an AT MGSS will be able to quickly redefine the boundaries of the controlled area to instantly react to any situation that may arise.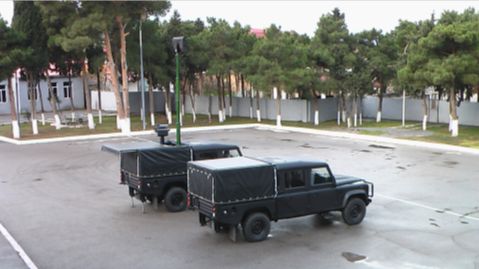 The AT MGSS is an engineered and configured vehicle equipped with a number of surveillance modules – an AT PGSR Portable Ground Surveillance radar unit, an optional AT PSR Perimeter Security Radar, an electro optical sensor array and a Command Centre. The electro-optical head is mounted on a retractable mast protruding from the roof of the vehicle. The AT PGSR radar unit is also mounted on a retractable electro-hydraulic mast assembly. The optional AT PSR radar unit is not mounted on the vehicle, it can be deployed as a stand-alone unit within the vehicle's range and be under control of the Command Centre which is set up in the vehicle cabin.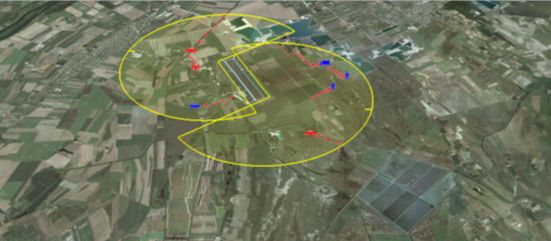 During surveillance sessions, remote AT PSR radar units are deployed to oversee the secured area with complementary surveillance angles. The operating platform and our unique Adaptive Multi-sensor Systems, presents an easy to operate user interface, offering the possibility of multi-tasking and educated decision-making to the operator. If any of the radar units alerts the operator of a threat or intrusion, the operator can use the Electro-Optical Sensor Array to get a visual image of the threat, thereby improving his chances to take proper measures. The operators control all subordinate sensor units from inside the vehicle, via a common interface – surveillance data from all instruments is displayed on the same operator platform.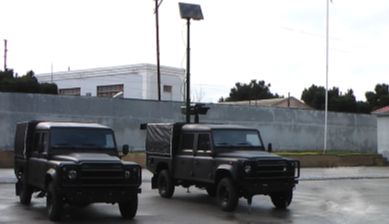 The operating system also allows the AT MGSS to function in automatic mode, in a non-interrupted mode of operation. The sensor modules can be set to respond to each other's signals in order to present the operator with an optimum selection of data for further analysis.
Via the Command Centre node, the AT MGSS system can also control other independently deployed stand-alone units which are configured with proper access. The AT MGSS can also be integrated within a larger network hierarchy of command nodes for operations of a greater scale.
AT MGSS Mobile Ground Surveillance System – Specifications
Overall Hardware Setup and Characteristics
Instrumentation
AT PGSR radar unit
AT PSR radar unit (optional)
Electro-Optical Sensor Array
Command Center node
Other instruments as needed
Auxiliary Equipment
GPS and North Finding Device
Other equipment as needed
Vehicle Options
Any vehicle as needed subject to technical
Power Supply
Optional power generator (12 and 24V DC, 230V AC) – unlimited operation period
Vehicle-built-in battery set (12 and 24V DC)
Temperature Ranges
Operation: -32°C to +50°C
Storage: -40°C to +60°C
MTBF
> 10 000 hr (not including vehicle specific failures)
AT PGSR Vehicle-mounted Ground Surveillance Radar Unit
Typical Detection Ranges
Pedestrian: 6 km (RCS 0.5 m2)
Armed soldier: 8 km (RCS 1 m2)
Vehicle: 15 km (RCS 10 m2)
Large vehicle: 24 km (RCS 50 m2)
Scanning Modes
Azimuth Sector Scan (6°–346°)
Continuous Rotation Scan (n x 360°)
Scan Rate
7°/sec and 14°/sec, operator selectable
Accuracy
Range: ±3 m (at 3 km range)
Azimuth: ≤ 0.3°
Minimal Detectable Radial Speed
1.0 km/h
Target Capacity
10 plots/sec
over 300 tracks
over 1000 displayed plots
Target Classification
Automatic and Audio
Integrated Acoustical Target Identification
Processing
STC, FFT, CFAR, PLOT EXT., TRACK EXT.
Data/Control Interface
RS-485, WIFI, Ethernet
Installation
Mast-mounted (retractable)
Electro Optical Sensory Array
Type and manufacture to be tailor-made to customer's needs, A typical long range configuration is as follows:
Thermal Imager
Fields of View (FoV): Continuous Zoom
0.6° to 2.9° or 1.1° to 5.5°
Detector: 640 x 480
Detection at Mid FoV: 4 km
Recognition at Narrow FoV: 5 km
Daylight (CCD) Camera
Detector type: CCD ½" Color/BW
Resolution: 752 x 582
Signal-to-noise ratio: 62 dB
Laser Range Finder
Measuring range: 80 m to 20 km
Range resolution: 5 m
Multiple targets: 1st and last targets
Pan and tilt head
Mounted on mast (fixed or retractable)
Variable speed
Azimuth range: 360° (Slip ring)
Elevation range: ± 50°