HF Semi-Delta Antenna Codan SD214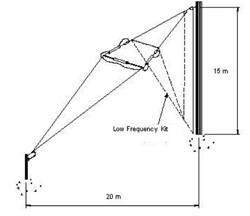 The HF Semi-delta Antenna is a high performance, omni directional broadband antenna that performs well over short to medium distances. Generally this antenna requires a large cleared area at ground level for installation, and is more suitable for permanent fixed site installations.

Note:
Pay attention to antenna counterpoise, especially when mounted on rooftop locations or at ground level where the soil conditions are poor.
Not suitable for co-locating on the same mast.
Includes: antenna, low frequency kit, pulleys, halyards, counterpoise and installation hardware.
Technical specifications
Frequency Range

2 – 14 MHz

Power Rating

400 W PEP

Quantity of supports
for installation

2

Distance
between supports

20 m

Mast Height

Central support: 15 m
Anchor mast: 2 m