TrellisWare TW-225-01 CheetahNet Mini
Supplies of the equipment stopped
TrellisWare Tactical Voice Communications Handheld

TrellisWare TW-225-01 CheetahNet Mini is a rugged handheld device for tactical voice and data applications. CheetahNet Mini offers secure voice channels and data connections, and attaches to external platforms, such as a PC or an Android™ device.
First responders in critical emergency situations or warfighters in shipboard operations can rely on TW-225-01 to deliver robust communications with simultaneous voice, data, and Position Location Information (PLI).
CheetahNet Mini runs with the TSM™ waveform, which allows for network mobility and scalability—from 10s to 100s of radios, in any challenging RF environment. In the TSM infrastructure-less network, CheetahNet Mini maintains 12 independent cellular quality voice channels with AMR 5.9 or MELPe audio encoding, encryption security, and high dynamic and range capability.
TSM Benefits
Infrastructure-less MANET
High-speed wireless IP networking
Self-forming, self-healing
Scalable to 200+ nodes
Robust in harsh environments
Non-routing network
TW-225-01 CheetahNet Mini Features
Secure voice and data encryption
Connect to PC and Android devices
Uses transflective LCD display for controlled visibility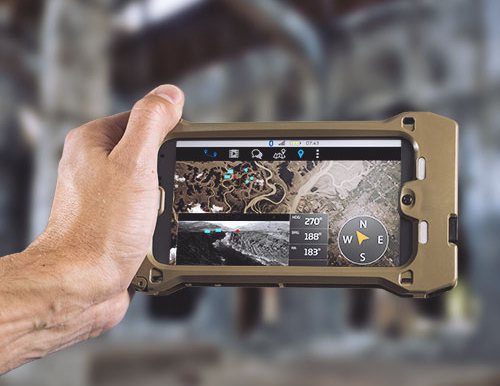 Specifications
Size
4" (H) x 2.5" (W) x 1" (D)
Weight (R/T only)
11 oz
Frequency Range
1775–1815 MHz, 2200–2250 MHz
Occupied Bandwidth
20 MHz, Configurable to 4 MHz
Transmit Power
2 W
Battery Life
9.5 Hours with 32 Wh Rechargeable Battery
Environmental
MIL-STD-810G
Water Resistant
2 M Immersion
Connectors
LEMO Audio, SMA RF and GPS Antennas,
24-pin for Dongles
Data Rate
8 Mbps IP Throughput per Channel
Audio Encoding
AMR 5.9 or MELPe
Audio Latency
3 Hop < 275 ms; 8 Hop < 400 ms
Net Entry Time
< 1 Second
Waveform
TSM
Routing
Barrage Relay™ networking
Modulation
Constant Envelope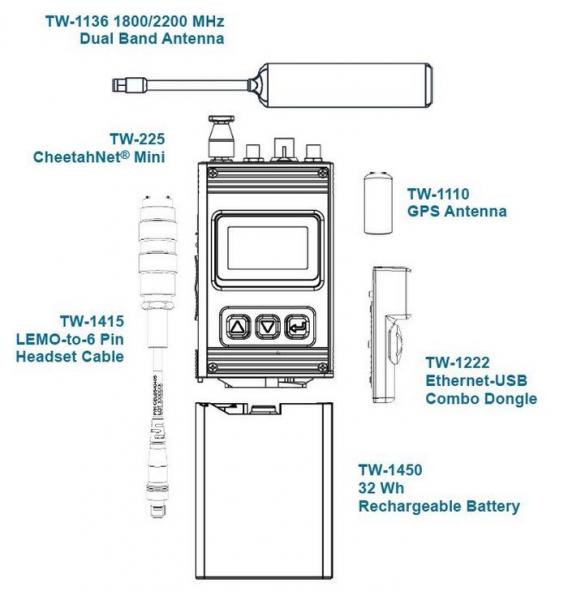 Common TSM Networking
Network Coverage
Mobile Ad-hoc Networking (MANET)
Range – 26 Mile LOS per Network Hop
Multi-hop – Up to 8 Hops
200+ Nodes in a Single RF Channel
Robust in Harsh RF Environments
Communication
Services
Simultaneous Voice, Data, PLI
12+ Cellular Quality V oice Channels
Up to 12 Simultaneous Video Streams
Built-in GPS
IP Support – IPv4, IPv6; Unicast, Multicast, Broadcast; TCP, UDP
Security
AES-256
OTAR, OTAZ
Remote Disable
RSA-2048
SHA-256
Application Support
Built-in Web Applications
Over the Air Remote Control
APIs for 3rd Party Integration
PLI with CoT, KML, and JSON
Integration with Android™
Applications
Handles IP data in tactical voice applications
Delivers secure voice and IP data connections
Easily change parameters and view network status with LCD display panel
Operates with other TSM products
Supplies of the equipment stopped