TrellisWare TW-600 Ocelot
TrellisWare TSM™ Module for Embedded Integration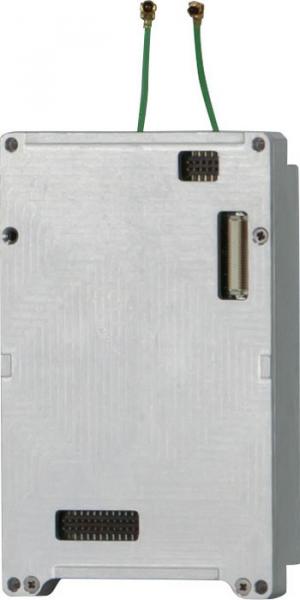 TW-600 Ocelot is a module built for integration into hardware platforms and network systems. It provides reliable connectivity for tactical mobile ad-hoc networking. With optimal size, weight, and power, Ocelot is ideal for fitting into tight spaces.
Ocelot is a flexible communications solution for unmanned systems, ISR missions, security systems, or mining operations. It provides pin-header interfaces for analog audio, USB data, and module control, as well as simultaneous voice, data, and Position Location Information (PLI). Ocelot has the ability to act as a network relay to send and receive data.
Any system that embeds Ocelot gains the advantage of TrellisWare's highly scalable and robust TSM wireless mesh network. This self-forming, self-healing infrastructureless mobile network delivers reliable communications in harsh RF environments, critical situations, or during unexpected networking challenges.
TSM Benefits
Infrastructure-less MANET
High-speed wireless IP networking
Self-forming, self-healing
Scalable to 200+ nodes
Robust in harsh environments
Non-routing network
Module for easy integration into other equipment
With optimal size, weight, and power, the Ocelot module provides robust networking and flexible beyond line of sight communication capabilities — all in a cost effective, low-profile package.
Network relay to send and receive IP data
The Ocelot module opens up network possibilities as it acts as a network relay to send and receive IP data. The module is equipped with power, status, and control interfaces; audio, data, and software interfaces; and RF and GPS antenna connectors.
Optimal size for custom platforms
The Ocelot Integration Platform accessory converts pin header interfaces into common interfaces and controls for embedding communications and IP data flow in custom platforms.
The Ocelot module is an example of a commercially custom platform for embedding into another form-factor. TrellisWare offers custom networking solutions and will work with you to reach your desired form-factor.
TW-600 Ocelot Specifications
Size
3.37" (H) x 2.12" (W) x 0.54" (D)
Weight (R/T only)
3 oz
Frequency Range
1775–1815 MHz, 2200–2250 MHz
Occupied Bandwidth
20 MHz, Configurable to 4 MHz
Transmit Power
2 W
Input Power
3.0–4.2 V DC
Environmental
MIL-STD-810G
Water Resistant
Splash Proof
Connectors
Board Mount, Power and Control, Audio,
Data Interfaces, U.FL RF Antenna, U.FL
GPS Antenna
Data Rate
8 Mbps IP Throughput per Channel
Audio Encoding
AMR 5.9 or MELPe
Audio Latency
3 Hop < 275 ms; 8 Hop < 400 ms
Net Entry Time
< 1 Second
Waveform
TSM
Routing
Barrage Relay™ networking
Modulation
Constant Envelope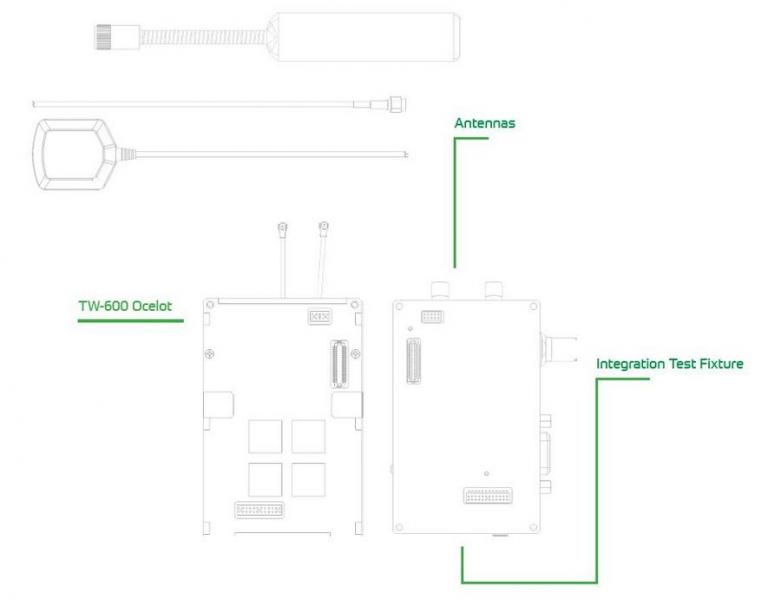 Common TSM Networking
Network Coverage
Mobile Ad-hoc Networking (MANET)
Range – 26 Mile LOS per Network Hop
Multi-hop – Up to 8 Hops
200+ Nodes in a Single RF Channel
Robust in Harsh RF Environments
Communication Services
Simultaneous Voice, Data, PLI
12+ Cellular Quality Voice Channels
Up to 12 Real-time Video Streams
Built-in GPS
IP Support – IPv4, IPv6; Unicast, Multicast, Broadcast; TCP, UDP
Security
AES-256
OTAR, OTAZ
Remote Disable
RSA-2048
SHA-256
Application Support
Built-in Web Applications
Over the Air Remote Control
APIs for 3rd Party Integration
PLI with CoT, KML, and JSON
Integration with Android™
Applications
Integrates with other equipment and existing systems
Use for unmanned systems, ISR, M2M, security , or mining operations
Acts as a network relay to send and receive IP data
Its small size easily fits into custom or tight fitting platforms
Operates with other TSM products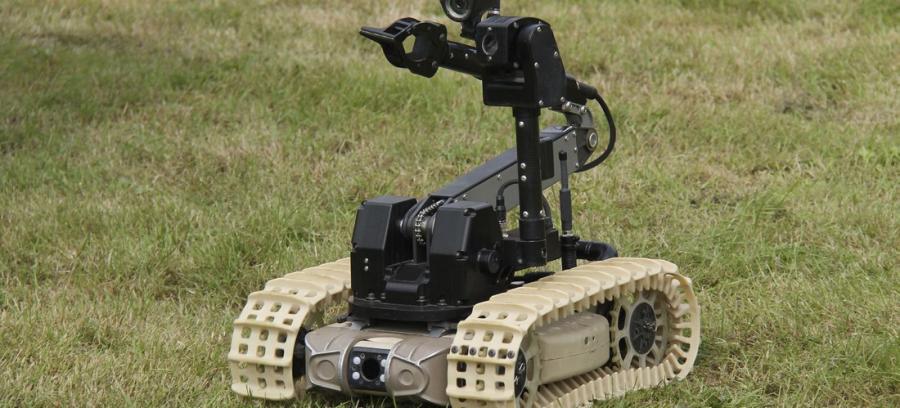 TW-2600 Integration Platform
The Ocelot Integration Platform converts the Ocelot's pin-header interfaces into common interfaces and controls, allowing developers to jump-start their integration process