TrellisWare TW-850-01 TSM Ghost
Small Form Factor Radio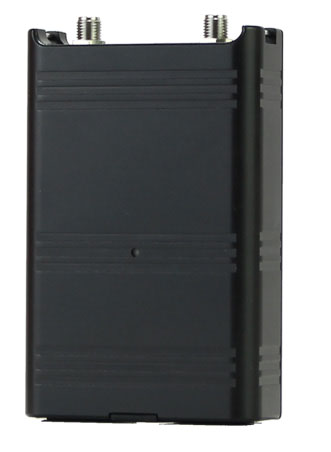 TW-850-01 TSM Ghost is an affordable, compact, and fully operational radio that provides real-time, continuous Position Location Information (PLI). TSM Ghost is part of TrellisWare's next generation of products, designed to track personnel and assets, and to provide situational awareness, especially against friendly-fire.
TSM Ghost easily connects to tablets or laptops via a Micro USB, effectively monitors ground operations, and it mounts onto robotic or unmanned systems (UAVs). Each TSM Ghost in the network aggregates all position locations from other radios in the network, and provides GPS location updates every 2-3 seconds. TSM Ghost supports low visibility operations with a built-in battery and concealed buttons for basic operation. It is a small size (3x5" x 2.4" x 0.8") and weighs only 6.4 oz.
TSM Ghost is powered with TrellisWare's robust and infrastructure-less TSM™ and operates with any TSM tactical radio. It acts as a relay for voice, data, video, and PLI traffic for all radios on the network, extending the range and reliability of the network.
TW-850-01 TSM Ghost Features
Tactical tracking device for real-time continuous PLI
Low profile network relay with GPS and RF antenna connectors
Integrated battery rechargeable by standard USB charger
TSM Benefits
Infrastructure-less MANET
High-speed wireless IP networking
Self-forming, self-healing
Scalable to 200+ nodes
Robust in harsh environments
Non-routing network
Built-In Power Supply
With its extremely low Size, Weight, and Power (SWaP), TSM Ghost supports low visibility missions. It includes concealed buttons and a built-in battery for power, and if you need more, operating times can be extended via a standard USB charger
Specifications
| | |
| --- | --- |
| Size | 3.5" (H) x 2.4" (W) x 0.8" (D) |
| Weight (R/T only) | 6.4 oz |
| Frequency Range | 1775–1815 MHz, 2200-2250 MHz |
| Occupied Bandwidth | 20 MHz, Configurable to 4 MHz |
| Transmit Power | 2 W |
| Battery Life | 9 Hours Tracking with Built-in Battery |
| Environmental | MIL-STD-810G |
| Water Resistant | 2 M Immersion |
| Operating Temperature | -20°C to +55°C |
| Connectors | Micro USB, RF and GPS Antennas |
| Data Rate | 8 Mbps IP Throughput per Channel |
| Net Entry Time | < 1 Second |
| Waveform | TSM |
| Routing | Barrage Relay™ networking |
| Modulation | Constant Envelope |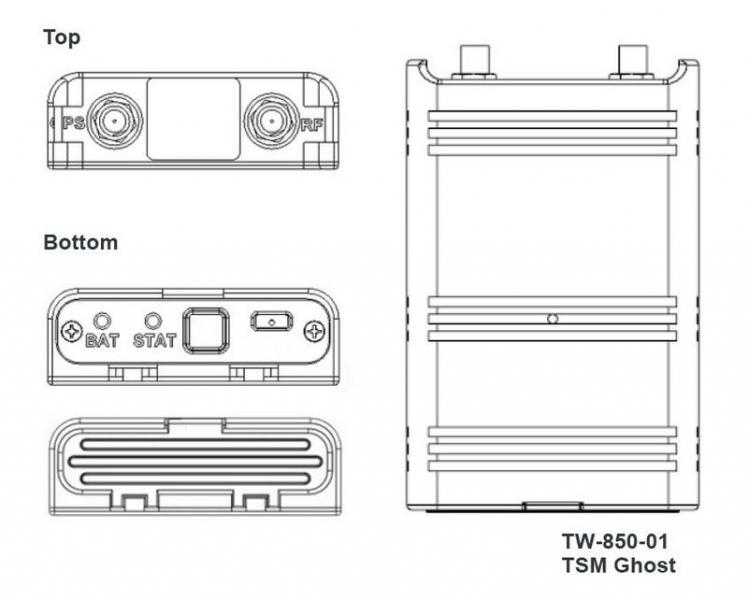 Common TSM Networking
Network Coverage
Mobile Ad-hoc Networking (MANET)
Range – 26 Mile LOS per Network Hop
Multi-hop – Up to 8 Hops
200+ Nodes in a Single RF Channel
Robust in Harsh RF Environments
Communication
Services
Simultaneous Data and PLI
Built-in GPS
IP Support – IPv4, IPv6; Unicast, Multicast, Broadcast; TCP, UDP
Security
AES-256
OTAR, OTAZ
Remote Disable
RSA-2048
SHA-256
Application Support
Built-in Web Applications
Over the Air Remote Control
APIs for 3rd Party Integration
PLI with CoT, KML, and JSON
Integration with Android™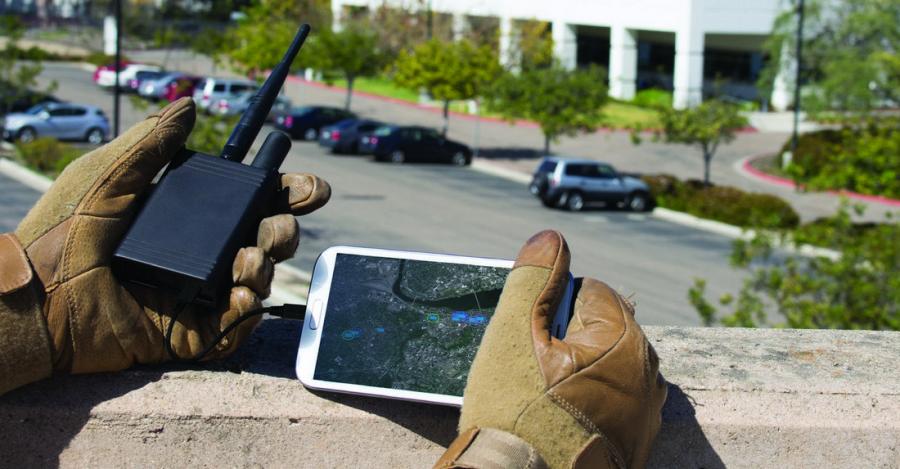 Applications
Position location information for tactical tracking and monitoring
Affordable device with low size, weight, and power
Provides secure wireless datalinks for RECCE operations
Increases network range in unmanned systems
Operates with other TSM Products