TrellisWareTW-130 WildCat II
Bridging Networks with Amplified Power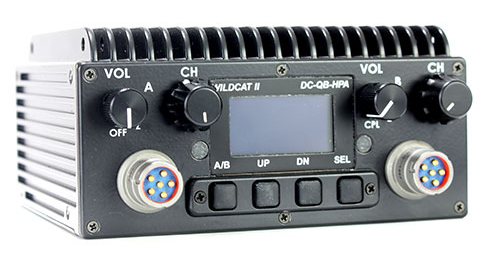 TrellisWare TW-130 WildCat II is designed for tactical communications that need high power, and extended network range. With its dual channel capability, WildCat II supports long range transmissions as a backhaul with its built-in High Power Amplifiers (HPA) for 4x power output, and it also acts as a gateway between channels to crossconnect multiple TSM™ networks together.
WildCat II delivers power and flexibility for ground based vehicles or man-packs, especially for challenging RF environments, and it allows for combining networks together that would otherwise be isolated. It offers 12 independent cellular quality voice channels while simultaneously supporting multiple video streams, data, and
Position Location Information (PLI).
Expect robust and reliable high-speed wireless IP networking performance to ensure wide coverage, rapid deployment, and network scalability for any situation with TSM's advanced signal processing and cooperative communications technology
TW-130 WildCat II Features
Vehicle mount with 8 W transmit power
Multi-network gateway between channels
Monitors dual independent networks
TSM Benefits
Infrastructure-less MANET
High-speed wireless IP networking
Self-forming, self-healing
Scalable to 200+ nodes
Robust in harsh environments
Non-routing network
SPECIFICATIONS
Size
2" (H) x 5" (W) x 5.5" (D)
Weight (R/T only)
55 oz
Frequency Range
1775–1815 MHz, 2200–2250 MHz
Occupied Bandwidth
20 MHz, Configurable to 4 MHz
Transmit Power
8 W Per Channel
Input Power
9–30 V DC
Environmental
MIL-STD-810G
Water Resistant
Splash Proof
Connectors
24-pin Multi-function, 6-pin Audio, TNC RF
Antenna, SMA GPS Antenna
Data Rate
8 Mbps IP Throughput per Channel
Audio Encoding
AMR 5.9 or MELPe
Audio Latency
3 Hop < 275 ms; 8 Hop < 400 ms
Net Entry Time
< 1 Second
Waveform
TSM
Routing
Barrage Relay™ networking
Modulation
Constant Envelope

Common TSM Networking
Network Coverage
Mobile Ad-hoc Networking (MANET)
Range – 26 Mile LOS per Network Hop
Multi-hop – Up to 8 Hops
200+ Nodes in a Single RF Channel
Robust in Harsh RF Environments
Communication Services
Simultaneous Voice, Data, PLI
12+ Cellular Quality Voice Channels
Up to 12 Real-time Video Streams
Built-in GPS
IP Support – IPv4, IPv6; Unicast, Multicast, Broadcast; TCP, UDP
Security
AES-256
OTAR, OTAZ
Remote Disable
RSA-2048
SHA-256
Application Support
Built-in Web Applications
Over the Air Remote Control
APIs for 3rd Party Integration
PLI with CoT, KML, and JSON
Integration with Android™
Applications
Tactical COMMS for ground based vehicles
Bridges multiple networks together between channels
Provides long range transmissions as a backhaul in challenging environments
Extends network range with high power
Operates with other TSM Products