CORDON-3 Optical Reconnaissance System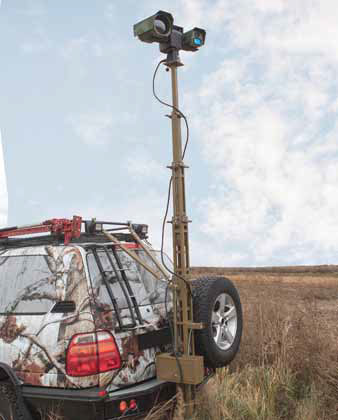 An optical reconnaissance system CORDON-3 is a multispectral modular-type optoelectronic device intended for use as a part of surveillance and reconnaissance systems.
The system CORDON-3 can be used both as a self-contained device with the use of a portable control panel RMC-03 and as a part of automated surveillance system.
CORDON-3 is easily integrated with other means of technical reconnaissance.
Its optical module consists of a thermal imaging camera, a day camera and a laser rangefinder.
Electronic module of CORDON-3 provides primary and secondary digital image processing; automatic target detection; target tracking; raw data recording; data transfer to a central observation post in a digital form.
Cameras are installed on a pan-and-tilt gyrostabilized platform that provides cameras guidance in azimuth and angle of elevation in manual and semi-automatic or automatic patrolling mode. The platform is installed permanently or on a telescopic mast.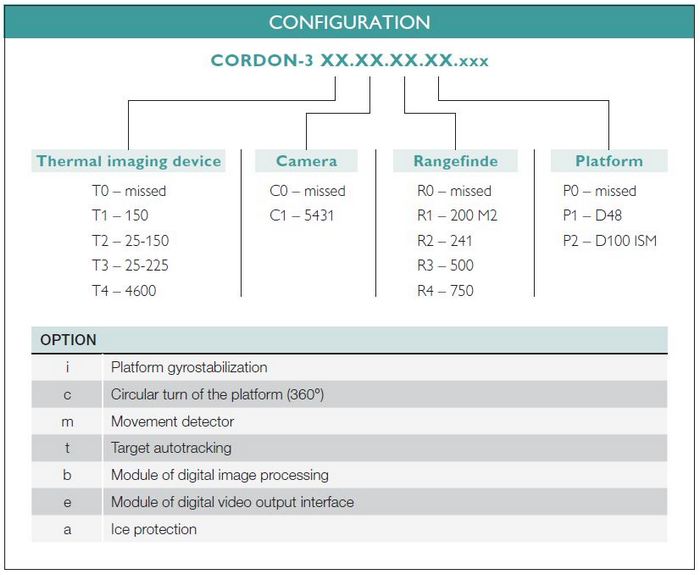 TECHNICAL CHARACTERISTICS
THERMAL IMAGING CHANNEL
T1
T2
T3
T4
Type of camera
Uncooled
Cooled
Detector
640 х 512 17μ 8-14μ
640 х 512 15μ 3-5μ
Sensitivity
< 30 mK
< 20mK
Focal length
150 mm
25 ÷ 150 mm
25 ÷ 225 mm
40; 150; 600 mm
Objective F number
F/1.0
F/1.4
F/1.5
F/4.0
Angular field of view (H x V)
4.2° x 3.3°
25° x 20°
÷ 4.2° x 3.3°
25° x 20°
÷ 2.7° x 2.2°
1.2° x 0.9°; 5° x 4°
17° x 13,6°
Recognition / Identification
(human)
4.2 / 1.5 km
4.0 / 1.2 km
6.5 / 2.0 km
17.0 / 7.5 km
Recognition / Identification
(vehicle)
10.0 / 3.6 km
8.0 / 3.0 km
16.0 / 5.0 km
25.0 / 14.0 km
Dimensions (L x W x H)
320 х 183 х
203 mm
280 х 142 х
160 mm
335 х 202 х
196 mm
–
Weight
7.5 kg
5.5 kg
7.7 kg
7 kg
DAYTIME CHANNEL
C1
Type of camera
CMOS
Detector
1/4" CMOS 1280 x 1024 60fps
Lens focal length
3.5 ÷ 150.5 mm
Angular field of view (wide)
H : 53.92° х V : 44.08°
Angular field of view (narrow)
H : 1.396° х V : 1.12°
Sensitivity
chromatic image: 0.5 Lux/F1.4,
monochromatic image: 0.05 Lux/F1.4
RANGE FINDER CHANNEL
R1
R2
R3
R4
Maximum distance
3 km
6 km
10 km
18 km
Wavelength
1550 nm
safe for vision, invisible for night vision
Beam divergence angle
0.5 x 2.5 mrad
0.8 x 0.8 mrad
Measuring frequency
0.5 Hz
0.5-10 Hz
Dimensions (L x W x H)
*depending on component parts
245 х 155 х 150 mm
Weight
1.8 kg
2 kg
2.5 kg
4 kg
PAN-AND-TILT PLATFORM
P1
P2
Maximal load
8 kg
12 kg
Turning angle
±188°, optional 360°
Inclination angle
+30° to -90°
Turn angular rate
0.006°/sec – 100°/sec
Inclination angular rate
0.003°/sec – 50°/sec
Bridging distance of turn
0.006°
Bridging distance of inclination
0.003°
Weight
6 kg
9.5 kg
DIGITAL SIGNAL PROCESSING MODULE
Formation of the auxiliary video information
aiming marks: textual and graphical.
Full-color, transparency
Movement detector
automatic detection of moving objects
Automatic target tracking
acquisition and tracking of indicated target
Contrast / size / target speed
> 0.4 / 10 x 10 pixel / <150 pixel/sec
Digital image processing
combination of 2 channels by different algorithms
PERFORMANCE CHARACTERISTICS
Protection class
IP67, ice protection
Operating temperature range
-30°С ÷ 55°С