NVCOA-M/L/XL Night Vision Clip-ons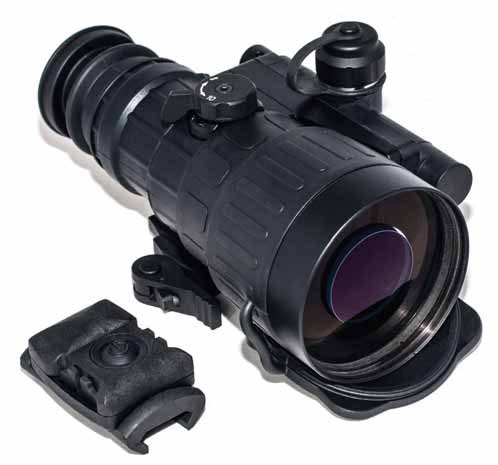 Extending the boundaries of night vision systems, Thermal Vision Technologies LLC has introduced the new line of AT clip-ons. In order to satisfy the most demanding customer, the clip-ons are available in three modifications, different in size, weight and tasks performing: NVCOA-M, NVCOA-L and NVCOA-XL.
Designed for short-to-medium ranges, the most compact clip-on NVCOA-M, intended to convert low-to-mid power daytime sights or binoculars (up to 6x magnification) to operate at night. It can be attached in front of a day rifle scope (using its quick release Picatinny mount) or directly onto the day scope (or binocular) objective lens with the included adaptor.
NVCOA-M device is factory bore-sighted to better than 1MOA accuracy, that's why no alteration in zero is experienced. The clip-on is intended primarily for operating when field of view and ease of use is more important than high magnification.
NVCOA-L is one of the most advanced night vision clip-on for long-range night shooting (up to 1000 m), and stands out from the competition when it comes to clarity, versatility, reliability, function and value.
NVCOA-L is packed with innovative features like variable gain control, bright light shut-off and a wireless remote control. This night vision clip-on is designed to make long-range night shooting just as easy and accurate as daytime shooting in the same terrain.
NVCOA-XL is a night vision unit that mounts in front of any existing day scope, converting the scope into a night vision-capable device with an extra-long viewing range of up to 1500 meters. Suitable for use with most commercial and military specification daytime scopes (up to 16x magnification), NVCOA-XL can be mounted/dismounted on any standard Picatinny rail in seconds, with no special tools required.
It can be used with an advanced modular rangefinder with a wavelength of 905 nm in order to determine the exact distance between the observer and the target up to 2000 meters. Measurements are displayed on the rangefinder's indicators and in the FOV of any connected night vision device.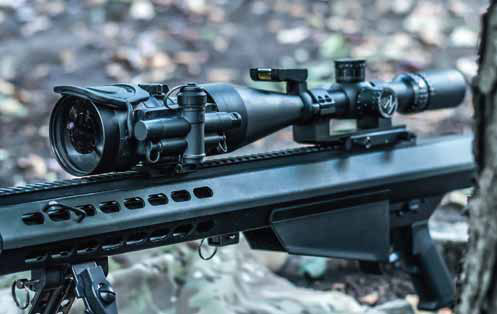 FEATURES
Simple and quick conversion of any day scope into a night vision device
Mounts in front of riflescope with no re-zeroing required
Precise laser rangefinder capability
Equipped with wireless remote control
Variable gain control
Low battery indicator
Quick-release mount
Bright light cut-off system
Used with advanced modular rangefinder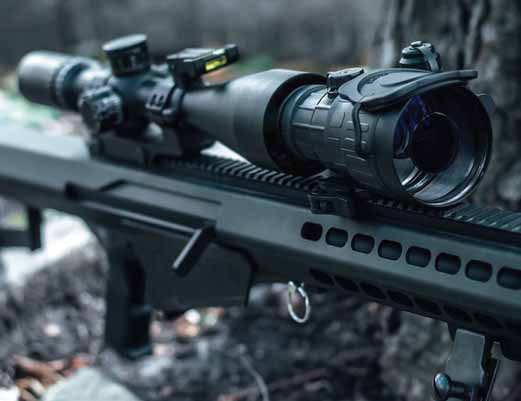 DELIVERY SET
Night vision clip-ons NVCOA-M / NVCOA-L / NVCOA-ХL
Tactical bag
One lithium battery CR123A
Battery adapter CR123A 3V / AA 1.5V
Lens tissue
Special wrench
AWReC (advanced wireless remote control)
Detachable X-Long range infrared illuminator
Picatinny adapter for AWReC
Light-suppressor
User's manual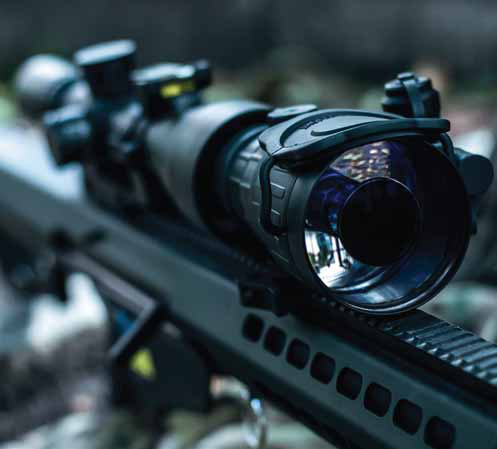 TECHNICAL CHARACTERISTICS
MODEL
NVCOA-M
NVCOA-L
NVCOA-XL
Generation
III
Resolution
60-64 lp/mm
Magnification
1x (recommended
to use with up to 6x
day time optics)
1x (recommended
to use with up to
12x day time optics)
1x (recommended
to use with up to
16x day time optics)
OPTICS
Objective lens
80 mm
108 mm
145 mm
Objective F number
F/1.2
F/1.54
F/1.8
Field of view (FOV)
12°
9°
7°
Focus range
10 m ÷ ∞
10 m ÷ ∞
25 m ÷ ∞
Exit Pupil Diameter
21 mm
40 mm
50 mm
FUNCTIONAL FEATURES
Remote Control
Wireless
Manual Gain Control
Yes
Bright Light Cut-off
Yes
Automatic Shut-off System
Yes
Infrared Illuminator
Detachable Long Range IR Illuminator
Low Battery Indicator
Yes
OPERATING PARAMETERS
Power Supply
CR123 Lithium 3V (1) or AA Alkaline 1.5V (1) or any AA or CR123 type rechargeable batteries with voltage from 1.2V to 3.2V (1)
Battery Life
up to 60 hours
Operating Temperature
-40°C ÷ +50°C
Storage Temperature
-50°C ÷ +70°C
Dimensions
180 x 80 x 80 mm
235 х 97 х 80 mm
304 x 104 x 94 mm
Weight
0.69 kg
0.91 kg
1.4 kg
Protection
IP67