NVMA-14 Night Vision Monocular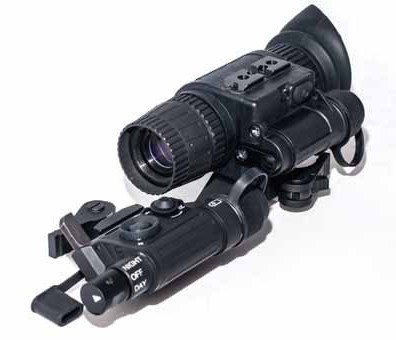 NVMA-14 is the first representative of a new night vision line produced under the trade name AT. NVMA-14 is a multiuse mini-monocular designed in a tough, compact, and ergonomic composite housing that meets IP67 protection level requirements and can withstand dust, rain, high humidity, and temperature extremes, and still provide unsurpassed levels of performance. The device is equipped with manual variable gain control for selecting the image brightness level depending on ambient light levels in the environment.
The monocular NVMA-14 is the most versatile of all night vision devices: its compact size and lightweight make it ideal for head mounting that allows the unit to be worn as a mono-goggle for hands free operation. The competitive advantage of NVMA-14 is a possibility to use the monocular in conjunction with IR reticle projector as a sight for short-range use.
The other most noteworthy feature of this device is an autogated Gen 3 image tube that provides far superior performance in all light conditions.
NVMA-14 is a high-standard night vision device that will meet the requirements of the most demanding user.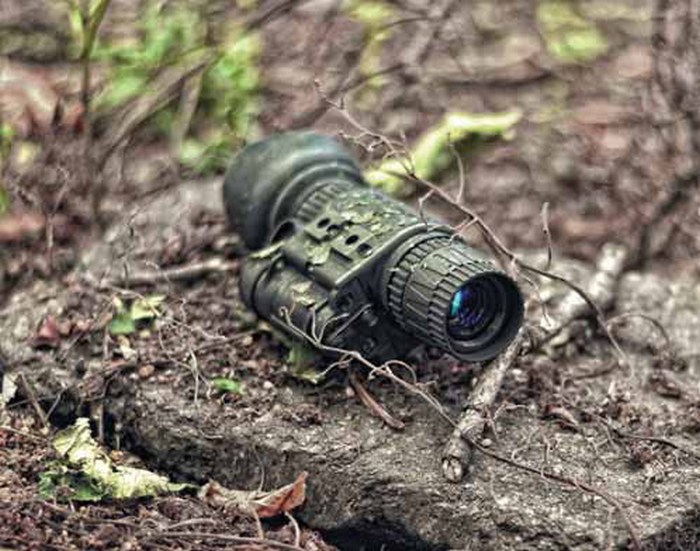 FEATURES
Compact, rugged design
Weapon mountable
Head or helmet mountable for hands-free usage
Auto brightness control
Bright light cut-off
Ergonomic, simple, easy to operate controls
Utilizes single CR123A lithium battery
Adaptable for use with cameras
Built-in infrared illuminator with pivotal flood lens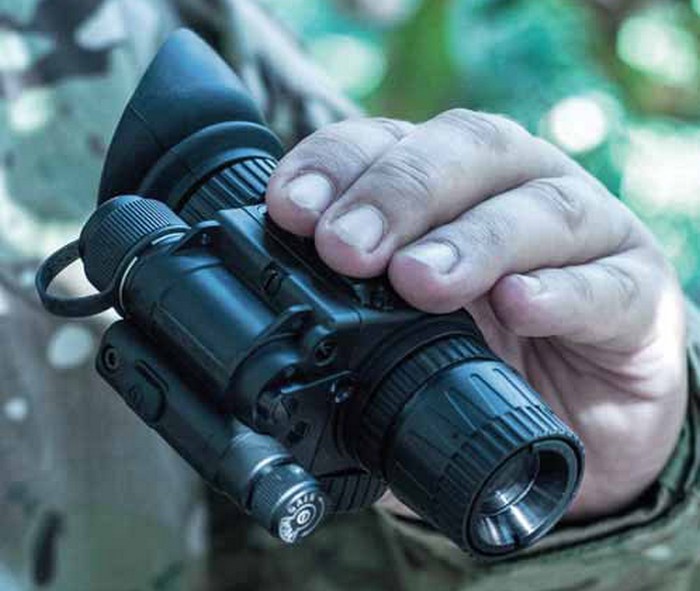 DELIVERY SET
Night vision monocular NVMA-14
Tactical bag
One lithium battery CR123A
Battery adapter CR123A 3V / AA 1.5V
Lens tissue
Head set (magnet)
Helmet adapter (magnet)
Sacrificial window
Demist shield
Helmet mount for Wilcox with magnet
Bridge with flip-up "eye"
User's manual
TECHNICAL CHARACTERISTICS
MODEL
NVMA-14
Generation
III
Resolution
60-64 lp/mm
Magnification
1x standard (3x, 5x, 8x optional)
OPTICS
Objective lens
27 mm
Objective F number
F/1.2
Field of view (FOV)
40°
Focus range
0.25 m ÷ ∞
Exit Pupil Diameter
14 mm
Eye relief
25 mm
Diopter adjustment
-6 ÷ +2 dpt
FUNCTIONAL FEATURES
Manual Gain Control
Yes
Bright Light Cut-off
Yes
Automatic Shut-off System
Yes
Infrared Illuminator
Yes (built-in with flood lens)
OPERATING PARAMETERS
Power Supply
CR123 Lithium 3V (1), or AA Alkaline 1.5V (1),
or any AA or CR123 type rechargeable batteries
with voltage from 1.2V to 3.2V (1)
Battery Life
up to 60 hours
Operating Temperature
-40°C ÷ +50°C
Storage Temperature
-50°C ÷ +70°C
Dimensions
120 x 49 x 69 mm
Weight
0.4 kg
Protection
IP67