TSA-11 Thermal Imaging Sight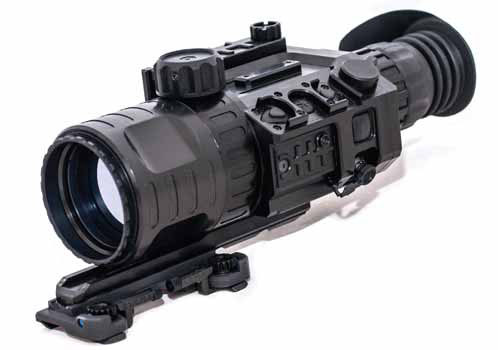 TSA-11 is the newest sight specially designed for the usage on small tactical arms. The peculiarity of the thermal sight is its small size and an objective with a fixed focus that provides a sharp image from 25 m to infinity. However, the device has mantained all operational advantages of AT sights, like: flexible configuration mode, editable target reticles, profiles for different types of arms and ammunition. The device has a mechanical selector switch, which allows not only to switch the device "by touch", but immediately select one of the preset operating modes. The device can be equipped with 40 mm objective with fixed focus or 50 mm objective with manual focusing mechanism.
The sight is equipped with a highly sensitive passive receiver of far infrared band (LWIR) with sensitivity less than 30 mK.
A built-in colour high-resolution micro display together with an eyepiece with diopter adjustment provide a high-quality image of aiming reticles and a minimal step of their movement during adjustment fire. Aiming reticles are implemented in automatic reverse functions for saving reticles' contrast and automatic scaling depending on the enlargement range.
TSA-11 is equipped with sensors of ambient light and proximity and has a serial interface for programming and remote control. A built-in recording module allows to take photos and shoot video in several modes. The device has a multipurpose jack for charging, video output and device programming.
The design comes in a shockproof waterproof plastic housing with pumped inert gas resistant to corrosive environment. Сonveniently arranged controls are protected from accidental use. Batteries are charged in a device with the help of a built-in recharger.
There is also a mounting for installing additional equipment and a hand strap for comfortable and secure holding of the device while using it as an observation instrument.
The sight TSA-11 can be used with any type of tactical arms.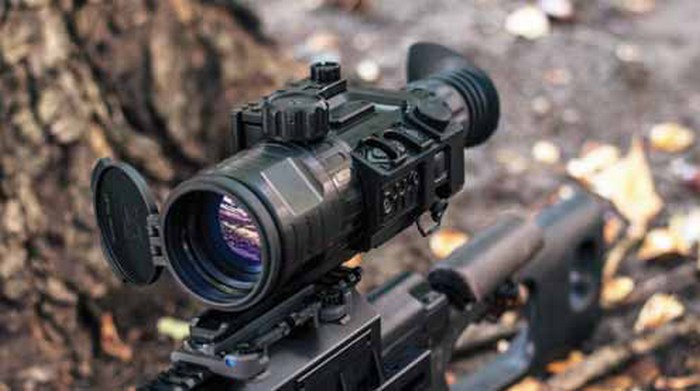 MAN SIZED TARGET
(50 mm objective)
Detection – 1500 m
Recognition – 380 m
Identification – 190 m
FEATURES
Option of downloading target reticles with automatic reverse and scaling.
Ballistics table.
Electronic level.
Profiles for different arms and ammunition.
Built-in photo- and video module.
USB interface for programming and device control.
1.5x optical magnification.
2x, 3x, 4x digital zoom.
Different color schemes for the image refinement.
Operative adjustment of sensitive sensor parameters with the help of preset modes.
Ambient light sensors for automatic adjustment of display brightness.
A proximity sensor for switching a display off while removing user's face from the device.
Manual and automatic calibration of the detector.

DELIVERY SET
Thermal imaging sight TSA-11.
AA type rechargeable batteries – 4 pcs.
Redundant power supply RBP-8.
Charger 220V.
Vehicle charger 12V.
USB cable.
Cable adapter.
User's manual.
Case.
Bag.
TECHNICAL CHARACTERISTICS
DETECTOR
Technology
Uncooled VOx Microbolometer
Resolution
336 х 256
640 х 512
Pixel size
17μ
Operating wavelength
7.5-13.5 μm
Sensitivity
<30 mK
OPTICS
Objective
40 mm
50 mm
Objective F number
F/1.0
Field of view
7.8° x 6.2°
6.5° x 5.0°
15.5° x 12.4°
12.5° x 10.0°
Focusing range
25 m ÷ ∞
Eye relief
50 mm
Diopter correction
-6 ÷ +2
ELECTRONICS
Frame rate
9/25 Hz (PAL) 8/30 Hz (NTSC)
Video output
PAL or NTSС, programmed
Display
AMOLED, 800 x 600
Interface
USB
OPERATING PARAMETERS
Starting time
3 sec
Temperature range
-30°C ÷ +55°C
Operating time, no less than
5 h
Operating time from redundant power supply, no less than
8 h
Dimensions (L x W x H)
232 x 95 x 88 mm
260 x 95 x 90 mm
Weight
0.75 kg
1 kg
Protection class
IP67