TCN-11 Thermal Imaging Clip-on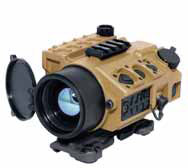 A compact pre-lens thermal imaging clip-on TCN-11 is intended for use with daylight optical sights. The frequence of a daylight sight is from 3x to 8x.
It is difficult to overestimate the ease of use of this device paired with daytime optics: now a day sight is always on a rifle, and high image quality allows to solve tasks even in extreme weather conditions not breaking the adjustment of an optical sight.
Fixed focus of the objective relieves from the necessity of image focusing.
A clip-on can be controlled by remote control which also serves as an external power supply. The device is equipped with a quick detached mount on a Picatinny rail. Power is supplied via 4 AA type batteries (lithium batteries or rechargeable batteries).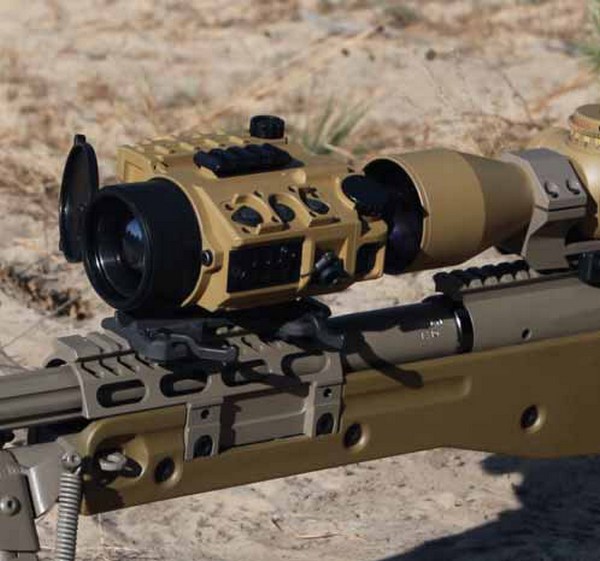 MAN SIZED TARGET
(50 mm objective)
Detection – 1500 m
Recognition – 380 m
Identification – 190 m
FEATURES
Electronic level and angle of sight sensor.
Built-in photo- and video module.
USB interface for programming and device control.
1x optical zoom.
2x, 3x, 4x digital zoom.
Different color schemes for the image refinement.
Operative adjustment of sensitive sensor parameters with the help of preset modes.
Ambient light sensor for automatic adjustment of display brightness.
Manual and automatic calibration of the detector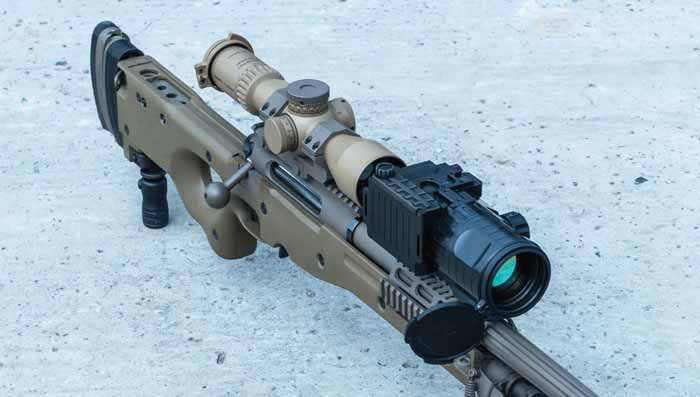 DELIVERY SET
Thermal imaging sight TCN-11.
AA type rechargeable batteries – 4 pcs.
Redundant power supply RBP-8.
Charger 220V.
Vehicle charger 12V.
USB cable.
Cable adapter.
User's manual.
Case.
Bag.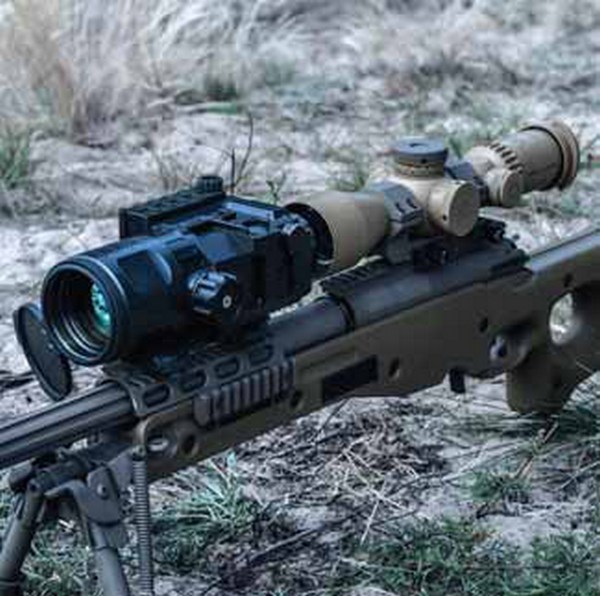 TECHNICAL CHARACTERISTICS
DETECTOR
Technology
Uncooled VOx Microbolometer
Resolution
336 х 256
640 х 512
Pixel size
17μ
Operating wavelength
7.5-13.5 μm
Sensitivity
<30 mK
OPTICS
Objective
40 mm
50 mm
Objective F number
F/1.0
Field of view
7.8° x 6.2°
6.5° x 5.0°
15.5° x 12.4°
12.5° x 10.0°
Focusing range
25 m ÷ ∞
Eye relief
50 mm
Diopter correction
-6 ÷ +2
ELECTRONICS
Frame rate
9/25 Hz (PAL) 8/30 Hz (NTSC)
Video output
PAL or NTSС, programmed
Display
AMOLED, 800 x 600
Interface
USB
OPERATING PARAMETERS
Starting time
3 sec
Temperature range
-30°C ÷ +55°C
Operating time, no less than
5 h
Operating time from redundant power supply, no less than
8 h
Dimensions (L x W x H)
155 x 95 x 88 mm
210 x 100 x 85 mm
Weight
0.75 kg
1.08 kg
Protection class
IP67