TSA-7 Thermal Imaging Sighting System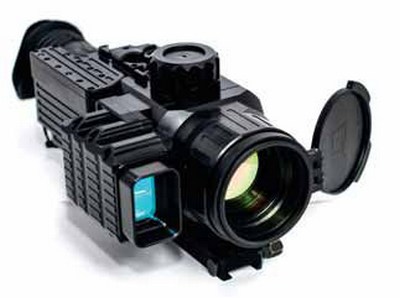 Thermal imaging sight TSA-7 is the latest development of "Thermal Vision Technologies" company. High-performance capabilities, excellent operating capacities, wide functionality – these are distinctive features of thermal imaging sighting system TSA-7.
Key advantage of TSA-7 is a ballistic calculator: it is capable to consider atmospheric conditions (received from the built-in weather station or entered manually), wind of any direction and speed of 10 m/s, derivation, angle of sight and the Coriolis force. Temperature of dustpowder is also considered together with susceptibility factor (automatically or manually). Moreover, the complex automatically remembers adjustment conditions for a specific cartridge and enters firing corrections under other conditions. Both standard (G1, G7) and specific drag functions (based on Lapua Radar Data or generated by external ballistic programs) are supported in TSA-7.
Laser rangefinder of 1550 nm range, integrated in thermal sight, allows to accurately measure distance on the distant range.
Optical system characteristics and unique functions make a device an indispensable tool for a wide range of use with any weapon, including large caliber sniper rifles and machine guns.
The device is equipped with a highly sensitive passive receiver of far infrared band (LWIR). TSA-7 has a built-in colour high-resolution micro display and an eyepiece with diopter adjustment.
Several set colour schemes and sensitivity settings allow to choose the necessary display option depending on the tasks performed.
Thermal imaging sighting system TSA-7 has a serial interface for programming and remote control, option of downloading and editing target reticles, ballistics table for every type of programmed arms. The device is equipped with sensors of ambient light and proximity, angle of sight, level of horizon, constant monitoring of distance shot. A built-in recording module allows to take photos and shoot video in several modes.
The design comes in a shockproof waterproof plastic housing with conveniently arranged controls. Power is supplied via quick detach battery cassette, cassette of 4 AA type batteries (lithium batteries or rechargeable batteries) or external power supply.
MAN SIZED TARGET
(75 mm objective)
Detection – 2200 m
Recognition – 600 m
Identification – 300 m
FEATURES
Integrated laser rangefinder.
Built-in compass and accelerometer.
Built-in weather station.
Windage calculation.
Automatic compensation for changing of adjustment conditions.
Ballistic table development.
USB interface for programming and device control.
Bluetooth interface for connection of the external weather station and device control.
2x, 3x, 4x digital zoom.
Sensitivity settings of the detector.
Different color schemes for the image refinement.
Built-in video module.
Manual and automatic calibration of the detector.
Automatically predicted impact point.

DELIVERY SET
Thermal imaging sight TSA-7.
Rechargeable batteries cassette – 2 pcs.
AA type batteries cassette – 1 pcs.
Redundant power supply RBP-8.
Charger 220V.
Vehicle charger 12V.
USB cable.
Cable adapter.
Blind.
User's manual.
Case.
Bag.
TECHNICAL CHARACTERISTICS
DETECTOR
Technology
Uncooled VOx Microbolometer
Resolution
336 х 256
640 х 512
Pixel size
17μ
Operating wavelength
7.5-13.5 μm
Sensitivity
<50 mK
OPTICS
Objective
50 mm
75 mm
50 mm
75 mm
Objective F number
F/1.0
Field of view
6.5° x 5.0°
4.4° x 3.4°
12.5° x 10.0°
8.3° x 6.4°
Focusing range
10 m ÷ ∞
Eye relief
50 mm
Diopter correction
-6 ÷ +2
RANGEFINDER
Max.distance measured by LRF
2500 m
LRF wavelength
1550 nm
BALLISTIC COMPUTER
Max. measurable distance
2500 m
Drag functions
G1, G7, multi BC or user defined
Calculation time
200 msec
ELECTRONICS
Frame rate
9/25 Hz (PAL) 8/30 Hz (NTSC)
Video output
PAL or NTSС, programmed
Display
AMOLED, 800 x 600
Interface
USB
OPERATING PARAMETERS
Starting time
3 sec
Temperature range
-30°C ÷ +55°C
Operating time, no less than
5 h
Operating time from redundant power supply, no less than
8 h
Dimensions (L x W x H)
objective 50 mm
268 х 114 х 117 mm
objective 75 mm
283 х 120 х 117 mm
Weight
1.5 kg
1.6 kg
Protection class
IP67