CAYMAN-К2СО24 Driving Assistance and Security System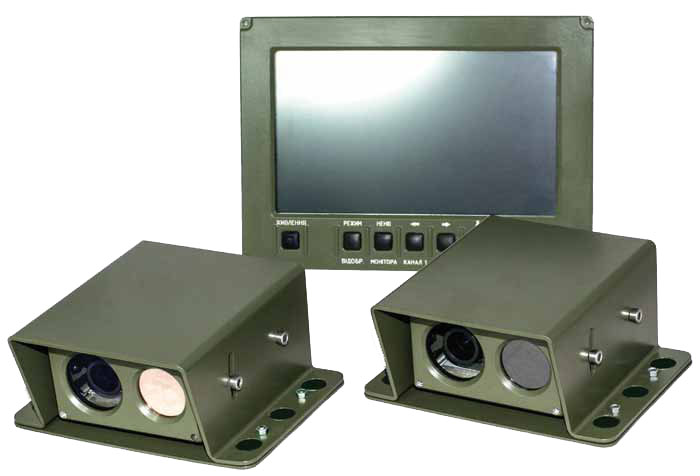 Driving assistance system CAYMAN К2СО24 has been developed for active support of the vehicle (including armored vehicles, combat tanks, SP artillery mounts etc) in critical driving situations. The main purpose of the system is continious monitoring of the vehicle surroundings to detect potentially dangerous situations at an early stage and help drivers of tactical wheeled vehicles avoid accidents. Moreover, the system supports safe driving in total darkness when headlights are off.
The system is built with components that are more rugged to navigate unstructured environments.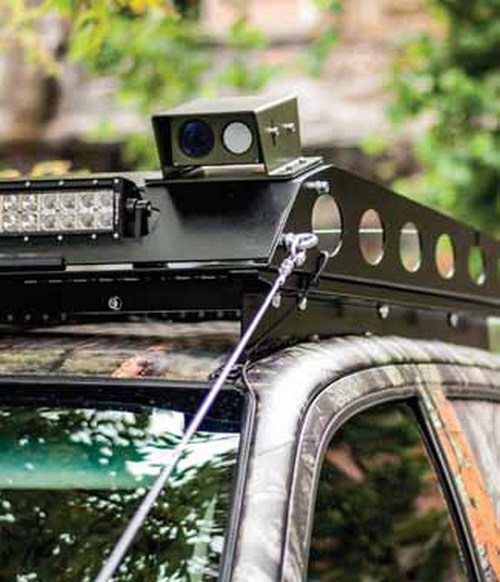 CAYMAN К2СО24 consists of 4 hybrid cameras mounted on the body of the vehicle (in front, at the rear and on each side), providing a complete overview of the surroundings and keeping the vehicle from straying from its pathway or hitting the obstacles in its blind spot. Each camera has a daily channel with a high-quality CMOS detector and a thermal imaging channel equipped with a high-sensitivity passive long-range infrared receiver (LWIR) that makes possible to the driver to monitor the situation in all weather conditions.
The image from the cameras is reflected on the highdefinition color display, which is installed in the cab of the vehicle. The system is powered by an onboard network of a vehicle with a voltage of 12-24V.
TECHNICAL CHARACTERISTICS
DETECTOR
Technology
Uncooled VOx Microbolometer
Resolution
336 х 256
640 х 512
Pixel size
17 μ
Operating wavelength
7.5-13.5 μm
Sensitivity
<30 mK
OPTICS
Objective
7.5 mm
14.25 mm
35 mm
Objective F number
F/1.4
F/1.2
F/1.2
Field of view (horizontal)
90.2°
45.1°
44°
22°
17.6°
8.8°
Field of view (vertical)
68.4°
34.2°
33.4°
16.7°
13.4°
6.6°
Focusing range
8 m ÷ ∞
10 m÷ ∞
10 m ÷ ∞
Detection
300 m ± 15%
600 m ± 15%
1150 m ± 15%
Recognition
75 m ± 15%
150 m ± 15%
250 m ± 15%
Identification
40 m ± 15%
75 m ± 15%
180 m ± 15%
ELECTRONICS
Frame rate
25 Hz (PAL) / 30 Hz (NTSC)
Video output
PAL, NTSC
Display
TFT/LED, 800x600
TELEVISION MODULE
Objective
2.8 mm (Wide FoV 109°х82°) ÷ 12 mm (Narrow FoV 22°х18°)
Minimum illumination
0.01 LUX (COLOR); 0.001 LUX (B&W)
Standard of outcoming signal CVBS
(720 x 576) PAL, NTSC
OPERATING PARAMETERS
Starting time
3 sec
Temperature range
-30°C ÷ +65°C
Display dimensions (10")
(L х W х H)
280 х 200 х 40 mm
Camera dimensions
(L х W х H)
196 х 95 х 170 mm
Display weight
1.65 kg
Camera weight
3 kg
Protection level
IP67