NVSA-2.5/4.5/6 Night Vision Sights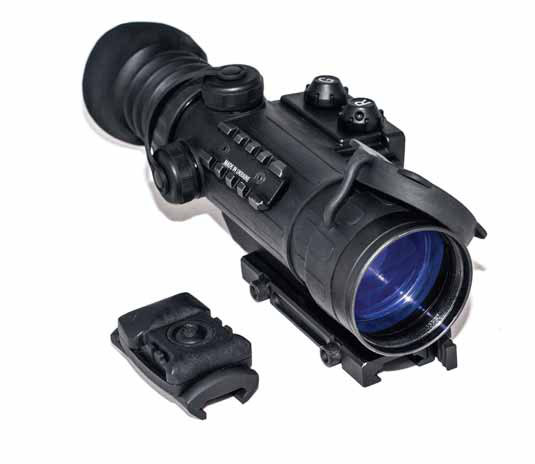 NVSA-2.5, NVSA-4.5, NVSA-6 sights represent the apex of night vision tech-nology, specially designed for the usage on small tactical arms. Having maintained all operational advantages of AT night vision devices, NVSA-2.5, 4.5 and 6 encompass a host of other features, including wireless remote control, an automatic brightness control system, illuminated centered, red cross reticle for optimal contrast, the ability to mount to standard rail etc.
Fast IR sensitive optics coupled with quality image tubes of III Generation provide high resolution clear images for outstanding target acquisition and aiming capabilities. AT night vision sights have multicoated all-glass lenses and an internally adjustable fine reticlethat makes precise shot placement incredibly easy. The optical circuitry of NVSA provides 2.5x, 4.5x or 6x magnification.
The design of riflescopes comes in a dustproof waterproof housing with conveniently arranged controls. Complete with tactical rails for lasers or IR illuminators, NVSA-2.5, NVSA-4.5, NVSA-6 sights are probably the most dependable, highest-performing weapon sights for shooting in dark environments that provide excellent observation and aiming for the most demanding shooters.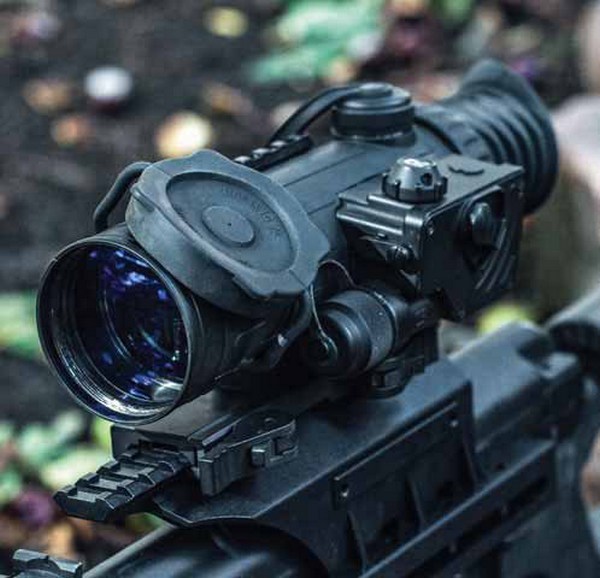 FEATURES
Wide array of IIT configurations
2.5, 4.5x or 6x magnification
Shock protected, all-glass IR transmission multicoated optics
Bright light cut-off
Illuminated reticle with brightness adjustment
Wireless remote control included
Detachable long-range infrared illuminator
Waterproof design
Quick release mount
Mounts to standard weaver rails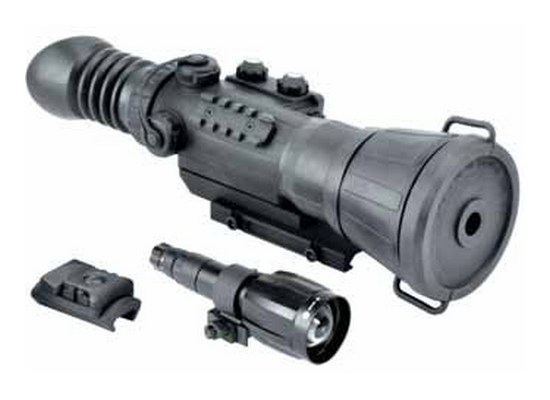 DELIVERY SET
Night vision sights NVSA-2.5 / NVSA-4.5 / NVSA-6
Tactical bag
One lithium battery CR123A
Battery adapter CR123A 3V / AA 1.5V
Lens tissue
AWReC (advanced wireless remote control)
Detachable X-Long range infrared illuminator
Picatinny adapter for AWReC
User's manual
TECHNICAL CHARACTERISTICS
MODEL
NVSA-2.5
NVSA-4.5
NVSA-6
Generation
III
Resolution
60-64 lp/mm
Magnification
2.5x
4.5x
6x
OPTICS
Objective lens
60 mm
108 mm
145 mm
Objective F number
F/1.35
F/1.54
F/1.8
Field of view (FOV)
16°
9°
7°
Focus range
70 m
10 m ÷ ∞
25 m ÷ ∞
Exit Pupil Diameter
7 mm
Eye relief
45 mm
Diopter adjustment
-4 ÷ +4 dpt
FUNCTIONAL FEATURES
Reticle Type
Crosshairs
Mil-dot
Crosshairs
Reticle Color
Red
Red on Green
Red
Windage & Elevation Adjustment
1/2 MOA
Remote Control
Wireless
Manual Gain Control
Yes
Bright Light Cut-off
Yes
Automatic Shut-off System
Yes
Infrared Illuminator
Detachable Long Range IR
Low Battery Indicator
Yes
OPERATING PARAMETERS
Power Supply
CR123 Lithium 3V (1)
Battery Life
up to 60 hours
Operating Temperature
-40°C ÷ +50°C
Storage Temperature
-50°C ÷ +70°C
Dimensions
170 x 97 x 85 mm
220 х 100 х 80 mm
248 x 105 x 90 mm
Weight
0.75 kg
1.0 kg
1.1 kg
Protection
IP67