TMA-30M/55M Thermal Imaging Monocular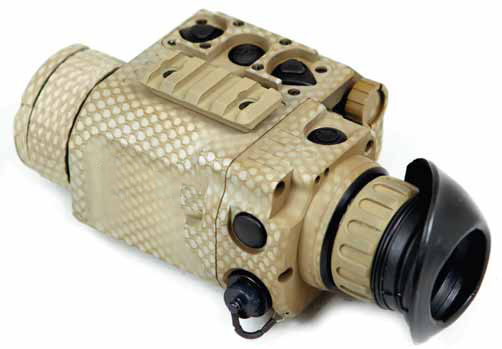 Digital tactical thermal imaging device TMA-30M/55M – new monoculars of TMA series. The device is equipped with high-aperture lens with a manual focus and proximity sensors that much reduce the risk of disclosure.
The device is equipped with a highly sensitive passive receiver of far infrared band (LWIR). TMA-30M/55M has a built-in colour high-resolution micro display and an eyepiece with diopter adjustment.
Several set colour schemes allow to choose the necessary display option depending on the tasks performed.
An optical circuitry of TMA-30M/55M provides 2x digital zoom (us-ing a detector with 640 х 512 resolution) or 4x digital zoom (using a detector with 336 х 256 resolution).
Operation modes, device status, battery discharge are indicated on the display of the device. There are also modes of automatic and manual brightness and contrast control.
The design of TMA-30M/55M comes in a shockproof waterproof plastic housing with conveniently arranged controls. Power is supplied via 4 AA type batteries (lithium batteries or rechargeable batteries). Due to high-tech electronics unit excellent functional capacities of the device are realized by minimal dimensions and power consumption.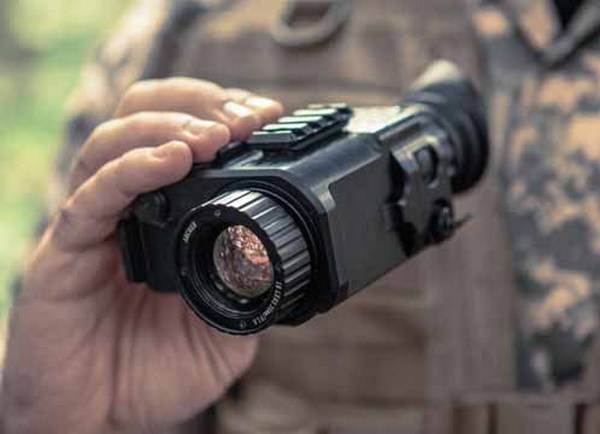 MAN SIZED TARGET
(55 mm objective)
Detection – 1720 m
Recognition – 430 m
Identification – 215 m
FEATURES
USB interface for programming and device control.
2x, 3x, 4x digital zoom.
Sensitivity settings of the detector.
Different color schemes for the image refinement.
Manual and automatic calibration of the detector.
Analog video output with a possibility of switching off.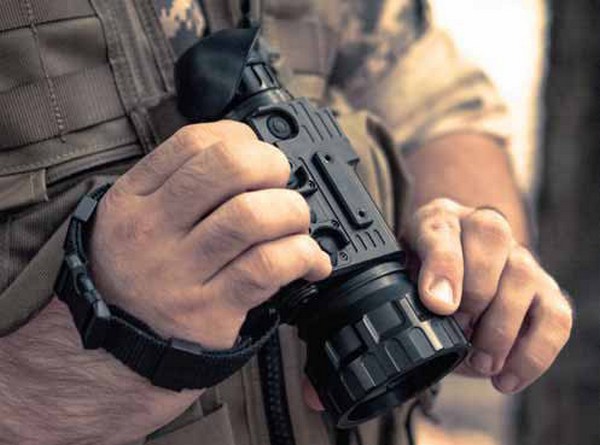 DELIVERY SET
Thermal imaging monocular TMA-30M/55M.
Video/charge adapter.
AA type rechargeable batteries – 6 pcs.
Hand strap.
User's manual.
Case.
Bag.
TECHNICAL CHARACTERISTICS
DETECTOR
Technology
Uncooled VOx Microbolometer
Resolution
336 х 256
640 х 512
Pixel size
17μ
Operating wavelength
7.5-13.5 μm
Sensitivity
<30 mK
OPTICS
Objective
30 mm
55 mm
Objective F number
F/1.0
Field of view
9.5° x 7°
18° x 14°
6° x 4.7°
11.4° x 8.8°
Focusing range
2 m ÷ ∞
5 m ÷ ∞
Eye relief
50 mm
Diopter correction
-6 ÷ +2
ELECTRONICS
Frame rate
9/25 Hz (PAL) 8/30 Hz (NTSC)
Video output
PAL or NTSС, programmed
Display
AMOLED, 800 x 600
Interface
USB
OPERATING PARAMETERS
Starting time
3 sec
Temperature range
-30°C ÷ +55°C
Operating time, no less than
5 h
Operating time from redundant power supply, no less than
8 h
Dimensions (L x W x H)
objective 30 mm
138 х 71 х 101 mm
objective 55 mm
165 х 71 х 101 mm
Weight
0.5 kg
0.65 kg
Protection class
IP67